St. Louis Manifest: The Tragic Story Of Refugees Denied Entry To The U.S. In WWII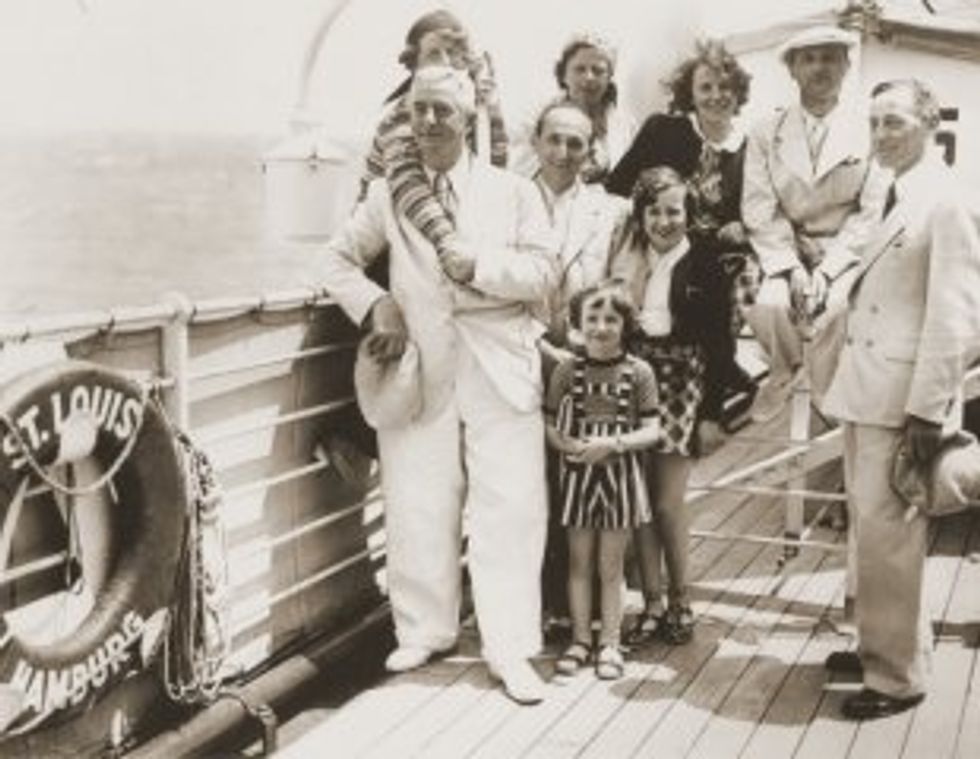 Reprinted with permission from AlterNet.
Hundreds of Jewish refugees were turned away by the U.S. government on the eve of World War II, and as a result, many went on to perish in the Holocaust's horrifying concentration camps. St. Louis Manifest , a powerful new Twitter project that takes its name from the vessel bearing that precious human cargo, pays homage to its victims as the U.S. and other European countries ban Muslims fleeing catastrophic wars fueled by the West.
In May 1939, the MS St. Louis traveled from Hamburg, Germany to Havana, Cuba. Nearly all of the ship's 937 passengers were Jewish, most of them German citizens trying to escape the Nazi regime. Cuba, which was a virtual U.S. colony at the time, refused to accept most of the refugees. Right-wing newspapers and politicians stoked fear and paranoia about the asylum-seekers, claiming they were communist infiltrators.
After Cuba turned them away, the ship's passengers contacted U.S. President Franklin D. Roosevelt, requesting asylum. He declined to respond. The State Department and the White House decided to reject them, acting on strict immigration quotas and pervasive xenophobic sentiment. The refugees were forced to return to war torn Europe, where hundreds died.
My name is Lutz Grünthal. The US turned me away at the border in 1939. I was murdered in Auschwitz pic.twitter.com/DyS8NXrk2P

— St. Louis Manifest (@Stl_Manifest) January 27, 2017
St. Louis Manifest puts a human face to the refugees who were turned away, using photos and stories documented by the U.S. Holocaust Memorial Museum. The project was launched on International Holocaust Remembrance Day, which commemorates the day in 1945 when Auschwitz-Birkenau, the largest Nazi concentration camp, was liberated by the Soviet Union's Red Army.
Russel Neiss, a St. Louis-based Jewish educator and activist, co-created St. Louis Manifest with Charlie Schwartz, a rabbi in Cambridge, Massachusetts. AlterNet interviewed Neiss via email.
"It was made on a whim last night over the course of about two hours," Neiss said, referring to Thursday, January 26. "Its primary purpose is to honor the memory of a small sliver of the 10 million victims of the Nazis on International Holocaust Remembrance Day."
Far-right political movements and anti-refugee xenophobia are on the rise across the West, amidst the worst refugee crisis since World War II. On International Holocaust Remembrance Day on Friday, January 27, President Donald Trump signed an explicitly racist executive order banning refugees and barring nationals from seven Muslim-majority countries from entering the U.S., including those with green cards and visas.
Neiss drew parallels between the plight of Jewish refugees who were turned away 80 years ago and the Muslim refugees fleeing Western-backed wars today.
"'We Remember' and 'Never Again' ought to be more than empty platitudes," he said.
Neiss condemned the Zionist Organization of America in particular for its anti-refugee stance. Leading pro-Israel groups have jumped on the Trump bandwagon and either expressed support for, or remained silent on Trump's extreme anti-Muslim, anti-refugee policies. The Zionist Organization of America even hosted Steve Bannon , a far-right racist who has been accused of anti-Semitism, to speak at its gala.
Neiss also criticized the Jewish Federations of North America, the American Jewish Committee, and the Jewish Council on Public Affairs, "for their silence on the issue."
"If the goal of these organizations actually means 'Never Again,' and 'We Remember,' they ought to do something to prove it," he said.
"The Anti Defamation League has been the only mainstream Jewish group to have taken a pro-refugee stand on this issue and they ought to be commended," Neiss added.
The anti-Muslim sentiment that plagues the U.S. and Europe today echoes the anti-Semitism of the early 20th century. In fact, many of today's Islamophobic myths employ the same language as the anti-Semitic stereotypes of yesteryear.
In World War II, the Nazis and their fascist allies killed more than six million Jews in one of the worst genocides in human history. They also murdered millions of communists, socialists, anarchists, labor organizers, feminists, Romanis, people of African descent, homosexuals, and the disabled. Nazi Germany was only defeated through the enormous sacrifices of the Soviet Union. At least 26 million Soviets—more than half of them civilians—lost their lives in the fight against Nazism. In contrast, just around 400,000 Americans and 400,000 Britons died in the war.
Some 20 million Chinese, more than three-quarters of whom were civilians, also died in the war against the fascist Japanese empire, which was allied with Nazi Germany and Fascist Italy.
Ben Norton is a reporter for AlterNet's Grayzone Project. You can follow him on Twitter at @BenjaminNorton .
IMAGE: United States Holocaust Memorial Museum