Better Regulation Of Guns Would Reduce Senseless Violence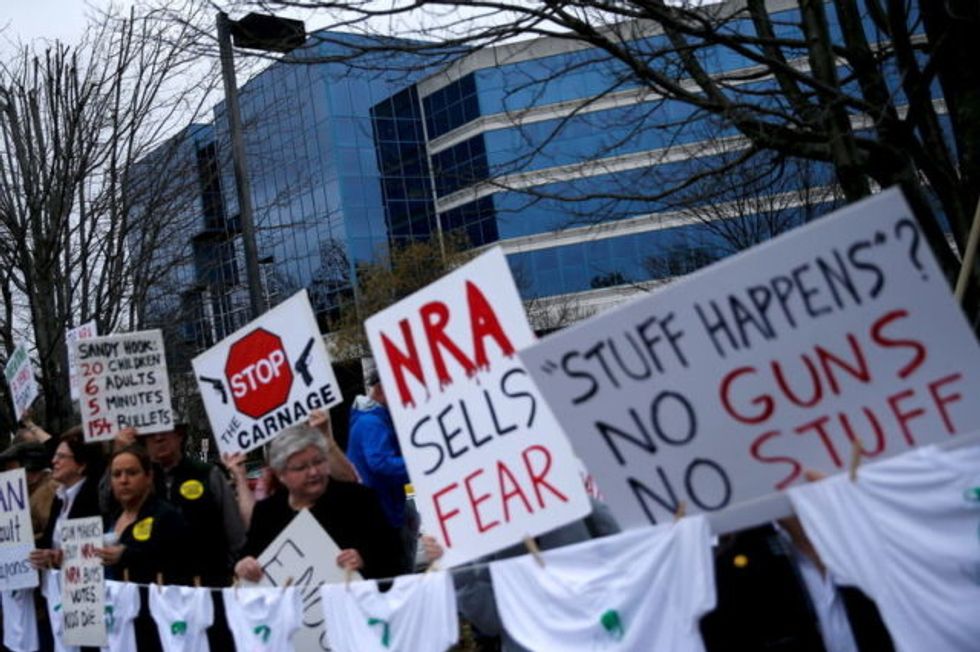 When Donald Trump speaks of the "inner city" — as when he talks about so many other things — he reveals his ignorance. His oddly retro term fails to capture the renaissance that has swept so many urban centers; it overlooks the last three decades' dramatic drop in violent crime; and it suggests that most black Americans live in urban ghettos, which is certainly not true.
But Trump's insensitivity and shallowness aside, there are serious problems lingering in some urban centers, the most troubling being an uptick in the homicide rate. Over the last year or so, as criminal justice experts have noted, murders are up in several cities around the country, including Los Angeles, Houston, Philadelphia, Washington, D.C., Baltimore and Chicago.
And it's not only the nation's larger cities that have seen an upsurge in violence; so have smaller ones such as Mobile, Alabama, where I live. According to local law enforcement authorities, Mobile has already surpassed its recent high of 31 homicides in 2014. By mid-October, police were investigating the 35th.
Why aren't we more upset about these murders? Why aren't we holding daily protests and demonstrations to demand better police tactics to ameliorate the violence? Why aren't we insisting that the presidential candidates outline plans to deal with poverty, joblessness and persistent hopelessness, which allow violence to flourish? And why, oh why, aren't we holding weekly conclaves with leading politicians to demand reasonable gun control?
Yes, we ought to react with anger and alarm when a poorly trained, trigger-happy police officer shoots down an unarmed black man. But we should also be angry and alarmed when a lovely teenage girl like 15-year-old Trinity Gay, daughter of Olympian Tyson Gay and a rising track star herself, is gunned down in the parking lot of a Lexington, Kentucky, restaurant, apparently caught in the crossfire between two groups of men shooting at each other earlier this month.
To keep this in perspective, violent crime is still trending downward from its lofty and frightening heights in the 1980s and early '90s. Chicago's murder rate, for example, is only about half as high as it was in 1990. (And it's always wise to reiterate that most homicides are intra-racial: The vast majority of black victims are killed by black assailants, while the vast majority of white victims are killed by white assailants.)
Still, some neighborhoods are suffering staggering losses. Those caught in gang wars, turf battles and revenge slayings over dumb insults include children on the playground, mothers driving to work and elderly couples out for a stroll.
And that doesn't even take into account the actual targets (and perpetrators) of most of these crimes: young black men who have been seduced by the siren song of the streets, who have little hope for productive lives (or long lives, for that matter), who have so little self-respect that they cannot manage any respect for others. They are killing each other with a callousness that is chilling.
While the phrase "root causes" went out of vogue a long time ago (just as "inner city" did), it remains true that young men consigned to lives of poverty and despair will frequently turn to crime. The nation needs a new plan to tackle the intergenerational poverty that has left so many of them behind. That makes more sense than spending billions on incarceration, which leaves families bereft of husbands and fathers and produces better-trained criminals.
But the single best weapon (if I may use that term) against this senseless violence would be the better regulation of firearms, a goal that shouldn't be beyond our reach. Gun rights advocates note that Chicago already has tough firearms regulations, but that doesn't prevent nearby jurisdictions from selling weapons to Chicago residents. That means that state politicians, in Illinois and elsewhere, will have to be persuaded to crack down on gun sales.
Impossible, you say? Not if enough voters started to care about the lives of poor black people lost to street violence. Black lives certainly ought to matter, regardless of the way those lives are lost.
Cynthia Tucker won the Pulitzer Prize for commentary in 2007. She can be reached at cynthia@cynthiatucker.com.
Photo: Activists hold a protest and vigil against gun violence on the third anniversary of the Sandy Hook mass shooting, outside the National Rifle Association (NRA) headquarters in Fairfax, Virginia December 14, 2015. REUTERS/Jonathan Ernst