Release Of Medicare Doctor Payments Shows Some Huge Payouts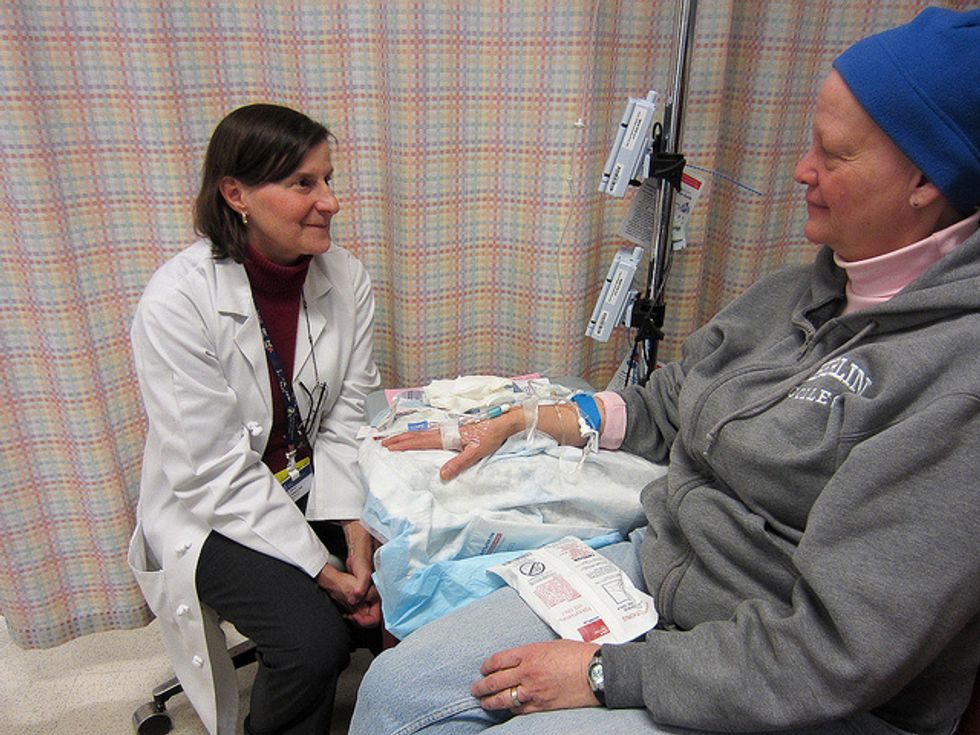 By Chad Terhune, Noam N. Levey and Doug Smith, Los Angeles Times
Ending decades of secrecy, Medicare is showing what the giant health care program for seniors pays individual doctors, and the figures reveal that more than a dozen physicians received in excess of $10 million each in 2012.
The Obama administration released a detailed account Wednesday of $77 billion in government payouts to more than 880,000 health care providers nationwide that year. The release of payment records involving doctors has been legally blocked since 1979, but recent court rulings removed those obstacles. No personal information on patients is disclosed.
The two highest-paid doctors listed in the Medicare data are already under government review because of suspected improper billing. They include an ophthalmologist in the retiree haven of West Palm Beach, Fla., who topped the list by taking in more than $26 million to treat fewer than 900 patients. That is 61 times the average Medicare payout of $430,000 for an ophthalmologist. A Florida cardiologist received $23 million in Medicare payments in 2012, nearly 80 times the average amount for that specialty.
The overwhelming majority of doctors billed the government very modest amounts. Overall, 2 percent of health care providers accounted for 23 percent of the Medicare fees, the federal data show.
Medicare officials said disclosing physician payment data marks an unprecedented opportunity to make the nation's health care system more transparent for consumers and accountable to taxpayers. Many consumer advocates and employers applauded the move.
"Providing consumers with this information will help them make more informed choices about the care they receive," Jonathan Blum, Medicare's principal deputy administrator, said last week. Medicare plans to post the data online.
Still, federal officials cautioned against drawing sweeping conclusions about individual doctors from the numbers. High payouts do not necessarily indicate improper billing or fraud, they say. Payments could be driven higher because providers were treating sicker patients who required more treatment.
The new data reflect only Medicare Part B claims, which include doctor visits, lab tests and other treatment typically provided outside a hospital. They include what Medicare paid plus any money providers received from patients for deductibles and co-insurance. Altogether, the payouts totaled $99 billion paid to health care providers in 2012. These government figures don't cover commercial insurance or Medicaid.
Even with those limitations, experts say, the data could serve as an early warning for potential waste and abuse.
Spending on the Medicare program, which covers about 60 million elderly and disabled Americans, is expected to exceed $600 billion this year. There is broad agreement that fraud is rampant in both Medicare and Medicaid, the government health program for the poor, but estimates of the scope vary from $20 billion annually to $100 billion.
The American Medical Association and other physician groups have long opposed the release of the Medicare data.
AMA President Dr. Ardis Dee Hoven said the group remained concerned that inaccuracies in the data or misinterpretation might unfairly tar some physicians.
She said some individual physicians might appear to be billing huge amounts to Medicare when in fact it is their entire practice that bills under a single physician's name. In other cases, high-volume physicians may actually be experts in their field who instead will be portrayed in a bad light.
"How does a physician or a practice get their reputation back?" Hoven said.

For 2012, the top recipient of Medicare money in the country was ophthalmologist Salomon Melgen, whose billings have already been the subject of federal investigation.
Melgen has been a heavy donor to Sen. Robert Menendez (D-NJ) Last year, federal officials said a grand jury was looking into Melgen's billing practices, and a separate investigation was examining whether Menendez had improperly intervened on his behalf.
An attorney for Melgen, Kirk Ogrosky, said the physician had billed in accordance with Medicare rules. Ogrosky said the vast majority of the money attributed to Melgen reflected the cost of drugs used in treatment and that physician reimbursement is set at 6 percent above what is paid for the medications.
"Dr. Melgen strongly supports transparency in government," Ogrosky said, "but engaging in speculation based on raw data is irresponsible."
Cardiologist Asad Qamar in Ocala, Fla., ranked second nationally with $22.9 million in payments for seeing Medicare patients in 2012.
He said specialists like himself who provide a variety of services inside their own medical facility have much higher bills because they reflect both the physician's professional fee and fees to cover staffing, medical devices and supplies.
Likewise, some oncologists say their payouts appear so much higher than their peers' because they are covering the price of expensive cancer drugs that other doctors operating inside a hospital wouldn't bill for.
"By doing everything in your office, your numbers will be astronomical," Qamar said. "Looking at the sheer volume of payments is a gross mistake."
Qamar said Medicare put his billing on heightened review and delayed reimbursements more than a year ago. "I am 100 percent confident we are not doing anything wrong," he said.
The disclosure of physician payments follows the federal government's release last year of hospital charges that showed wild variations among medical centers for the same procedure. Increasingly, consumers and employers are demanding more transparency to avoid unnecessary medical spending and to spur more competition over cost in the nation's $2.7 trillion health care system.
"We can't reward high-quality care and pay for value unless we know what we're paying for health care services now," said Bill Kramer, executive director for national health policy at the Pacific Business Group on Health, a nonprofit coalition that represents large employers.
In December, the inspector general for the U.S. Health and Human Services Department found 303 physicians who provided more than $3 million in Medicare Part B services in 2009. Medicare's outside billing contractors flagged 104 of those providers, or 34 percent, for additional review and identified $34 million in overpayments. The audit didn't name the doctors.
"The results of these reviews demonstrate that identifying clinicians who are responsible for high cumulative payments could be a useful means of identifying possible improper payments," federal auditors wrote in their report.
Photo: kbrookes via Flickr