Remote Ocean Swept For Jet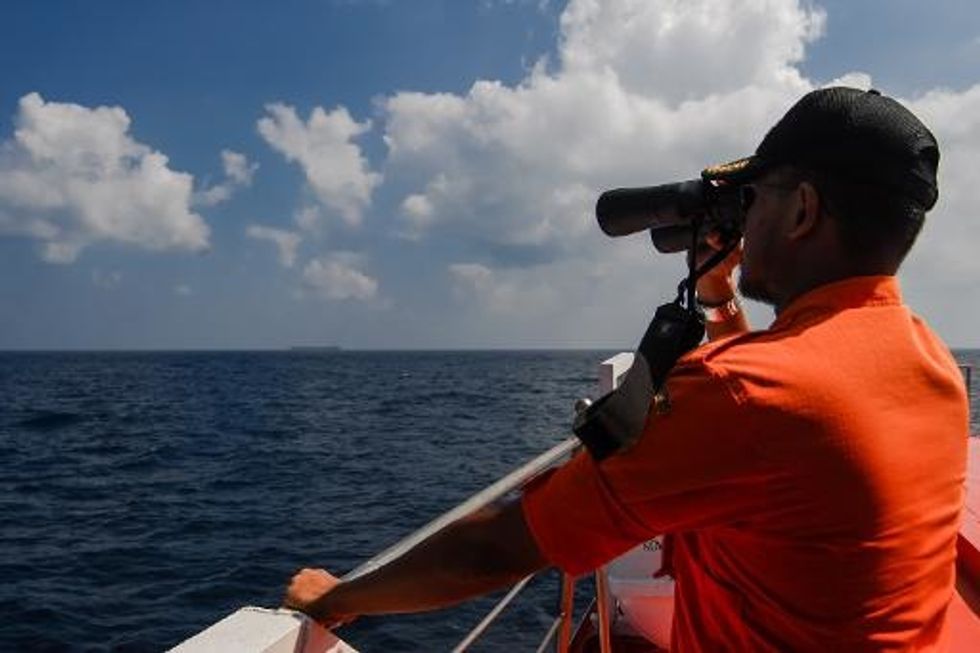 By Ralph Vartabedian and W.J. Hennigan, Los Angeles Times
The U.S. Navy dispatched its most technologically advanced search aircraft to an empty quarter of the Indian Ocean on Thursday to look for two large pieces of debris that may provide the first physical evidence in the investigation of Malaysia Airlines Flight 370.
Experts were hopeful that the debris would not turn out to be another of the false leads and misinterpreted data that have dogged the investigation into why the Boeing 777 carrying 239 passengers and crew turned from its Beijing trajectory March 8 and then vanished.
Even if the floating objects photographed in the southern Indian Ocean on Sunday by a commercial satellite prove to be from the aircraft, the remainder could lie thousands of feet below the ocean surface and possibly hundreds of miles away.
"It is the beginning of a very long saga," said David Gallo, who managed search expeditions for Air France Flight 447, which crashed into the Atlantic Ocean off Brazil in 2009. "The search teams are already physically and emotionally drained."
Hishammuddin Hussein, Malaysia's defense minister and chief government spokesman, said Friday that he remained cautious about the debris report, even as officials there were gearing up for a multinational operation to recover the plane's black boxes, with lessons learned from the Air France recovery effort.
In the time since the debris was photographed, about 1,500 miles southwest of Perth, Australia, it could have drifted 70 miles, complicating efforts to get a closer look, experts said. Its drift from the impact area would be far greater, they added.
Although currents and winds in that part of the Indian Ocean are not considered particularly strong, predicting how a piece of debris can drift over many days is an inexact science. Calculating where the main body of wreckage may have settled after sinking several thousand feet could be even harder, oceanographers and accident investigators say.
Search aircraft spent very little time over the area Thursday before the mission had to be called off at nightfall. Expectations were not much greater for coming days. Even the most capable long-range aircraft, including the U.S. Navy's P-8 Poseidon, would get only three hours to comb the area before having to return to a distant base in Perth.
"As oceans go, this is probably one of the most remote areas on the planet," Gallo said. "It's a long way from any place."
The larger of the two photographed pieces was estimated to be 79 feet long, according to an analysis by the Australian navy. Only two parts of a 777 — the fuselage or a wing — are as extensive. Although a wing, empty of its fuel after a long flight, might float for a while, the fuselage probably would sink soon, experts said. A number of experts also cautioned that the debris could be nothing more than the normal junk that floats in much of the world's oceans.
If the debris is verified, however, scientists will create computer models based on factors such as ocean currents and wind speed to predict where the impact zone and underwater debris field lie, said Gallo, director of special operations at Woods Hole Oceanographic Institution in Massachusetts.
Even the smallest detail about the floating objects, such as whether they might catch wind like a sail, can affect their movements, experts said.
"The ocean is full of surprises," said Luca Centurioni, a researcher at the Scripps Institution of Oceanography in La Jolla. "The ocean could be moving in one direction and the wind can make it go a different way."
Centurioni said the ocean currents in the area move easterly at about half a mile per hour.
The area is known as the Mid-Indian Ridge, with water depths of 10,000 feet to 13,000 feet that create pressures so intense that retrieving debris would require the use of remotely controlled submersible research vessels.
In the meantime, navy aircraft will probably follow traditional search patterns, flying back and forth along rows, like mowing a lawn. Even at low altitude with radar and infrared sensors that detect variations in temperature, debris can be difficult to find, said Robert Ditchey, a commercial airline executive and former Navy pilot who flew a submarine-hunting P-3 Orion.
Even a whale breaching the surface may be invisible from an overhead search aircraft, depending on sunlight, water clarity and wave height, he said.
"Waves reflect radar and water alters the optical capability of infrared," Ditchey said. "You can have something a few inches below the surface and you can't see it."
Once they narrow their search area, investigators will lower listening devices and attempt to pick up signals from a device attached to the plane's two black boxes. Battery life of the "pinger" devices is about 30 days.
Although it took searchers five days to find wreckage of the Air France flight, it took two years to retrieve its voice and data recorders from a depth of about 13,000 feet. Information they revealed help clarify the cause of that crash.
Experts remain hopeful that they will catch a similar break in the Malaysia Airlines mystery.
"This has been a roller coaster," said Michael Barr, an accident investigation expert and former military pilot. "Everything has been unlucky so far, so maybe this time we will get lucky."
AFP Photo/Chaideer Mahyuddin