Rep. Jordan Faces New Federal Probe Of Ohio State Sex Abuse Scandal
@EricBoehlert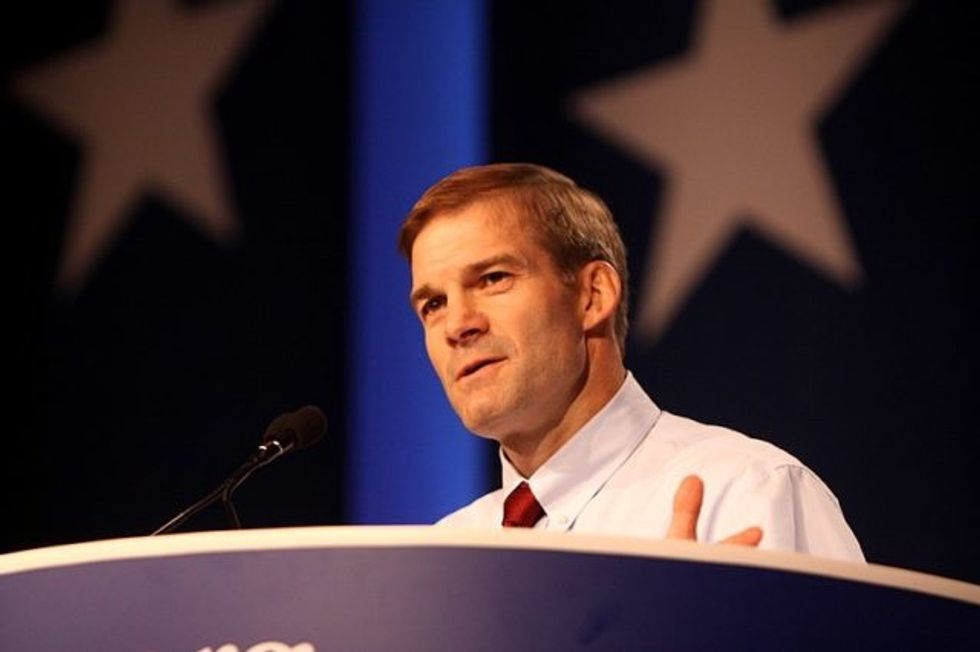 Reprinted with permission from Shareblue.
Trump loyalist Rep. Jim Jordan (R-OH) wants to be the next Speaker of the House. But first, federal investigators are going to want to know what Jordan knew, as an Ohio State University wrestling coach, about complaints surrounding a university doctor who is accused of sexual abusing athletes.
On Thursday, the Department of Education announced that its Office for Civil Rights has launched an investigation into the OSU abuse scandal.
And it's not just top ranking university officials who will be the target of the Department of Education probe. Federal investigators want to find out how all OSU staffers dealt with Strauss and the real-time complaints about his behavior.
"The Department's Office for Civil Rights will investigate the university's response to 'allegations that employees knew or should have known about the sexual misconduct and allowed the abuse to continue,'" NBC News reported.
Last month, Jordan was mentioned several times in a class-action lawsuit  as an example of an OSU employee who failed to take action when told about the Strauss abuse.
The Department of Education announcement marks the second major investigation that's now underway into the sprawling OSU scandal. In April, OSU hired an outside law firm to conduct a full-scale investigation into the charges surrounding Strauss. That inquiry remains ongoing.
Strauss worked at the university as a team physician for two decades and allegedly preyed on student athletes during physical examinations. He killed himself in 2005.
Jordan, an OSU coach from 1986 to 1994, has already been accused of turning a blind eye to Strauss and not protecting students from the abuse.
"Six former Ohio State wrestlers interviewed by NBC News have said they believe Jordan must have known about the alleged abuse," the network reported in June. "One said he had told Jordan about it directly, and his account was corroborated by another wrestler."
Since then, the number has climbed to nine former OSU wrestlers who have come forward to allege that Jordan knew that students were being sexually abused by the team doctor — yet stood by and did nothing.
"I considered Jim Jordan a friend," said Mike DiSabato, a former wrestler who says he was abused. "But at the end of the day, he is absolutely lying if he says he doesn't know what was going on."
When the OSU scandal story first broke, Jordan went on Fox News and pushed the wild conspiracythat former wrestlers coming forward with allegations against him were somehow connected to the fact that Jordan recently sparred with Deputy Attorney General Rod Rosenstein during a House hearing over special counsel Robert Mueller's Russia investigation.
Jordan is the co-founder of the ultra-conservative House Freedom Caucus who has dedicated this congressional term to running interference for the White House on the Russia probe.
Last month, he announced he's running to be Republican Speaker of the House if the party retains control next year.
Being under investigation for ignoring chronic sexual abuse probably isn't going to help Jordan's chances.
Published with permission of The American Independent.