Rep. Trey Gowdy Admits Republicans Are 'Overstating' Accusations Against FBI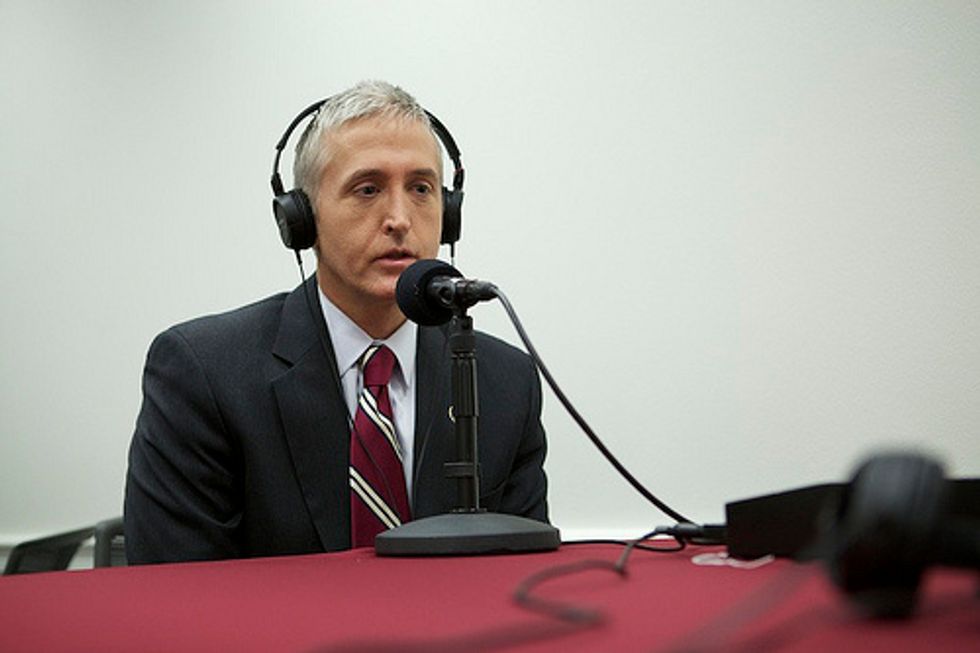 Republicans are having a hard time letting go of their smears of the FBI, but House Oversight and Government Reform Committee Chairman Rep. Trey Gowdy (R-SC) gave away the whole game on Sunday.
Republicans have spent months trying to smear the FBI's investigation of Russian collusion over a series of text messages between a pair of agents, an effort that reached its absurd peak this week when a sitting GOP senator claimed he had evidence of a "secret society" within the FBI, only to be exposed as a laughing-stock.
In an interview on Fox News Sunday, host Chris Wallace called Republicans out for their "secret society" lie, and Gowdy made a stunning admission.
"Don't Republicans hurt their credibility on real issues of bias when they make such a big deal about secret societies and palace coups?" Wallace asked.
"Yes," Gowdy replied, adding "Republicans are the best I've ever seen at taking good facts and overstating them, and therefore changing the narrative."
Gowdy's admission could fairly be considered a boast in the context of his own history of Benghazi conspiracy-mongering.
But Gowdy then went on to demonstrate his own premise by alleging a "clear pattern" of bias, and that the texts "speak for themselves."
The biggest problem for Republicans, and Gowdy, is that even if the texts say what they claim, the agent in question was immediately removed from the investigation. But those texts also show a range of negative opinions about Democrats. The smear has since fallen apart even more completely over the "secret society" snafu, and the recovery of texts that had been lost due to a technical glitch that some Republicans desperately tried to spin as yet another conspiracy.
Republicans lying to cover for Trump is nothing new. But it is helpful when they brag so openly about it. Come November, there may be less of them to do so.