Report: Kushner 'Punished' For Chief Of Staff Blunder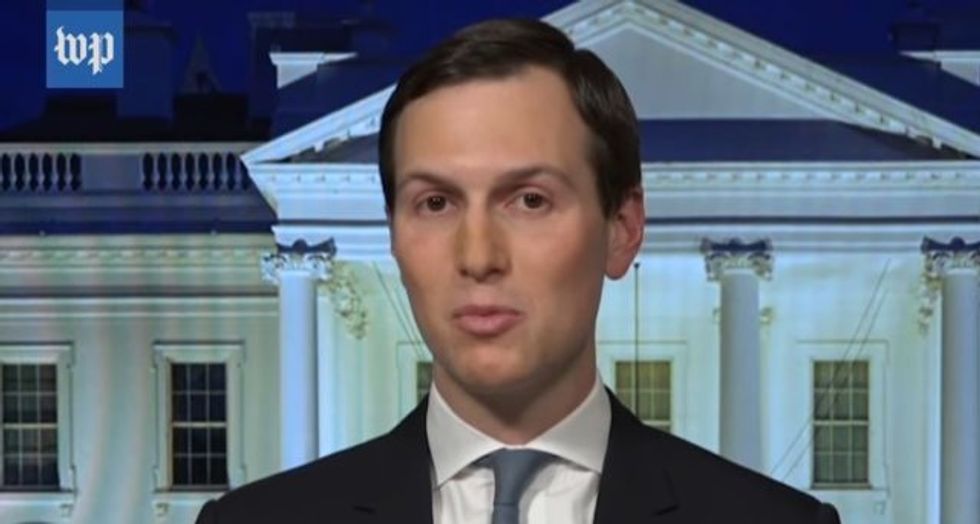 Reprinted with permission from AlterNet.
President Donald Trump is not happy with his son-in-law and top adviser Jared Kushner, according to a new report in Vanity Fair.
Reporter Gabriel Sherman found that the president blames Kushner for the embarrassing failure of his plan to replace current White House Chief of Staff John Kelly with Nick Ayers, who is serving as the vice president's chief of staff. Kushner and Ivanka Trump reportedly pushed for Kelly's ouster and Ayers' ascension, but Ayers foiled the plan on Saturday shortly after Trump revealed he would need a new chief of staff.
To punish Kushner for his role in this blunder, Sherman reports that Trump forced his son-in-law to go on Sean Hannity's Fox News show and take the heat. Kushner rarely speaks in public.
"Trump said, 'You're going to go on there and defend me and take blame for chief of staff as punishment,'" one source told Sherman.
Despite Ivanka's reported participation in the effort to promote Ayers, it's not clear she felt any backlash from her father.
Kushner's record thus far in the White House has been dismal. His most notable accomplishment has been forging a close bond with Saudi Crown Prince Mohammed bin Salman — a move that now looks foolhardy, corrupt and amoral after the revelations of the crown prince's role in the murder of Washington Post journalist Jamal Khashoggi.
Kushner's role in prison reform, which he spoke about in his appearance with Hannity, may soon be the one bright spot on an otherwise dismal record.
Cody Fenwick is a reporter and editor. Follow him on Twitter @codytfenwick.