Report: NDN Shows Decline In Total Number Of Deportations During Obama Administration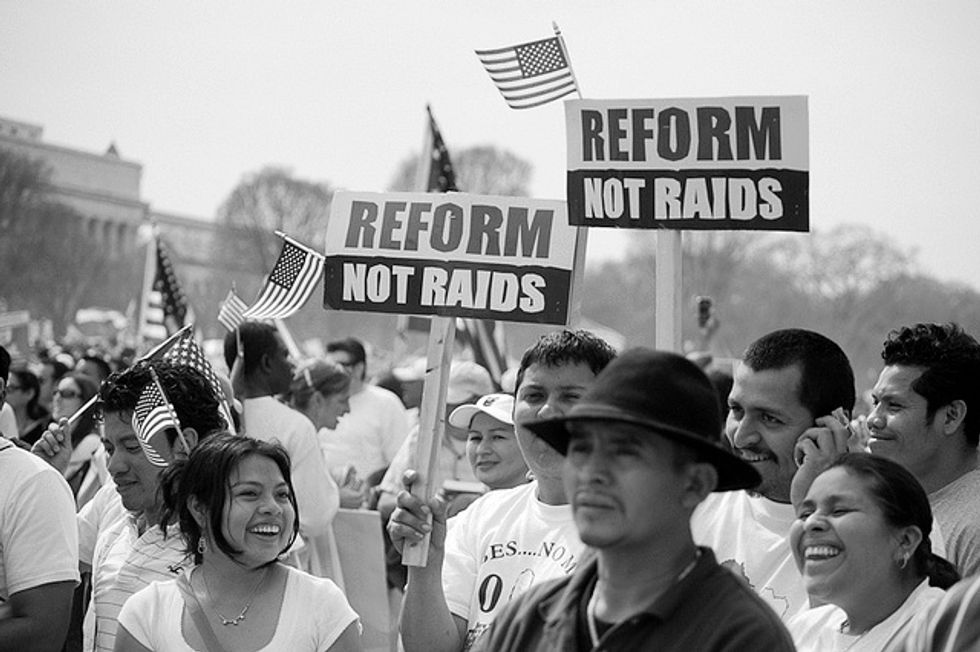 In 2012, a conservative group known as American Principles in Action ran an ad that called President Obama the "deporter-in-chief," claiming that "Obama has deported more people than any other president in this country's history." The charge has been often repeated throughout the president's time in office (just this Monday, Fox News Latino published a report proclaiming that deportations have quadrupled during Obama's presidency).
According to a new report from New Democrat Network, however, that does not tell the complete story.
The study from NDN, a center-left think tank, separates deportations into separate categories: "removals" and "returns." Removals are defined by the government as "the compulsory and confirmed movement of an inadmissible or deportable alien out of the United States based on an order of removal." Returns, on the other hand, are considered "the confirmed movement of an inadmissible or deportable alien out of the United States not based on an order of removal."
Until recently, returns were otherwise known as "voluntary departures," and result in lesser consequences for individuals who return illegally. Those who are "returned" are often given the opportunity to remain in the country for a short period of time in order to tie up any loose ends or make arrangements for their departure. Removals, conversely, come with an automatic 5- to 10-year ban on re-entry to the United States, and potential incarceration or a lifetime ban should the individual violate the terms of his or her removal.
The NDN report shows that removals under Obama's administration have indeed increased, from a record low of 165,168 during the Bush administration in 2002 to a record high of 419,384 in 2012. However, the number of returns has plummeted — dropping sharply from 2008 to 2009, when Obama first took office, and declining steadily since.  In 2001, there were 1,349,371 returns, but in 2012 there were only 229,968 — a drop of nearly 83 percent.
When removals and returns are considered together, the total number of deportations has dropped significantly. At the beginning of the Bush administration, there were a total of 1,538,397 deportations; 11 years later, in 2012, there were 649,352 — a decrease of approximately 52 percent.
Though the numbers for fiscal year 2013 have yet to be released, they are projected to follow the declining trend, as U.S. Immigration and Customs Enforcement (ICE) reported that the number of removals fell from 409,849 to 368,644 (a 10 percent decrease). Simon Rosenberg, the president of NDN, said in response to these figures: "Those who argue that Obama is deporter-in-chief, removing more people than anyone in history, are wrong."
These new numbers might give President Obama more ammunition in defending himself against reform advocates, who believe that he should do more in stemming the "rising" number of deportations under his administration. Obama has faced increasing pressure from members of his own party to address supposedly record-high levels of deportations.
In fact, the decline of returns might suggest improvements in both immigration policy and border control. For example, an improving Mexican economy and safer border cities are lessening the motivation for undocumented immigrants to cross the border. Increased trade with Mexico, which is now a $550 billion yearly transaction, up from $340 billion in 2009, has made Mexico the third largest trading partner of the U.S., and its second largest export market.
According to Immigration and Border Enforcement, net migration from Mexico has fallen to zero today, from a 2001 high of 770,000 people per year. Moreover, ICE reports that 82 percent of the unauthorized immigrants removed from the U.S. had a criminal conviction, and about two-thirds of all removals were made at the border.
So while some numbers suggest an Obama administration penchant for deportation, a closer examination of the whole picture tells a different story.
Photo: Anunska Sampredo via Flickr