Report: Trump Organization Project In Uruguay Is Failing
@Snipy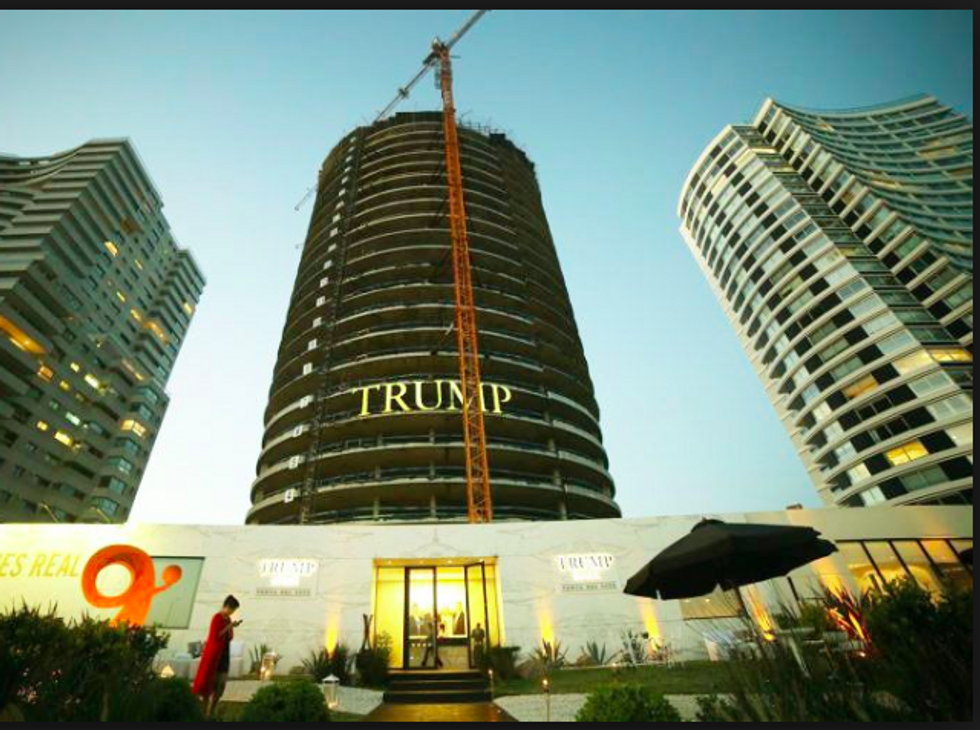 Trump's presidency is littered with failures, and it appears the same is happening with his real estate business right now.
The Trump Organization — now run by his sons Donald Jr. and Eric — isn't pursuing any more building deals in the United States right now, and at least one of their international deals is an absolute mess.
Right now in Uruguay, the Trump name has been attached to a giant building project: 25 stories, 156 condos, multiple swimming pools, and a helipad. The project is in Punta del Este, which the New York Times characterized as a "gaudy, hard-partying town that has been a destination for money launderers and tax evaders."
It's Eric Trump's job to prop up this failing enterprise, so he traveled to Uruguay and described the project, in true Trumpian fashion, as "the best building anywhere in Punta del Este, anywhere in South America."
Of course, that's not the case.
First, though Trump brags his buildings are completed "under budget, ahead of schedule," that is not true here. The current target is to finish the building next year, which would be four years behind schedule. Except — no one believes that date.
When a director of the union representing construction workers on the project was asked if it would be finished by 2020, he answered, "Of course not." His estimate is an additional four years, which would mean it took a decade to build.
Next, the people interested in buying some of the 156 condos on the property are often less than savory. They've got legal problems of their own in their home companies, including tax evasion. And at least 21 buyers are anonymous companies in jurisdictions like Panama, which the European Union recently said have "strategic deficiencies in their anti-money laundering and counter-terrorist financing frameworks."
The Times notes that this isn't the only Trump Organization deal that's floundering or already dead in the water. A hotel in Mexico only made it as far as getting the foundation poured before it collapsed "amid a series of lawsuits." There's a tower in Azerbaijan that is complete but remains unopened. And at least seven other projects in other countries never went anywhere.
About the only Trump property that seems to be doing ok right now is his hotel in D.C., and that's because people book rooms there in hopes it will curry favor with the administration.
Trump thinks his name is synonymous with luxury and quality, but around the world it's becoming apparent the Trump name stands for shady, unfinished deals.
Published with permission of The American Independent.
IMAGE: A promotional photo of Trump Tower Uruguay in Punta del Este, Uruguay.