Report: Trump Panicking In Divided Capital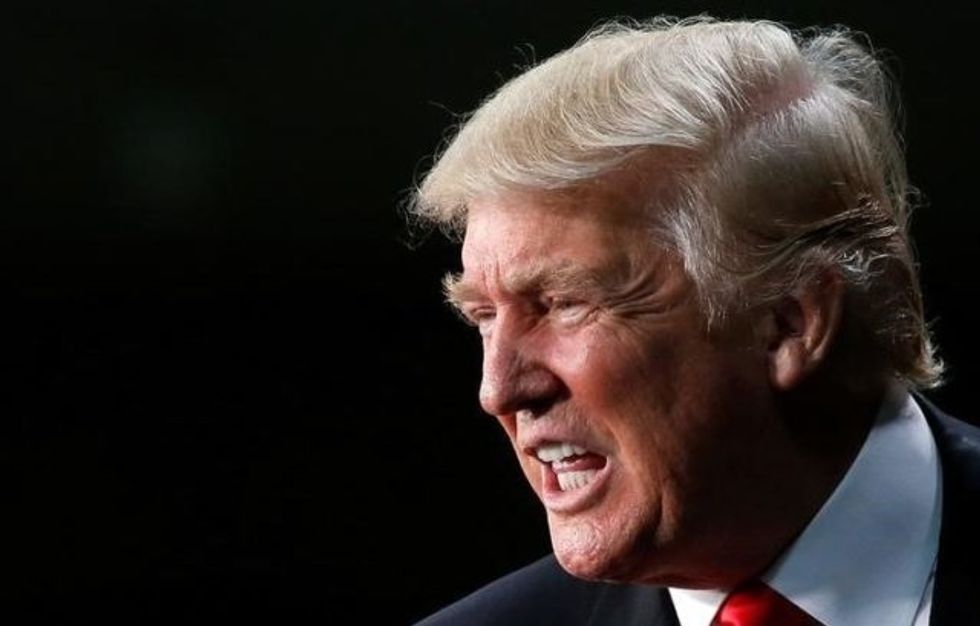 Reprinted with permission from AlterNet.
President Donald Trump is not used to presiding over a divided government, and it's clear he's not going to like it.
His performance in the government funding fight, in which he first promised he'd be "proud" to shut down the government in exchange for border wall spending, then backed down from the fight, and then reversed himself again, proved he's a terrible negotiator and an even worse statesman.
Now that he's in a position to infuriate his base if he doesn't get the border wall money or infuriate the majority of the country if the government shuts down, he's given all his chips to the Democrats. They can still use the filibuster to block any spending bill in the Senate, and soon-to-be House Speaker Nancy Pelosi appears absolutely giddy at the thought that she will have a Democrat majority in her chamber come January that can easily block any other Trump priorities.
And with a bill to keep the government funded through the end of the year already passed in the Senate, all Trump has to do is pledge to sign it. It will then be able to pass the house, and he can sign it into law. It's clear he's the bottleneck in this crisis, and everyone knows it.
"He's losing it," a former White House official told Gabriel Sherman of Vanity Fair. "He doesn't know which way to turn."
Sherman notes that, when it initially appeared Trump was happy to abandon his ultimatum, right-wing media figures turned against him. That truly spooked the president, who reversed himself and unleashed days of chaos.
"Trump didn't understand these are the people who stand on Fifth Avenue when he shoots the bullet," the ex-official told Sherman.
However, this fight concludes, though, things are only going to get worse for Trump. Not only will Pelosi's House be able to block his preferred legislation, it will also besiege the president with investigations.
"They're absolutely going to crush him," one Republican told Sherman of the president. "He has no idea what's coming his way."
So how does the shutdown crisis end? Even if Trump allows the crisis to extend past the deadline, he'll almost certainly realize at some point that it only hurts him and doesn't provide any leverage.
"I think Trump will eventually sign a continuing resolution to reopen the government, and he'll blame Mitch McConnell for not abolishing the Senate filibuster to send him his wall bill (not that there are necessarily even 50 votes to approve a wall by a simple majority in the Senate, but details)," said New York Magazine write Josh Barro.
Cody Fenwick is a reporter and editor. Follow him on Twitter @codytfenwick.