Report: Trump Pressured Australia's Prime Minister To Discredit Mueller Probe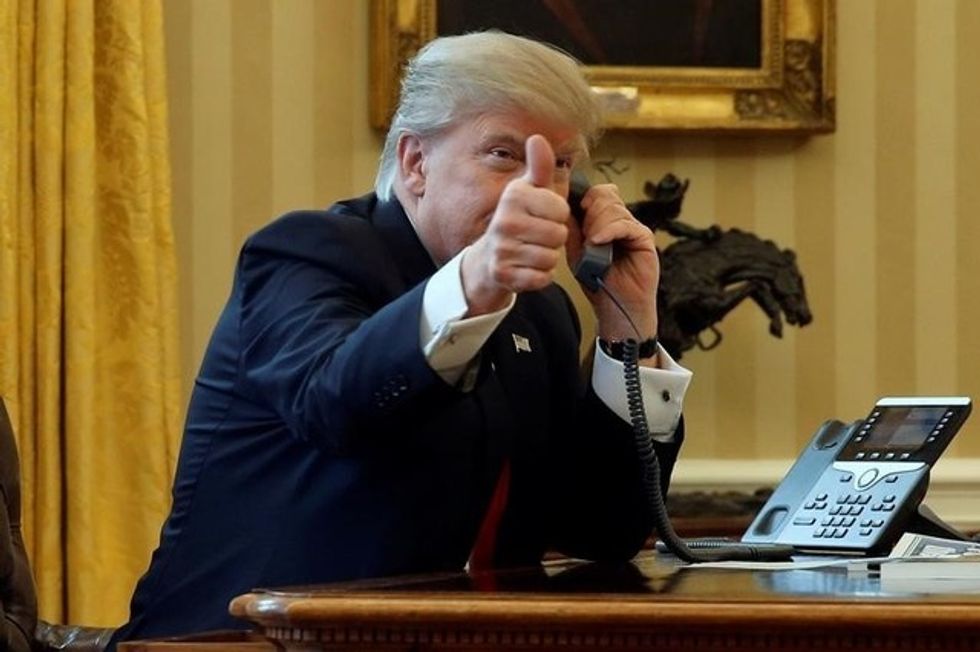 In yet another instance of Trump requesting foreign leaders interfere with American domestic policy, the New York Times reported Monday that Trump asked Australian Prime Minister Scott Morrison to help Attorney General William Barr gather information with the goal of discrediting special counsel Robert Mueller's report.
The Times said the call, which took place "in recent weeks," was initiated by Trump for the explicit purpose of asking Morrison to help the Justice Department's review of the Russia investigation. Further, the Times reports that Barr himself asked Trump to make the call.
After the Times broke the story about Trump's overtures to Australia, the Washington Post reported that Barr reached out to members of British intelligence as well as officials in Italy. According to ABC News, Barr asked Trump to introduce Barr to leaders in both Australia and Italy, as well as possible other countries. The point of the outreach, according to the Post, was part of the conservative agenda to "investigate the investigators" seeking to discredit Mueller and his team.
The request for foreign interference comes on the heels of a whistleblower report alleging Trump requested Ukrainian President Volodymyr Zelensky work with Barr and Rudy Giuliani — Trump's personal attorney — to dig up dirt on former Vice President Joe Biden. The allegation has been largely corroborated, in part by a White House memo showing Trump did, indeed, request "a favor" from Zelensky which would help Trump's 2020 reelection campaign. It is illegal to solicit campaign interference from a foreign national.
According to the whistleblower, Trump's call with Zelensky was placed in a highly classified electronic storage location usually reserved for classified intelligence matters. According to the Times, Trump's call with the Australian prime minister was handled in a similar manner, which is a break from how such calls are usually handled.
Even though Mueller is a decorated war hero who was named as special counsel by Trump's own Justice Department appointees, Trump has nonetheless relentlessly attacked Mueller as a partisan who led a "witch hunt" against Trump. Through the course of Mueller's investigation, several high-ranking campaign officials who worked for Trump in 2016 pleaded guilty and/or were convicted on a variety of federal offenses. Among those who are either in prison or awaiting a sentence include: Trump campaign manager, Trump's deputy campaign manager, Trump's personal attorney, Trump's first national security adviser, and Trump's foreign policy adviser.
In his report, Mueller outlined instances where Trump campaign officials welcomed election interference initiated by Russian operatives. Further, the report outlined numerous instances of Trump obstructing justice.
During the investigation and since the report's release, Trump has tried to discredit Mueller, his team, and the final report. In May, Barr launched an investigation into the Mueller investigation, hoping to further Trump's goal of discrediting the report.
Now, it appears that Trump wanted to outsource some of that investigation to Australia. The request for Australia to help likely comes in part because Australian officials were some of the first to notify the FBI of Russian interference in the 2016 election, according to the Times. The notification came after Trump aide George Papadopoulos told an Australian official about potential dirt Russia had on Hillary Clinton, who was running against Trump.
If the reports are accurate, there is now evidence Trump solicited political assistance from at least two foreign leaders.
Published with permission of The American Independent.