Report: Trump Using Rosenstein To Distract From Kavanaugh Woes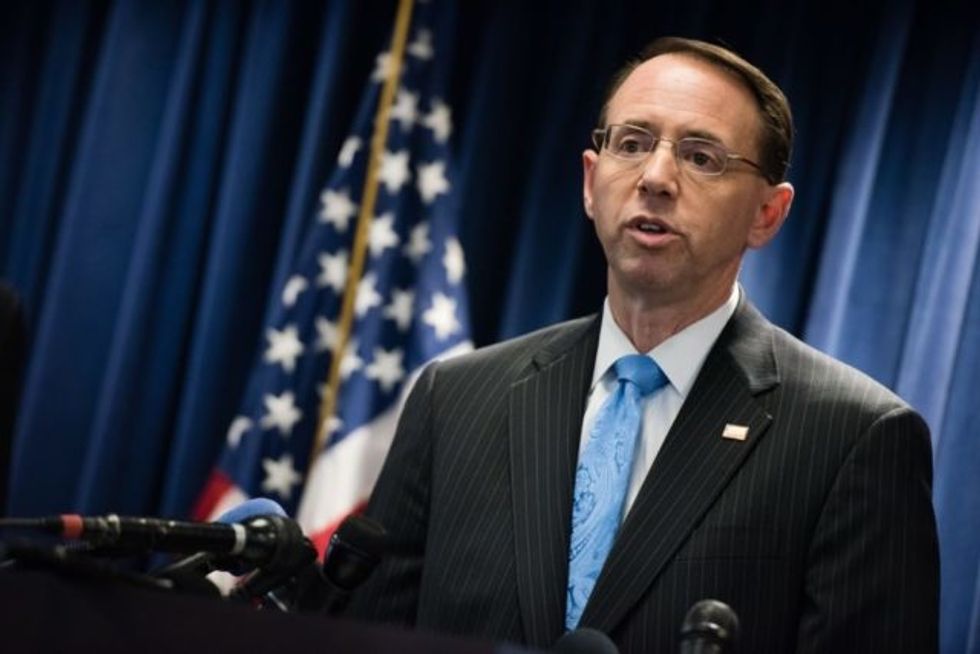 Reprinted with permission from AlterNet.
When news broke from multiple outlets Monday morning that Deputy Attorney General Rod Rosenstein — who oversees Special Counsel Robert Mueller's Russia investigation — was either resigning or being fired from the Justice Department, the political conversation became dominated by questions about what was going on, what the implications of the move were, and what would happen to the investigation.
After that, a flurry of contradictory reports emerged that suggested Rosenstein's fate at the Justice Department was not yet decided. Eventually, White House Press Secretary Sarah Huckabee Sanders announced that President Donald Trump would meet with Rosenstein Thursday, seeming to confirm his job was safe at least until then.
It was a frantic, confusing, and rapid-fire news cycle — and that may have been exactly the point.
According to a report from Vanity Fair reporter Gabriel Sherman, Trump sees firing Rosenstein as a potential distraction from the sexual misconduct allegations against Supreme Court nominee Brett Kavanaugh, who is facing a growing number of accusers.
Sherman wrote:
Over the weekend, as Brett Kavanaugh's prospects appeared increasingly imperiled, Trump faced two tactical options, both of them fraught. One was to cut Kavanaugh loose. But he was also looking for ways to dramatically shift the news cycle away from his embattled Supreme Court nominee. According to a source briefed on Trump's thinking, Trump decided that firing Rosenstein would knock Kavanaugh out of the news, potentially saving his nomination and Republicans' chances for keeping the Senate. "The strategy was to try and do something really big," the source said. The leak about Rosenstein's resignation could have been the result, and it certainly had the desired effect of driving Kavanaugh out of the news for a few hours.
Given Rosenstein's role overseeing the Russia investigation, which could implicate Trump and his family and has already taken down several of his former top aides, rumors of his termination or resignation are sure to draw attention and debate.
Lending credence to the hypothesis that Trump is engineering the Rosenstein drama to counteract the Kavanaugh crisis is the fact that the president will meet with the deputy attorney general on Thursday, which is the day that the Supreme Court nominee and his accuser are set to testify before the Senate.
Cody Fenwick is a reporter and editor. Follow him on Twitter @codytfenwick.