Report: Trump Will Instruct McGahn To Defy House Subpoena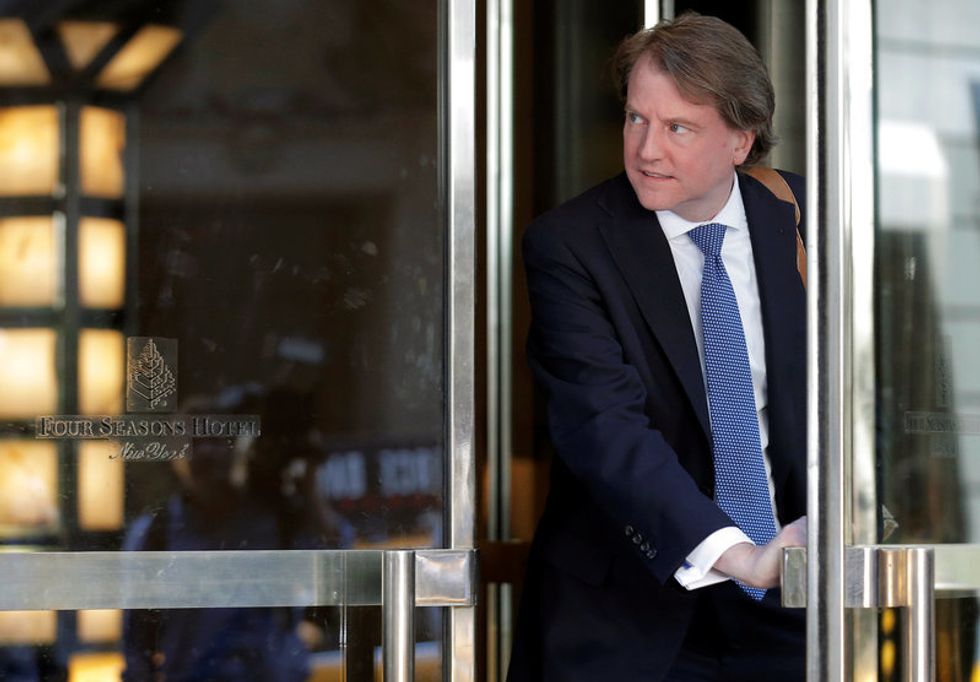 Reprinted with permission from Alternet.
UPDATE: The House Judiciary Committee confirmed late Monday that McGahn will not appear on Tuesday. Judiciary Committee chairman Rep. Jerry Nadler (D-NY) said that he plans to hold McGahn in contempt for his failure to testify.
Democrats have subpoenaed former White House Counsel Don McGahn — a crucial witness in Special Counsel Robert Mueller's report who appears to have given damning testimony about President Donald Trump's attempts to obstruct the Russia investigation — to testify before the House Judiciary Committee.
But according to a New York Times report published on Monday, citing an anonymous source, Trump is planning to tell McGahn to defy the subpoena. This could trigger the House to hold McGahn in contempt.
It's not clear yet how McGahn would react to such a request from Trump. He has a legal obligation to comply with a congressional subpoena, and since he left his role in the administration last year, the president has a weaker hand to prevent him from testifying. But the White House may go to court in an attempt to block McGahn from testifying, and it would then be up to the judicial branch to resolve the dispute between Congress and the administration.
McGahn may want to comply with the White House's wishes even without action from the courts, though. Despite his apparent willingness to give Mueller damning information about Trump, McGahn is a staunch devotee of the Republican Party. He has spent his career promoting the GOP's agenda, especially when he was Trump's White House counsel. His testimony to Mueller suggests he's unwilling to risk breaking the law for Trump — but he may be willing to do everything but that to protect a Republican president and his own reputation within the party.