Republican Cruz Apologizes For Email Implying Carson Might Exit Race
@reuters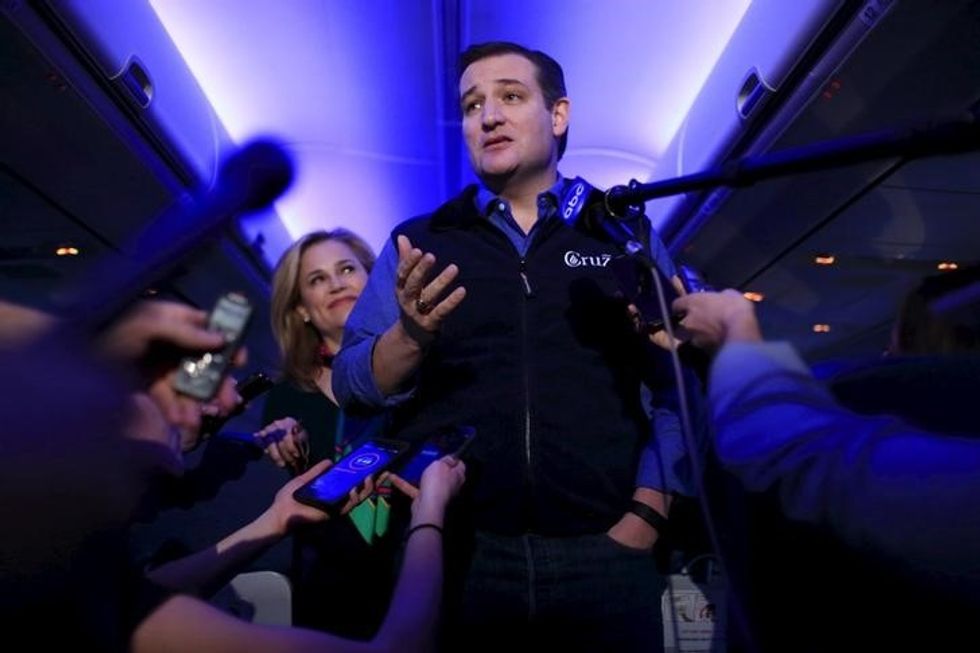 By Megan Cassella
WASHINGTON (Reuters) – U.S. Republican presidential candidate Ted Cruz apologized to Ben Carson on Tuesday over an email his campaign sent on Monday night that implied Carson was about to drop out of the race and that his Iowa backers should be urged to vote for Cruz instead.
A staffer for Cruz sent the email after rumors began circulating that Carson would return to Florida following Iowa's caucuses on Monday rather than go straight to New Hampshire or South Carolina, other early voting states in the state-by-state nominating contests for the Nov. 8 election.
"The press is reporting that Dr. Ben Carson is taking time off from the campaign trail after Iowa and making a big announcement next week," the email read, according to CNN.
"Please inform any Carson caucusgoers of this news and urge them to caucus for Ted Cruz."
Carson said he was simply leaving Iowa to avoid a winter storm and to get fresh clothes before continuing his campaign on Wednesday.
The retired neurosurgeon, who said his fourth-place performance in Iowa would have been better had the email never been sent, criticized the move as "a dirty trick" and said the Cruz campaign should face some kind of consequences.
"What this does is makes me more determined than ever to try to save our country," Carson said on Fox News on Tuesday.
In an apology released on Tuesday afternoon, Cruz, who won the Iowa Republican caucuses, categorized the email as a regular update the campaign would send to grassroots leaders. But the U.S. senator from Texas acknowledged another email should have been sent once Carson clarified he was not dropping out.
"This was a mistake from our end, and for that I apologize to Dr. Carson," Cruz wrote.
Carson accepted the apology, his communications director, A. Larry Ross, said in a statement later on Tuesday.
"This incident further demonstrates that we need an individual who is not a politician to lead and to heal our nation, not someone driven by ambition," Ross said, adding that Carson would continue his campaign in New Hampshire and South Carolina.
Republican National Committee Chairman Reince Priebus said he would not interfere in the situation.
"You take them at their word for it, and you move on to the next state," he said on CNN.
The question remains whether the dispute will hurt Cruz, a favorite of conservative evangelicals looking to win over Carson supporters should Carson drop out.
Dartmouth University political scientist Linda Fowler said it could hurt Cruz if other candidates start to pick up on the interaction and say: "There's a reason why nobody likes Ted Cruz, and here it is."
(Reporting by Megan Cassella, Additional reporting by Emily Stephenson; Editing by Peter Cooney and Cynthia Osterman)
Photo: U.S. Republican presidential candidate Ted Cruz and his wife Heidi speak to the press aboard a plane en route to a campaign event in Piedmont, South Carolina February 2, 2016. REUTERS/Eric Thayer