Republican Discontent With Trump Rising Like A River
@JamieStiehm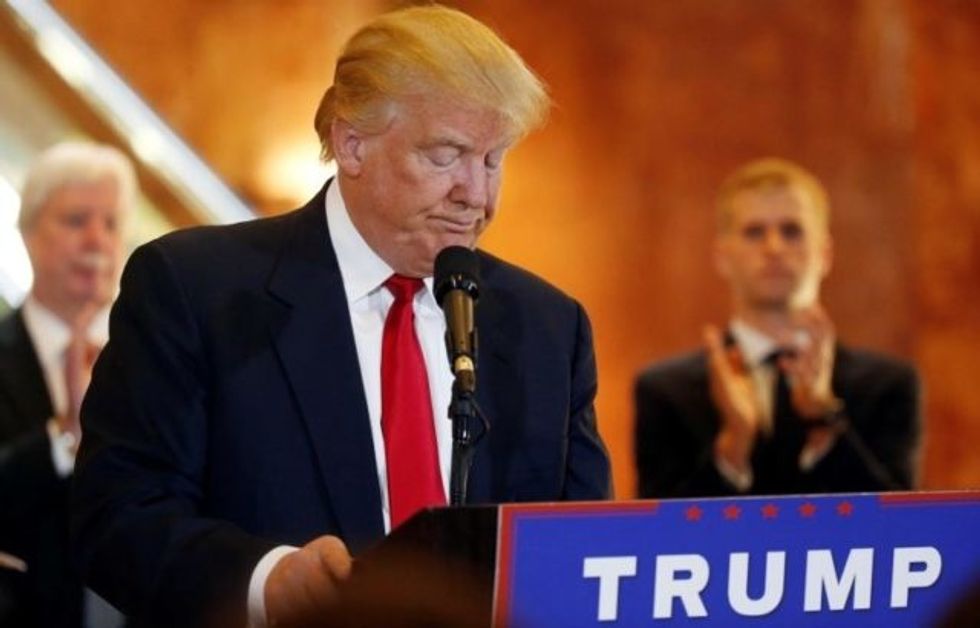 Reprinted with permission from Creators.
WASHINGTON — If you listen, you can hear it coming closer.
The rumble of resistance to President Trump is rising faster than a river this summer. It's not the Democratic minority in Congress. What's new, at the seven-month stretch, is Republican rebellion growing within the government. Even the rock-ribbed Republican House approved a Russian sanctions bill Trump unwillingly signed.
Anxious thoughts on the Senate side of the Capitol dome shadow Republicans. What have we wrought? Can we govern going forward? Tell us how this president ends.
The sea change is, they don't fear Trump's power anymore. Now they're running scared of his plummeting unpopularity.
Some hope rests on the new White House chief of staff, John Kelly, to bring military order as an ex-Marine general. However, Kelly's a dark pessimist with no political touch: today's dream, tomorrow's nightmare.
As homeland security secretary, Kelly declared lawmakers should change laws or "shut up," Boston Globe columnist Michael Cohen noted.
With crisp stage timing, Senator Jeff Flake, an Arizona Republican, is making media rounds for a new book denouncing Trump, "Conscience of a Conservative." (He took the title from a famed Arizona conservative, the late Barry Goldwater.)
Flake, 54, is the first senator to speak out strongly, painting the president as an unclothed emperor. American democracy is fragile and destabilized, he says, thanks to Trump.
Flake will likely oppose the radical new Trump immigration bill, a mean piece of work. At a White House briefing, CNN correspondent Jim Acosta challenged its English-speaking provision as violating the Statue of Liberty poem's open spirit. He was right. We're a nation of immigrants. Ask the pilgrims.
The loss of the Obamacare "skinny" repeal by one vote — despite antics by Vice President Mike Pence on the Senate floor — was a major legislative loss. It was a midnight knell for the president. Three out of 52 Republicans voted against it.
Too bad Flake was not one of them.
Ironically, the senior Arizona Republican, Senator John McCain, voted his conscience to save Obamacare, named for the man who defeated him for president in 2008.
Senate Majority Leader Mitch McConnell speaks softly. He took losing the "skinny" health care repeal like a sport. But he distanced himself from Trump days later. "The president doesn't understand we don't have 50 votes," he said after the bill went down, 51-49.
For the shrewd Kentuckian, that signaled he was not going to let Trump tell him how to do his job.
Even the military, which Trump constantly brags about, is defying the flamboyant commander in chief. Trump's tweet to ban transgender members of the armed services crashed on landing, not the way the Pentagon rolls.
The chairman of the Joint Chiefs of Staff, Marine Gen. Joseph Dunford, "Fightin' Joe," is not enforcing any such ban. A speck of good sense.
Substance is setting Trump back. But so is his famously rude style. The latest gem: The White House is a "real dump."
Is nothing sacred? That's no way to win friends here, where we take a certain pride in 1600 Pennsylvania Avenue, good enough for elegant Thomas Jefferson. Many senators hope to live there someday.
In a small significant step, the Drug Enforcement Agency took a brave stand against Trump's speech to New York police officers, hissing as he told them, "Don't be too nice" in handling suspects under arrest.
Acting DEA head Chuck Rosenberg, who was a counselor to former Attorney General John Ashcroft and chief of staff to former FBI director James Comey, publicly contradicted Trump's words, as condoning violence in law enforcement. He's a respected voice in Washington's establishment.
Most politicians are warm and likable. Both parties are confounded by a president who might be Dale Carnegie's evil twin. Few like Trump, which hurts him more than he knows — or cares. His rage toward Attorney General Jefferson Sessions breaks the code of loyalty to men who endorsed you first.
Washingtonians like to think we're unshakable. But the blue sailor language of Trump's short-lived communications director, Anthony Scaramucci, shocked us more than the Russian investigation.
Then it stiffened the rising tide of resistance.
To find out more about Jamie Stiehm and read features by other Creators Syndicate writers and cartoonists, visit creators.com.