Republican Party Gears Up To Fight Obama Court Nominee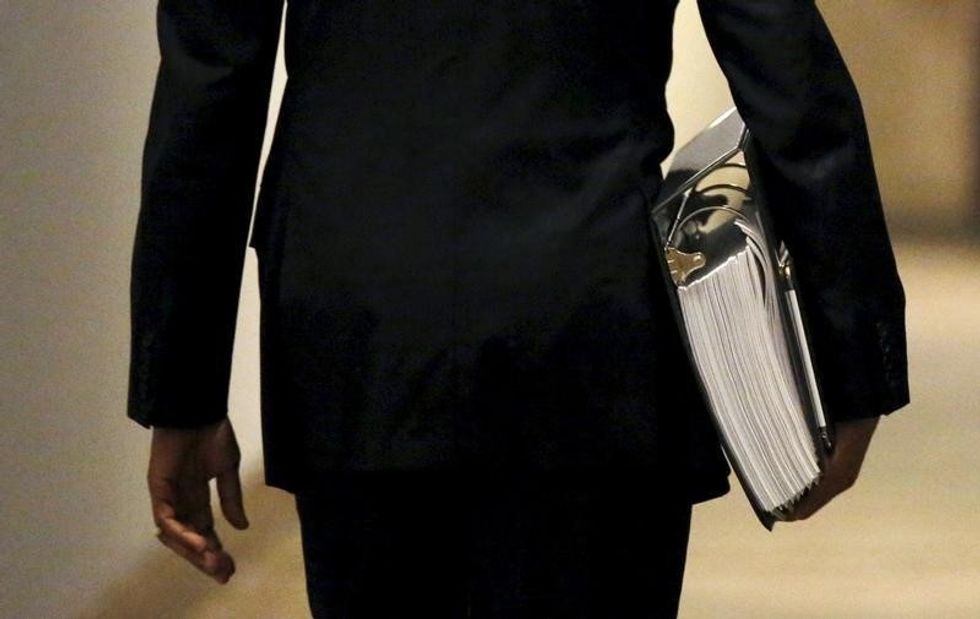 WASHINGTON (Reuters) – The Republican Party on Monday stepped up its fight against any Supreme Court nominee put forward by President Barack Obama while the president's allies hit back against a conservative group's attack on a judge who had been considered for the job.
The Republican Party's move to create a task force to coordinate advertising and other steps to assail Obama's nominee to fill the vacancy left by the Feb. 13 death of conservative Justice Antonin Scalia is the latest indication that the political fight could become very nasty.
"It's clear what Republicans are planning to do," White House spokesman Josh Earnest said. "They are planning to tear down the president's nominee, without regard to who that person is."
The Republican National Committee said the task force will contract and team up with America Rising Squared, a conservative group, in the effort.
"This will be the most comprehensive judicial response effort in our party's history," RNC Chairman Reince Priebus said in a statement.
"If the president wants to break with decades of precedent by pushing through a nominee in an election year, we're going to vet that person and put their real record on display," Priebus said.
Earnest declined to say when Obama would announce his choice to fill the vacancy, beyond saying it would not be on Monday.
The Republicans who control the Senate have vowed not to hold confirmation hearings or an up-or-down vote on anyone Obama picks, saying the choice should belong to the next president who takes office in January after the Nov. 8 presidential election.
The nomination requires Senate confirmation.
High Stakes
The stakes are high, as Obama's selection could pivot the nine-member court to the left for the first time in decades.
In an interview with CNN Espanol that aired on Monday, Obama said he will make his decision "soon." He said he is looking for someone with "impeccable credentials" who "should be a consensus candidate."
Senate Democratic Leader Harry Reid denounced on the Senate floor what he called a "smear" campaign against federal appeals court judge Jane Kelly, who had been on Obama's short list of potential nominees.
Sources familiar with the selection process said on Friday Kelly was not among the final three under consideration, federal appeals court judges Sri Srinivasan, Merrick Garland and Paul Watford.
Reid was referring to an ad campaign mounted by a conservative activist group called the Judicial Crisis Network referring to Kelly as a "a liberal extremist" with a "disturbing background." It cited her prior work as a public defender in Iowa for a man charged with possessing child pornography who was later convicted of first-degree murder and sexual assault in the death of his former girlfriend's 5-year-old daughter.
The group, in a news release, called the ads the next phase of its "national campaign to educate and inform the public about what's at stake in filling the Supreme Court vacancy."
Reid referred to the group as "a dark money, right-wing political organization that operates in total secrecy."
"The accusations leveled against Judge Kelly are despicable," Reid said, calling on Iowa's U.S. senators including Republican Chuck Grassley, the chairman of the Judiciary Committee who in the past praised Kelly, to denounce to the group's charges.
The Senate voted to confirm Kelly to her current position in 2013 in a 96-0 vote.
Obama administration lawyers continued to review the legal opinions of three finalists, weighing whether elements could become a flashpoint for opponents on the right or even the left. The current finalists generally are considered more moderate than liberals in the tradition of Obama's two previous appointments, Sonia Sotomayor and Elena Kagan.
(Additional reporting by Steve Holland, Jeff Mason, Lawrence Hurley and Eric Beech; Writing by Will Dunham; Editing by Cynthia Osterman, Bernard Orr)
Photo: U.S. President Barack Obama carries a binder containing material on potential Supreme Court nominees as he walks towards the residence of the White House in Washington February 19, 2016. REUTERS/Kevin Lamarque