Republicans Defend Senate Memorial To White Supremacist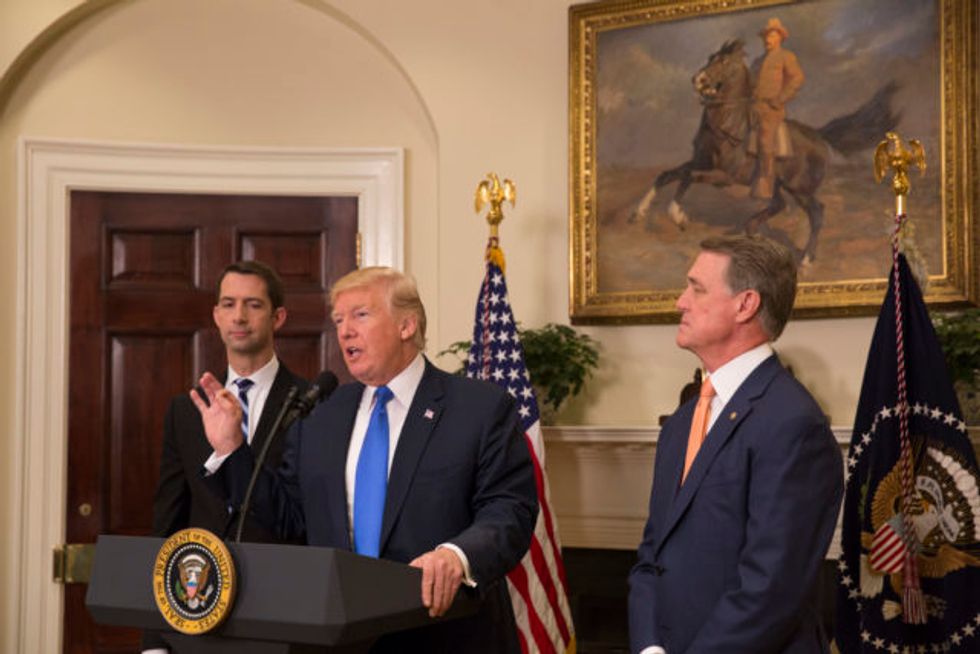 Reprinted with permission from Shareblue.
Sen. David Perdue (R-GA) is opposing the effort to rename the Russell Senate Office building after the late Senator John McCain, and minimized the pro-segregation legacy of the building's current namesake, Sen. Richard Russell Jr. (R-GA).
On Tuesday, Senator Charles Schumer (D-NY) proposed the building be renamed after McCain, noting Russell was "an avowed opponent of civil rights and the architect of the Southern filibuster that long delayed its passage."
In response, Sen. Perdue told reporters he does not want the segregationist's name removed. In his remarks, Perdue reduced Russell's support for white supremacy to just "one issue."
"This was a guy who was a giant in the Senate. This renaming thing because of one issue, it's somewhat troubling," Perdue said.
Russell used his position to oppose legislation that would have banned lynching and abolished the racially discriminatory poll tax. And he led Southern senators who opposed the Civil Rights Act of 1964.
The building, in which senators representing millions of Americans of all races work from, has hadRussell's name on it for over 46 years.
Sen. Doug Jones (D-AL), who prosecuted Ku Klux Klan members for bombing a church in Birmingham in 1963, said of Russell, "I think if you go look at the overall body of work, it would be good to see [McCain's name on the building]."
But Perdue's fellow Republican Sen. Richard Shelby of Alabama described Russell as a "well respected" man in the South. Referring to modern reassessments of politicians who kept white supremacy alive, like Russell, Shelby added, "It's easy to prejudge what they should have done. We didn't live in that era."
Republicans have often opposed efforts to do away with monuments and other structures that honor segregationists, slavery, or those who fought in favor of racism.
When some monuments to the pro-slavery Confederacy were taken down, Trump said they were "beautiful" and opposed their removal.
America is trying to reckon with its history of supporting racism and segregation by finally addressing public monuments to those who kept the immoral system in place.
But among some Republicans the drive to prop up racism is so strong that even an effort to memorialize one of their own has to come in second to the need to support America's racist past.
Published with permission of The American Independent.