Republicans Get Nasty In New Hampshire With Even Boots Fair Game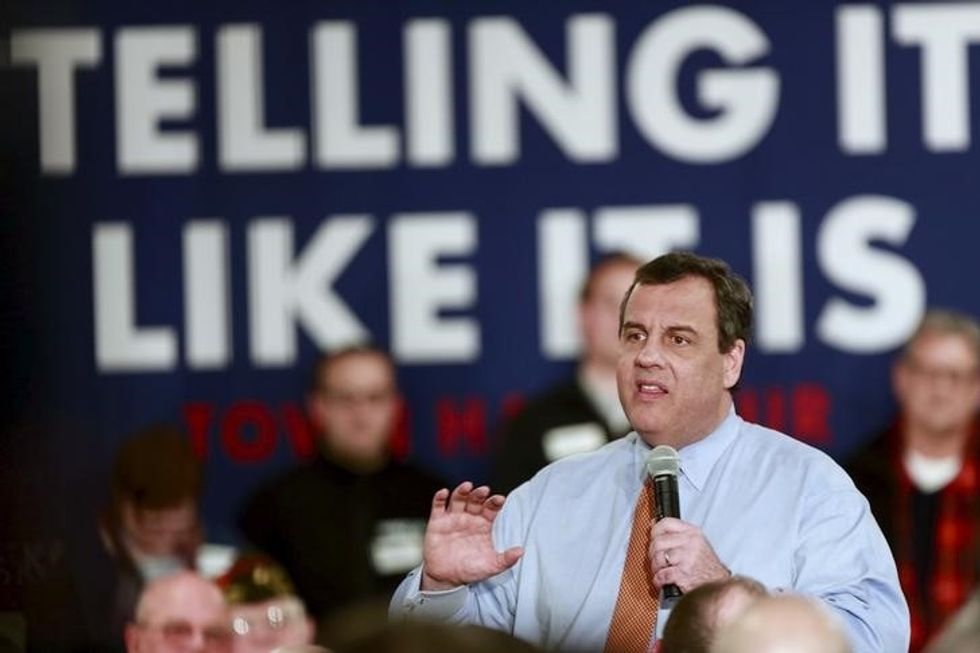 By Mark Niquette and Terrence Dopp, Bloomberg News (TNS)
New Hampshire voters watching television this week heard Marco Rubio's allies call Chris Christie a scandal-plagued liberal. Jeb Bush's backers told them that John Kasich isn't presidential timber. Christie told a Rochester town-hall meeting that Bush isn't prepared to be president and Kasich is nuts to question his conservatism.
"I'm not a heavy bag," Christie told reporters. "You throw a punch at me, and I'm going to throw one back."
Even Rubio's boots came in for it, their stack heels mocked by Bush and Ted Cruz.
Republican presidential candidates who represent the so-called establishment have staked their campaigns on emerging in New Hampshire as the viable alternative to real-estate mogul Donald Trump. They're in each other's way as they appeal to the same voter pool with the nation's first primary a mere five weeks away. Now, they must calibrate how hard they can attack without alienating voters, hurting themselves or helping someone else.
The result has been a rancorous minuet.
During events in Rochester, Manchester and Merrimack, Christie pitched himself as the race's last adult and a battle-tested leader. He said his criticisms were only a response to rivals who are just beginning to focus on him.
"Why all of the sudden now, five weeks from Election Day, are they all taking about me?" Christie told reporters after his event at American Legion Post 7 in Rochester. "Because I'm connecting with voters."
New Hampshire is often caricatured as a stronghold of Yankee probity, soberly vetting politicians on behalf of the rest of the U.S. Yet the Granite State has turned muddy, thanks to a spate of angry advertising.
A pro-Rubio super PAC on Tuesday started running two separate television ads attacking the New Jersey governor. One shows Christie alongside the president, calling him "Obama's favorite Republican." Another revives the George Washington Bridge revenge traffic-jam scandal in 2013 and brings up New Jersey's paltry job growth.
Christie in turn criticized Rubio's attendance in the Senate, where he has missed 13.3 percent of roll-call votes since January 2011, compared with the median 1.7 percent of current lawmakers, according to the GovTrack.us website.
Rubio, who is scheduled to arrive in New Hampshire on Thursday, should "just show up for work once in a while," Christie said. "He's only got one job."
Christie hedged his bet amid the Republican-on-Republican verbal violence. He released an ad Wednesday responding to Rubio by saying, "Do not be fooled: any significant division within the Republican Party leads to the same awful result — Hillary Rodham Clinton in January of 2017 taking the oath of office as president of the United States."
Bush and Kasich also skirted personal criticism even as their allies sent salvos across the airwaves.
Bush's super PAC is airing an ad comparing the records of the three governors in the race and declaring Bush superior on job creation and leadership. Yet Bush refrained from mentioning his closest competitors during his first few stops this week, saving his criticism for Trump as someone "preying on people's angst and their fears."
Bush will continue distinguishing himself by telling voters why they should entrust him with the presidency, said Rich Killion, his New Hampshire state director.
"If the others want to get inside food fights, so be it," Killion said.
Nonetheless, Bush couldn't resist a jibe Tuesday when he was asked about swapping his cowboy boots for more snow-friendly shoes.
"They're not high heeled," Bush said, according to NBC News reporter Kasie Hunt. It was an apparent shot at the stylish footwear that Rubio has sported on the trail. Cruz's campaign also mocked what it called Rubio's "booties."
The great heel debate of 2016 reflects the increasing stakes of a New Hampshire victory. A RealClearPolitics average of recent polls in New Hampshire has Trump leading at 27 percent, followed by Rubio, 13.8 percent; Cruz, 11.5 percent; Christie, 11.3 percent; Kasich, 10 percent; and Bush, 8.3 percent.
"It's very difficult, as you can imagine, to attack multiple candidates at the same time," said John Weaver, Kasich's chief strategist, as he sat across from the governor on the campaign's bus before a stop in Manchester.
Some voters would prefer they didn't try. Dwight Haynes, 79, an independent, undecided voter at a Rand Paul rally in Concord, goes out of his way not to watch negative advertisements.
"I try my darnedest to avoid them," he said. "I think they're demonic. I wish there were no attacks."
Sitting at the back of Kasich's Manchester town-hall, Tom Rath, New Hampshire's former attorney general, said negative attacks will have limited effect on voters.
"It's hard to tell them something they don't know," Rath said in an interview. "Unless they found some extraordinary piece of information that invalidates them, I think people understand at the end of an election these things sort of happen."
Waiting for Christie in Rochester on Tuesday, 66-year-old retiree Dave Curry said the timing of the new attacks is just about right.
"These are three very effective executive officers, and trying to point out their opponents' strengths and weaknesses is actually doing voters a favor because with such a large field, no one really has time to do the candidate research," Curry said.
In an interview on his campaign bus Tuesday, amid five straight days of campaigning in New Hampshire, Kasich said he won't shy from defending himself.
"If I do well here, I'm going to be the nominee," Kasich said. "If I don't do well here and get buried somehow, it'll be over."
(Sahil Kapur contributed to this article.)
©2016 Bloomberg News. Distributed by Tribune Content Agency, LLC.
Photo: U.S. Republican presidential candidate and New Jersey Governor Chris Christie speaks at a campaign town hall meeting in Merrimack, New Hampshire, January 3, 2016. REUTERS/Katherine Taylor