Republicans Have One Sandra Fluke Joke — And They Use It Over And Over Again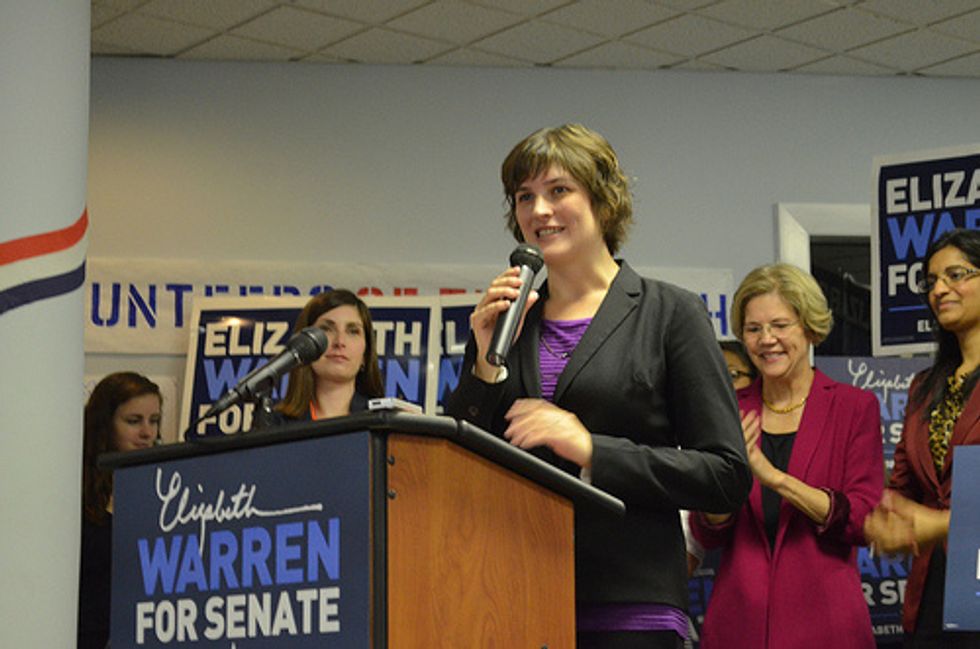 Sandra Fluke — who became a household name when Rush Limbaugh called her a "slut" for testifying on the importance of the birth control coverage mandate — has filed papers to seek the House seat that will be vacated by Rep. Henry Waxman (D-CA).
Since even Limbaugh had to apologize, conservatives moved on to another offensive attack to continue what Democrats refer to as the "War on Women:" insisting that she simply doesn't want to pay for her own birth control — or anything. LOL.
Amanda Marcotte explained why this argument is bunk back in 2012:
This requirement simply means that all insurance plans paid for or earned by a woman have this coverage, as part of an array of preventive care services also to be covered without a copay. Some misrepresented her position, either claiming she wants the "government" to pay or "her boss," even though the policy references benefits already earned and passed over to the employee–meaning that one's boss is no more buying your birth control for you if you use your insurance to pay for it than if your boss is buying it for you if you use your paycheck to pay for it.
But now that Fluke is flagrantly flaunting her undauntedness by considering a political career, Republicans are back, making the same joke, over and over.
Sandra Fluke considers congressional bid. I hope she doesn't think we're going to foot the bill for that, too.

— toddstarnes (@toddstarnes) February 4, 2014
Sandra Fluke For Congress: Because she only expected others to pay for her birth control, not her whole law school tuition. #CA33#GoWendy

— Kurt Schlichter (@KurtSchlichter) January 31, 2014
Sandra Fluke is wealthy enough to consider running for Congress. Why must you, me, or anyone else still pay for her birth control? — Ken Gardner (@kesgardner) January 30, 2014
Sandra Fluke for Congress 2014: You've paid for her birth control; now you can pay her salary! — jimgeraghty (@jimgeraghty) January 31, 2014
Sandra Fluke is too poor to pay for her own promiscuity, but she can run for Congress?

— Ken (@KenFro) January 30, 2014
Sandra Fluke's employer should also be forced to pay for her congressional campaign.

— Jim Antle (@jimantle) January 30, 2014
Some Republicans are intent on proving that they learned nothing in 2012 — when President Obama beat Mitt Romney with single women by a margin of 2 to 1 — and Sandra Fluke's candidacy may give them the chance to do it over and over.
Do you have an example of a Republican making this lame joke? Post it in the comments.
Photo: ElizabethForMA via Flickr