Republicans' Hispanic Outreach Effort Off To A Rocky Start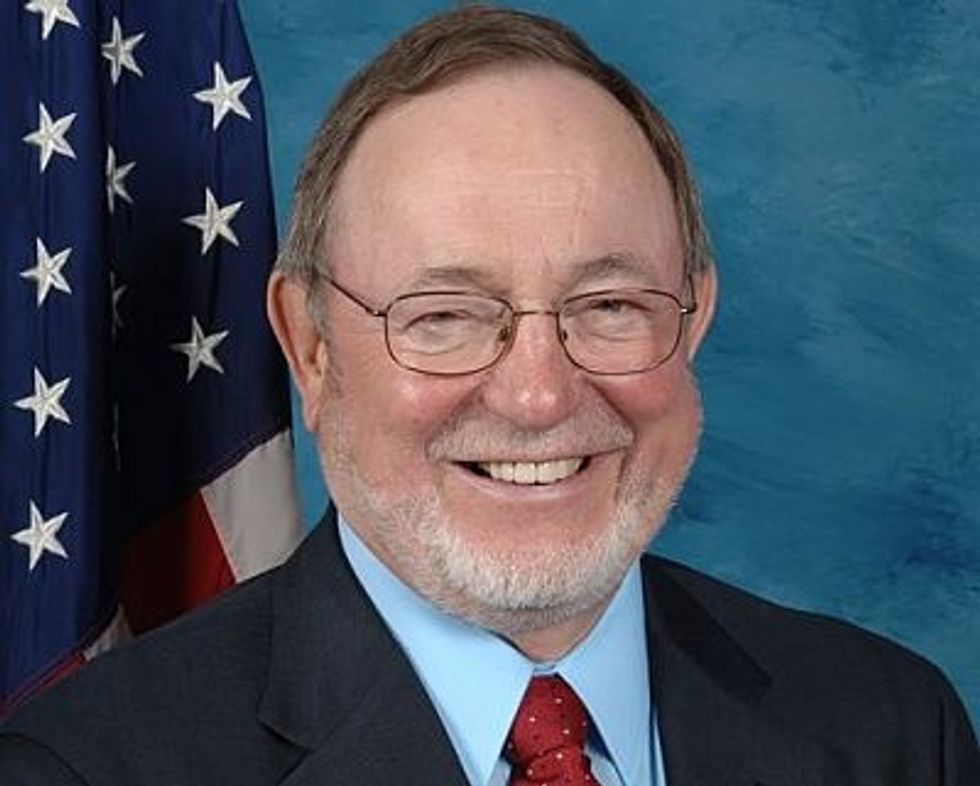 In January, not long after President Barack Obama trounced Mitt Romney by 44 percent among Latino voters, the GOP-aligned Hispanic Leadership Network issued a new set of "tonally sensitive messaging points" for Republicans to use when engaging with Latino and Hispanic voters. The idea behind the memo seemed to be that, if Republicans won't attract Hispanics with appealing policy proposals, they should at least try to stop driving them away with racially charged language.
Clearly, Representative Don Young (R-AK) didn't get the message.
Congressman Young went disastrously off-script during an interview with Alaskan radio station KRBD, released Thursday, when he used a racial slur to describe the workers on his father's ranch.
"My father had a ranch; we used to have 50-60 wetbacks to pick tomatoes," Young said. "It takes two people to pick the same tomatoes now. It's all done by machine."
Quickly realizing that he had made a tremendous error, Young issued an apology of sorts late Thursday night.
"I used a term that was commonly used during my days growing up on a farm in central California," Young said in a statement. "I know that this term is not used in the same way nowadays and I meant no disrespect."
Putting aside the question of what context Young thinks could possibly make the term "wetback" acceptable—or for that matter, not disrespectful—his explanation clearly fails to undo the damage done by his offensive statement.
With an eye towards damage control, Republican leaders quickly blasted Young's comments.
"Congressman Young's remarks were offensive and beneath the dignity of the office he holds," House Speaker John Boehner (R-OH) said in a statement. "I don't care why he said it—there's no excuse and it warrants an immediate apology."
Republican National Committee chairman Reince Priebus concurred, saying "The words used by Representative Young emphatically do not represent the beliefs of the Republican Party," adding, "Offensive language and ethnic slurs have no place in our public discourse."
Indeed, it was Priebus who just last week released a report urging that "if we want ethnic minority voters to support Republicans, we have to engage them, and show our sincerity." In just 10 days since that report, Young labeled Hispanic workers as wetbacks, Senate Republicans started a racially charged campaign against President Obama's only Latino cabinet nominee, and North Carolina governor Pat McCrory unceremoniously shuttered his state's Office of Hispanic/Latino affairs. And that's not even touching the Conservative Political Action Conference, which featured birther jokes and a minority "outreach" panel arguing that slavery was good for black Americans.
So much for showing sincerity.
Ultimately, the biggest problem with the GOP's minority outreach program is simple: Most Republicans seem to have very little interest in actually appealing to minority communities. Polling suggests that Hispanic voters align much more closely with Democrats than Republicans on a wide range of social and economic issues. But instead of working to find common ground on these policy splits, Republicans chose to simply soften their rhetoric — and they haven't even done that successfully.
If Republican politicians cannot even uphold their own "stop using racial slurs" rule, then their chances of making real inroads with minority communities seem more remote than ever.