How The Republican Obamacare Repeal Shuts Out The Poor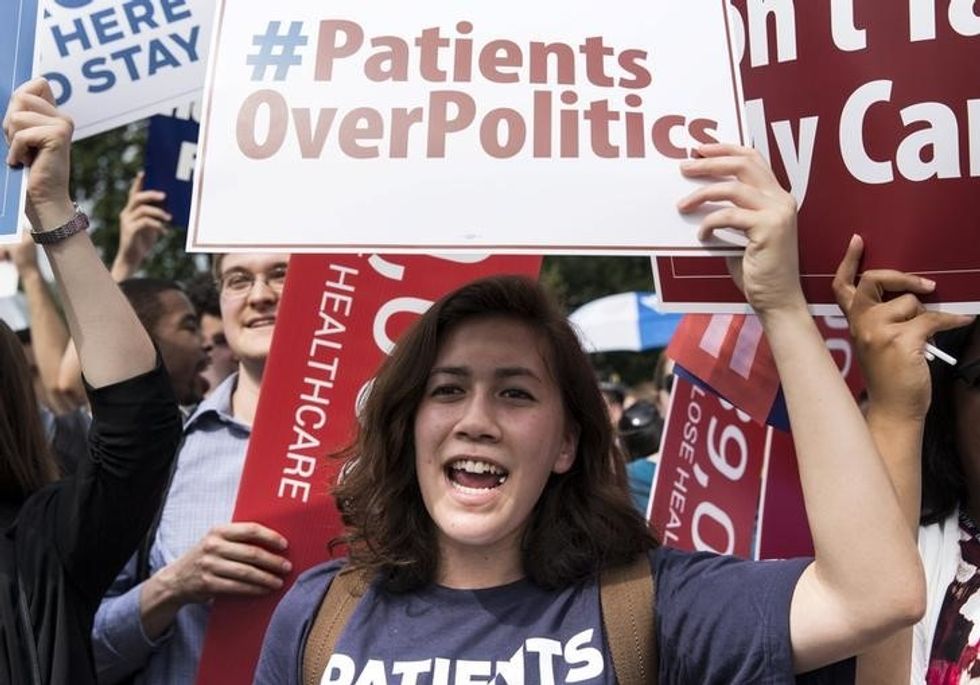 Reprinted with permission from The Washington Spectator.
Throughout his campaign, Donald Trump vowed to repeal and replace the Affordable Care Act, calling President Barack Obama's signature domestic policy achievement "a disaster." With a Republican majority in Congress, and a secretary of health and human services who was a leading critic of the ACA while he served in the House, Trump may very well get his wish.
The new HHS secretary Tom Price, in fact, is eager to assist in this venture. The former Georgia Congressman wants to get rid of the ACA and make big cuts to Medicaid, the federally funded state insurance program for the poor and disabled. But as Price settles into his new role, North Carolina's newly elected Democratic governor is racing against time to expand Medicaid as allowed by the Affordable Care Act.
Roy Cooper, a former state attorney general who narrowly won last year's gubernatorial race, faces other hurdles, including a stubborn, far-right Republican legislature. But if Cooper prevails, he could provide health care for more than half a million low-income residents at no cost to the state. Without the Medicaid expansion, North Carolinians whose income is between about 37 percent and 100 percent of the federal poverty line (or roughly $9,000 to $24,300 for a family of four) qualify for neither Medicaid nor the Affordable Care Act marketplace, putting them in what the Kaiser Family Foundation calls the "coverage gap." They're too "wealthy" for Medicaid but too poor for Obamacare.
Cooper was prepared to bypass the legislature and expand the program before Trump took office, but a judge held up the procedure until it was too late. The Republicans who have controlled North Carolina's legislature since 2010—and who are famous for their racial gerrymandering and eleventh-hour power grabs—continue to oppose an expansion under the Affordable Care Act, despite the billions of dollars in federal funds and access to health care that expanded Medicaid would bring to the state. But Cooper found a potential route around the opposition.
Cooper's plan
Under the Affordable Care Act, the federal government covers 95 percent of all Medicaid costs to the state, phasing down to 90 percent in 2022. North Carolina already forfeited the program's first three years, in which the federal government would have covered 100 percent of the expansion. Confronted by legislators who will not appropriate the fractional costs the state would now have to put up, the Democratic governor found another funding source.
Cooper's plan would extend Medicaid to roughly 625,000 low-income North Carolinians at no cost to the state. Hospitals, which will make money on expanded Medicaid—both in an increase in patients and a reduction of uncompensated care for indigent patients who show up at emergency rooms—would cover all or part of the expansion's costs to North Carolina. Savings in state expenditures due to the new federal funding would cover any remaining costs.
Even the conservative North Carolina Hospital Association, which makes independent political expenditures benefiting mostly Republicans for state-level office, supports expanding Medicaid because of the health benefits and reduction in uncompensated care, which hospitals cover by raising their fees. When asked whether the hospitals would be willing to pay for the expansion, the association's vice president for communications noted that they have "not closed the door to that" but hope such a policy could be achieved through bipartisan consensus.
Yet many GOP legislators, including those elected with the support of the Hospital Association, are willing to go to great lengths to deny low-income people health coverage. Though some Republicans are open to a "limited" expansion for select populations, including the disabled and mentally ill, the party as a whole continues to describe the expansion as a huge tax increase. And Republicans opposing the expansion have enlisted the support of Art Pope in their campaign to block Medicaid expansion. Pope is a wealthy discount store magnate who spent $50 million in a 10-year campaign to put Republicans in charge of both chambers of the legislature—and until Cooper's win, the state's executive branch.
Republican obstruction
Republican legislators have established a number of legislative roadblocks to prevent the ACA from being implemented. In 2013, the Republican-dominated legislature passed a law barring the governor from expanding Medicaid without the General Assembly's approval. But Cooper opted to work around that law, rather than directly against it. So, during his first week as governor, he asked the federal government for permission to expand the program under the Affordable Care Act. This move isn't without popular support either—after all, 72 percent of North Carolinians want the government to "fix the health insurance coverage gap."
Although the Obama administration's health and human services department was eager to make Cooper's plan a reality, GOP state legislative leaders were not supportive. Republican lawmakers sued state and federal health agencies on January 13, alleging that the expansion unconstitutionally ignores the General Assembly's right to make laws. They got their wish the next day, after a federal judge granted a 14-day restraining order, even though the expansion wouldn't happen until 2018.
On January 27, United States District Judge Louise Flanagan responded to another stay request from state legislative leaders, joined by Trump's HHS, and extended the filing date in the case until March 31, effectively extending the temporary restraining order. Cooper could try to negotiate with the new team at HHS; however, it is unlikely that the hostile Trump administration would approve of any expansion of Medicaid. That reality hasn't stopped Cooper, who ran on a promise to expand Medicaid. "I will continue working on a state-tailored plan that increases access to health care and builds our economy," he wrote in a Medium post published on January 24.
According to the state's Medical Care Advisory Committee, 625,000 North Carolinians—including 12,000 veterans and 144,000 residents with behavioral and substance-abuse disorders—would receive full health coverage through the expansion. Uncompensated care would diminish, as low-income patients who typically can't pay their medical bills would be insured. The financial burden on rural hospitals dependent on Medicaid and Medicare payments to stay afloat (and often facing closure) would be reduced. The expansion would create tens of thousands of jobs in health care and could save 1,000 lives per year.
"North Carolina will miss out on more jobs and better health care without Medicaid expansion and it's frustrating and disappointing that we're having to fight our own legislature in court to get it done," Cooper said on January 16. "Tax dollars already paid by North Carolinians are funding Medicaid expansion in other states and we want to bring that money back home to work for us here."
Medicaid at risk in other states
North Carolina isn't alone. Nineteen states—most under Republican control—have yet to expand Medicaid. But Republican obstructionism is only part of the problem; almost as many states with GOP governors have expanded the program.
If Trump and Congress repeal Obamacare's individual mandate and subsidies while leaving insurance market reforms in place, 32 million Americans, many of whom are Medicaid recipients, will lose their health coverage over the next 10 years. Price is in favor of Medicaid block grants to the states, which would eventually amount to a roughly 40 percent cut to the program. Any governor who has expanded Medicaid couldn't possibly want that to happen.
Republican Governor Rick Snyder, who expanded Medicaid in his state of Michigan, has said that it made "sense for the physical and fiscal health of Michigan." After all, he continued, "expansion will create more access to primary care providers, reduce the burden on hospitals and small businesses, and save precious tax dollars."
In Ohio, where Republican John Kasich is governor, a huge Medicaid expansion improved outcomes for patients and costs were well below budget projections.
Other states with GOP governors that have expanded the program include Arizona, Arkansas, Illinois, Indiana (overseen by former Governor Mike Pence), Iowa, Maryland, Massachusetts, Michigan, Nevada, New Hampshire, New Mexico, New Jersey, and North Dakota. At least five GOP governors—including Snyder and Kasich, as well as Charlie Baker of Massachusetts, Asa Hutchinson of Arkansas, and Brian Sandoval of Nevada—are urging their fellow Republicans in Congress not to eliminate the expansion, although some support a block-grant reform. Even some governors who initially rejected the expansion, including Scott Walker of Wisconsin and Sam Brownback of Kansas, are asking for federal dollars.
"You must ensure that individuals, families, children, aged, blind, disabled and mentally ill are not suddenly left without the care they need to live healthy, productive lives," said Sandoval.
GOP senators from states that have expanded Medicaid are also wary of supporting legislation that would take health care access away from so many of their constituents. Some Congressional Republicans who support repealing Obamacare have argued in favor of keeping the Medicaid expansion in place for two extra years.
Yet the prospects for North Carolina's Medicaid expansion are bleak. Republican state legislative leaders are set on blocking a plan they insist is "a massive, budget-busting Obamacare expansion" and a "coup." Their devotion to a small-government ideology and their distaste for Obama's legacy guide their policy decisions.
These lawmakers appear immune to the words of fellow Republican Jan Brewer, the former governor of Arizona, who once stated: "There comes a time, and you have to look at the reality. You have to do the math. . . . It's not only a mathematical issue, but it's a moral issue."
Alex Kotch is an independent investigative journalist who specializes in money in politics. Follow him on Twitter: @alexkotch.
IMAGE: A supporter of the Affordable Care Act celebrates after the Supreme Court up held the law in the 6-3 vote at the Supreme Court in Washington June 25, 2015. REUTERS/Joshua Roberts