Republicans Pave The Way To All-White Future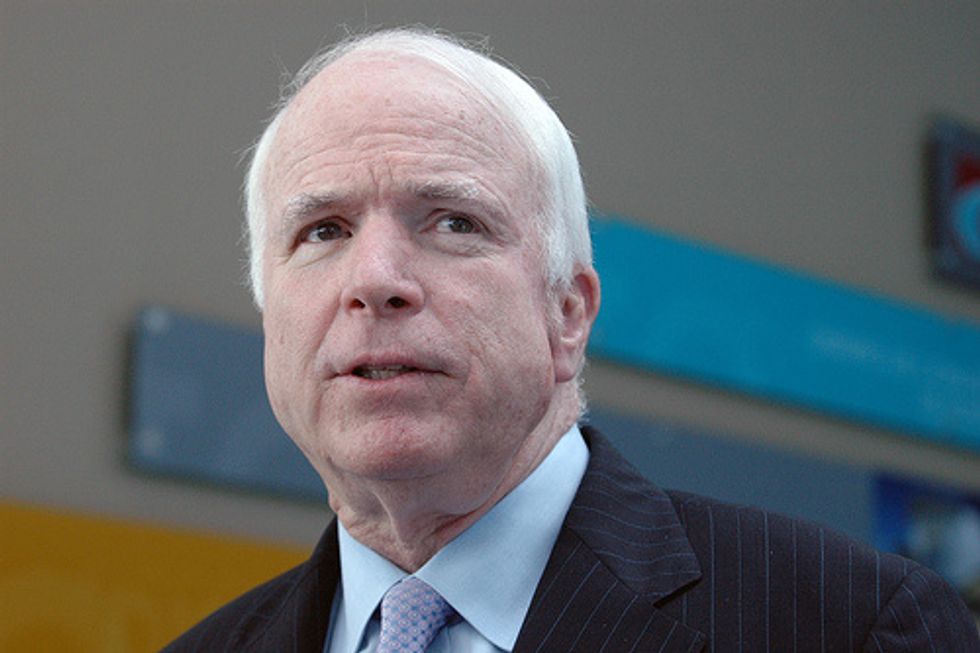 Oct. 16 (Bloomberg View) — Even Senator John McCain has surrendered. A steadfast supporter of immigration reform with a pathway to citizenship, McCain essentially acknowledged yesterday in Georgia that his party's anti-immigration forces have demolished any hope of soon legalizing the roughly 11 million undocumented immigrants in the U.S.
McCain's assessment is as unimpeachable as it is irrational. In an interview with the Atlanta Journal-Constitution, he said, "I understand now, especially in my home state of Arizona, that these children coming, and now with the threat of ISIS … that we have to have a secure border."
Follow that? Immigration reform, including the legalization of millions of immigrants already living in the U.S., is on hold because tens of thousands of Central American children have surrendered to border authorities. Also, because a sadistic army is killing people in Syria and Iraq. McCain, often a summer soldier when the forces of demagogy call, was perhaps too embarrassed to link Ebola to the new orthodoxy; of course, others already have.
It's hard to see how Republicans walk this back before 2017 — at the earliest. What began with the national party calling for immigration reform as a predicate to future Republican relevancy has ended with complete capitulation to the party's anti-immigration base. Conservatives are busy running ads and shopping soundbites depicting immigrants as vectors of disease, criminality and terrorism, a 30-second star turn that Hispanic and Asian voters, in particular, may not entirely relish.
"The day after the 2014 election," emailed immigration advocate Frank Sharry, Republicans will "face a future defined by an anti-Latino and anti-immigrant brand and the rapid and relentless growth of Latino, Asian-American and immigrant voters."
Sharry is bitter about the Republican rejection of comprehensive immigration reform. And public opinion has turned against immigration in the wake of the border influx of Central Americans earlier this year. But is Sharry's analysis skewed? There has never been a convincing "day after tomorrow" plan for Republicans if they abandon reform and embrace their most anti-immigrant wing.
Yet it looks as if Republicans have done just that. "Secure the border" is an empty slogan and practical nightmare. But if you're a conservative politician desperate to assuage (or exploit) what writer Steve Chapman calls the "deep anxieties" stirred by "brown migrants sneaking over from Mexico," it's an empty slogan with legs. It will be vastly easier for Republicans running in 2016 to shout "secure the border!" than to defy the always anxious, politically empowered Republican base. Perhaps Republicans in Congress will muster some form of Dream Act for immigrant youth or a visa sop to the tech industry, but they seem incapable of more.
In that case, the path of least resistance — and it has been many years since national Republicans have taken a different route — will be to continue reassuring the base while alienating brown voters. (After six years in which Republicans' highest priority has been destruction of the nation's first black president, it's doubtful black voters will be persuadable anytime soon.) The party's whole diversity gambit goes out the window. The White Album plays in perpetuity on Republican turntables.
That would be a significant problem if it resulted only in the marginalization and regionalization of the nation's conservative party. But a racial hunkering down in an increasingly multi-racial nation will not be a passive or benign act. Pressed to the demographic wall, Republicans will be fighting to win every white vote, not always in the most high-minded manner. Democrats, likewise, will have a powerful incentive to question the motives and consequences of their opponents' racial solidarity.
Immigration has always been about more than race. November's election will go a long way toward making it about nothing else.
Photo: Jim Greenhill via Flickr
Want more political news and analysis? Sign up for our daily email newsletter!