Republicans Pick Ryan For House Speaker Before Budget Vote
@reuters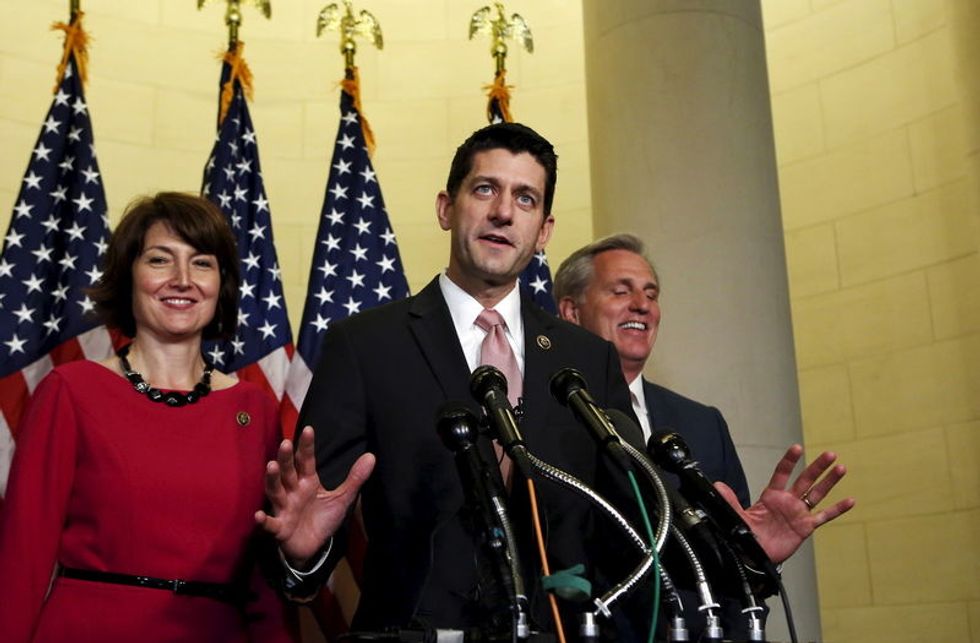 By Susan Cornwell and David Lawder
WASHINGTON (Reuters) – Paul Ryan was chosen by fellow Republicans on Wednesday as their nominee to be the next speaker of the U.S. House of Representatives, with the party uniting around the former vice presidential candidate ahead of a tough vote on a budget deal.
The nomination puts Ryan on track to replace Speaker John Boehner, who is retiring, and it could boost a two-year budget deal meant to avert a government default that was set to reach the House floor later on Wednesday.
Ryan, who is from Wisconsin, won the party's nod by a 200-43 vote, defeating Florida's Representative Daniel Webster in a closed-door meeting of Republican House members in the Capitol.
The full House was expected to vote on Thursday for a new speaker, with Ryan expected to capture a majority and take over the top post in the chamber. That would place him second in line to the U.S. presidency after the vice president.
Ryan, 45, said he would back the budget deal in a final appeal to colleagues in which he also pledged not to run the House like a Roman emperor.
Republicans are trying to turn the page on weeks of internal party chaos after Boehner announced in late September that he was stepping down.
The bipartisan budget deal, announced on Tuesday and criticized by right-wing Republicans for increasing spending, was Boehner's attempt to clear the decks for the new speaker and relieve market worries over a possible default next week.
Ryan said rank-and-file lawmakers should have had more input on the deal but said he would nevertheless vote for it.
"What has been produced will go a long way toward relieving the uncertainty hanging over us, and that's why I intend to support it," said Ryan, the 2012 Republican vice presidential candidate and chair of the tax-writing Ways and Means Committee.
Ryan also said he wanted a more bottom-up approach if he is elected speaker and hoped to tackle fiscal issues long before running into deadlines.
"I don't plan to be Caesar, calling all the shots around here," he told a closed-door meeting of Republicans, according to Representative Matt Salmon, an Arizona conservative.
Ryan reluctantly decided to run for speaker after various quarreling party factions unified behind him. Boehner plans to retire on Friday.
Several right-wingers, even some who plan to support Ryan, have said they will reject the budget deal because it increases discretionary spending by $80 billion over two years. It also extends the U.S. Treasury's borrowing authority through March 2017. Farm-state lawmakers from both parties have also objected to a provision that cuts crop-insurance subsidies.
The non-partisan Congressional Budget Office said the deal would shrink U.S. deficits by nearly $80 billion over 10 years by raising revenues and reducing long-term health, pension and Social Security costs. This could ease concerns of some fiscal hawks.
Analysts say the additional spending could boost GDP slightly, and the White House says it would create 500,000 new jobs over two years.
House Democratic Leader Nancy Pelosi said Republicans needed to provide a "basic number" of votes for passage. Asked how many votes Democrats would provide, she said, "We'll have enough."
The U.S. government risks defaulting on its obligations if it does not raise the debt limit by Nov. 3.
The outlook for the legislation in the Senate was unclear. Conservative Republican presidential candidate Rand Paul said he will launch procedural objections to slow its advance because he wants to hold the line on both military and domestic spending.
(Additional reporting by Andy Sullivan and Richard Cowan; Editing by Kevin Drawbaugh, Jeffrey Benkoe and Cynthia Osterman)
U.S. Representative Paul Ryan (R-WI) talks to the media after been nominated for speaker of the House of Representatives on Capitol Hill in Washington October 28, 2015. REUTERS/Yuri Gripas