How Republicans Could Risk A Senate Seat To Win The White House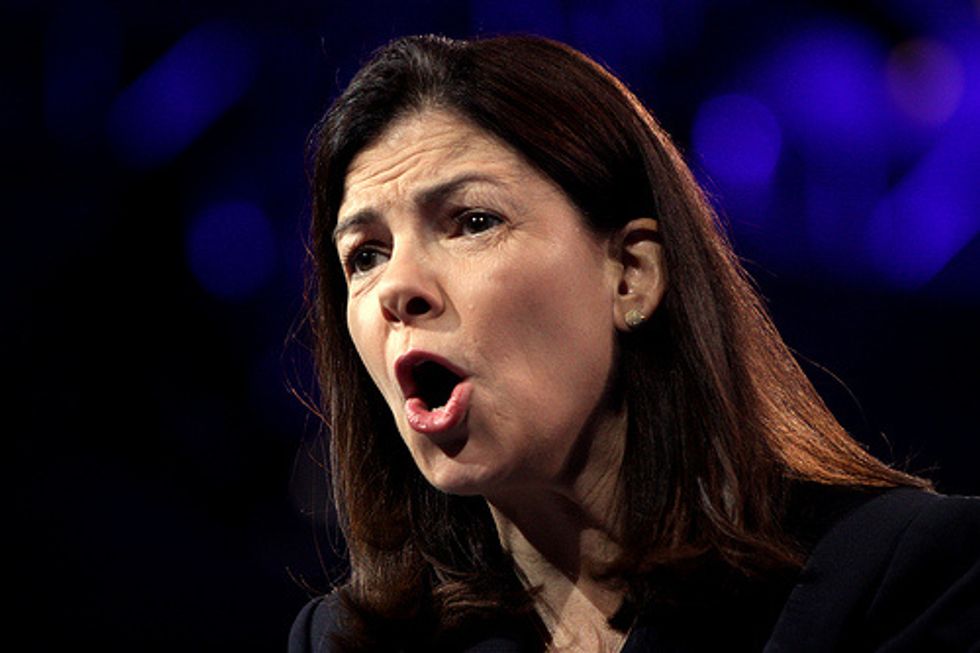 By Alexis Levinson, CQ-Roll Call (TNS)
WASHINGTON — Republicans might face a major dilemma next year: Will they sacrifice a Senate seat to pick a prime candidate for vice president?
GOP operatives have often mentioned Senators Kelly Ayotte of New Hampshire, Rob Portman of Ohio and Marco Rubio of Florida, as potential running mates for the eventual GOP nominee in 2016. Here's the problem: The trio is up for re-election in competitive states in 2016. If one of them is selected for the No. 2 spot, Republicans would risk losing the Senate seat — and possibly, control of that chamber.
"Senator Ayotte and Senator Portman and Senator Rubio are great senators who are highly regarded, respected and very supported by their voters at home," former National Republican Senatorial Committee Chairman Jerry Moran (R-KS) told CQ Roll Call last week. "It would be unlikely for the presidential candidate to choose someone, a Republican senator, if that senator was going to be replaced by a Democrat."
After staggering losses last November, Democrats need a net gain of five seats in 2016 to reclaim a Senate majority — and New Hampshire, Ohio and Florida are high on the party's target list of seats. President Barack Obama won all three states in 2012 and 2008.
Portman was on the short list to be Mitt Romney's running mate in 2012. His friendship with former Florida Gov. Jeb Bush, who is exploring a presidential bid, means he could find himself in a similar spot in 2016.
This possibility has made the Buckeye State's Senate race more alluring to Democrats. Cincinnati City Councilmember P.G. Sittenfeld has already entered the race, and at least two more Democrats — former Gov. Ted Strickland and Rep. Tim Ryan — are considering bids.
"There's a decent chance, I mean a really decent chance, that Portman won't be running for the Senate," Steve Fought, a Democratic operative from Ohio, said last month about the race.
There's a similar situation in the New Hampshire and Florida Senate races. If Ayotte were nominated for vice president, she could be absent from her home state for the final few months of the election while she campaigned across the country for the national ticket.
In Rubio's case, Florida law currently prohibits him from being on both tickets at once, so he would have to end his re-election bid for Senate to accept the nomination. State lawmakers could try to change that law — much like Sen. Rand Paul's allies in the Kentucky Legislature, who are trying to ensure he can seek re-election and the presidency at the same time.
But Rubio, who is deciding between running for president or seeking re-election, alluded to the all-consuming nature of running on a national ticket at a breakfast hosted by the Christian Science Monitor last month.
"My intention if I run for president is to run for president," he told reporters. "If I decide to make that decision, it will not be with the intention of looking for a plan B if it doesn't work out."
Reps. Patrick Murphy and Alan Grayson, both Florida Democrats, have expressed interest in running for Rubio's seat.
If Rubio dropped out of the Senate race to accept the nomination, Republicans would be in a tight spot. Presidential nominees often pick their running mates later in the summer, but the 2016 nominees will likely make their selections before the conventions in June or July. Even under that timeline, it would be difficult for any new Senate candidates to campaign and raise money for a statewide race in a competitive state.
And in New Hampshire, Republicans could be in a problematic position even if Ayotte simultaneously won on the national ticket and her Senate race. In that case, she would have to resign her Senate seat, and the governor would appoint a replacement to serve until the next general election two years later.
New Hampshire Gov. Maggie Hassan is a Democrat, and if she, or another Democrat, wins the governor's race in 2016, the appointed replacement would almost certainly be a Democrat. It could even be Hassan, who is considering challenging Ayotte.
All of this could put a damper on Ayotte's chances of becoming the Republican vice-presidential pick. What's more, the Granite State Republican, 46, might have other opportunities in future cycles to run nationwide. Rubio, 43, and Portman, 59, have plenty of time too.
Also, the GOP nominee for president has no shortage of options outside the Senate, including several governors.
For their parts, aides for Rubio and Portman declined to comment for this story, though the Ohio Republican has said he's not interested in the vice presidency. A spokesperson for Ayotte told CQ Roll Call she was focused on serving in the Senate.
"We're not making any assumptions," Democratic Senatorial Campaign Committee Chairman Jon Tester (D-MT) told CQ Roll Call last week, in response to a question about recruitment for these three races.
National Republican Senatorial Committee Chairman Roger Wicker (R-MS) brushed off a question on the topic saying only of Rubio, Portman and Ayotte, "I think the fact that they're so talented is a plus."
Currently, all three senators are favored to hold their seats. The Rothenberg and Gonzales Political Report rates the New Hampshire and Ohio Senate races Leans Republican, and the Florida Senate race is rated Tilts Republican.
Photo: Gage Skidmore via Flickr