This Is How Republicans Tricked Themselves Into Raising The Debt Limit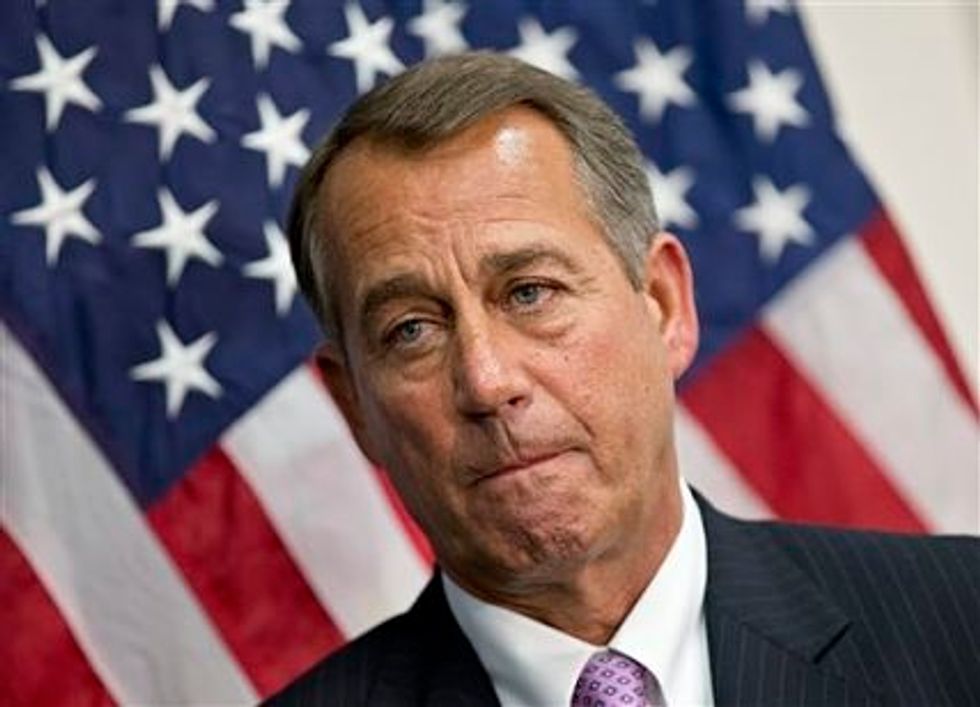 The House has voted 285 to 144 to extend the debt limit until May — 218 Republicans voted for the bill, but 19 ended up changing their votes after it was clear the bill would pass and Democrats began voting "yes."
The bill requires the Senate to pass a budget, something they reportedly planned on doing anyway, or Congress will not be paid. Some question whether this #NoBudgetNoPay gimmick, which picks up on a constant Republican talking point, is even Constitutional. But the Senate has indicated it will approve the bill and send it to the president, who will sign it.
Raising the debt limit has never been popular, but it has always been done without any serious objection — until the summer of 2011.
That's when the House GOP used the raising of the debt limit to demand a dollar in spending cuts for every dollar the limit was raised. After shaking the financial markets — wiping out six months of gains in a week — the GOP agreed to a debt deal it's still trying to void.
Both the president's and the House Republicans' approval rating was damaged by that debacle. But the president was re-elected and his approval rating is near an all-time high, while only about 1 out of 4 Americans approve of the House majority, which — as you know by now — was only retained because of dark money and dirty redistricting.
Last week at the House GOP "retreat," Paul Ryan (R-WI) reportedly told the caucus that they had to readjust their expectations. After Republicans gave in to raising taxes in the "fiscal cliff" compromise with no serious spending cuts, they vowed to fight again on the debt limit. Now, Ryan — their leader and the least popular member of the Romney/Ryan ticket — was telling them that they would have to extend the debt limit.
To make up for this compromise –ick! — Paul Ryan promised that he would introduce a budget they could pass that would balance in 10 years. No one has seen this budget yet, but it will certainly feature even deeper cuts than Ryan's previous budgets that balanced over 30 years. The New Republic's Jonathan Cohn looked at Ryan's last budget and found that "government would be so starved of resources that, by 2050, it wouldn't have enough money for core functions like food inspections and highway maintenance."
Ryan's new budget would create a crippled government much sooner.
Many Republicans are furious at Boehner for violating his own precedent to demand cuts to raise the debt limit. This, along with a House full of Republicans dying for a fight, makes a government shutdown around March 27 — when federal funding runs out — far more likely.
But even that is better than letting America reach the debt limit, which would likely create a financial crisis similar to or worse than 2008. Luckily, the GOP seems to have tricked itself out of playing with that kind of fire again.
Photo credit: AP Photo/J. Scott Applewhite