The Resistance Owned 2017. Here Are The Wins To Prove It.
@FAWFULFAN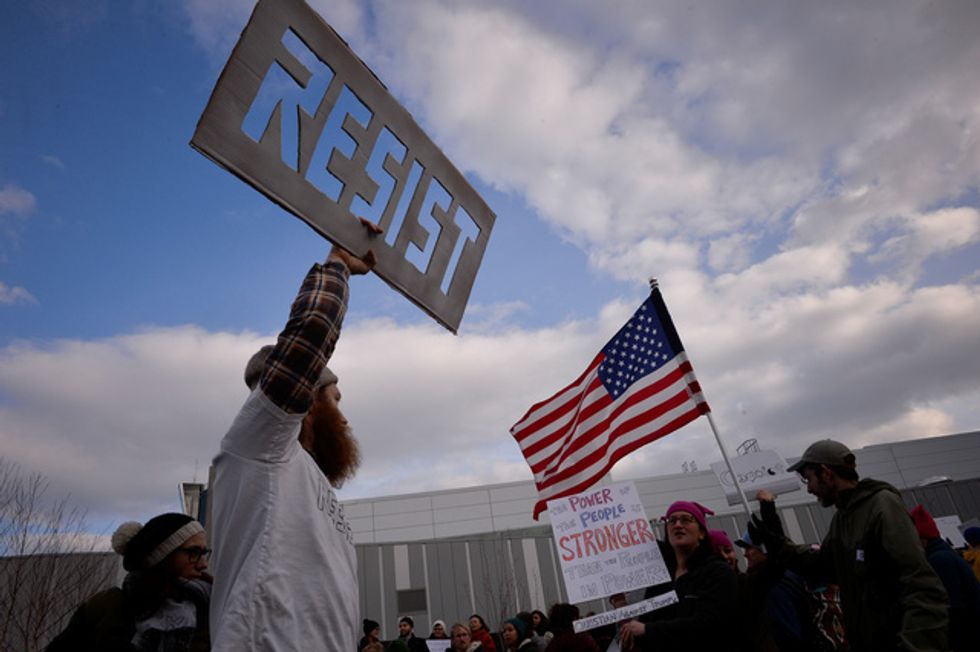 Reprinted with permission from Shareblue.com
One year ago, the Democratic Party and liberal activists were devastated. They had been wiped out at every level, President Barack Obama was on his way out, and Donald Trump was assembling an administration of terrifyingly extreme and unqualified right wing crusaders, ready to break down and all but demolish many of our civil institutions.
It was a low, dark time. But Americans did not give up. They got mad, and they fought back.
Today, the coalition of activists and advocacy groups that came to be known as the "resistance" has accomplished more than anyone could have hoped for. Many of Trump's policies have been thwarted. Many new Democrats have been elected to office. And all across the country, people are ramping up to deal Trump a huge blow at the ballot box in next year's midterms.
Here are some of the flashpoint issues this year, and the activists who have fought hardest to turn resistance from slogan into reality.
The biggest fight of the year, and the resistance's biggest victory, was on Obamacare, President Obama's landmark achievement, which just a year ago seemed doomed.
After seven years of vows to repeal the law, House and Senate Republicans pushed several cruel proposals to strip health care from millions of Americans. Meanwhile, Trump issued a series of executive orders aimed at undoing portions of the law and restricting Americans' access and awareness.
But thanks to the tireless work of activists, the bills to repeal Obamacare failed every time. And thanks to millions of Americans who kept the public informed, Obamacare signups overcame Trump's sabotage and reached 8.8 million — 96 percent of last year's total.
The fight against the GOP tax scam did not go as well as health care, with Republicans relentlessly ignoring their constituents to pass a late-night, multi-trillion dollar giveaway to their rich donors.
But due to the pressure of activists and the massive efforts of Democratic lawmakers, many of the bill's worst provisions were killed.
Democrats defeated provisions that would have defined fetuses as people, taxed graduate students, allowed billionaires to use churches as tax-exempt super PACs, and one that would have granted tax breaks specifically to colleges that violate civil rights law.
Republicans paid every cent of their political capital to pass the tax bill. And polls now show that, thanks to public awareness raised by activists, Americans are prepared to vote out the GOP for passing it.
If it had been up to Republicans in Congress, the question of whether the Trump campaign colluded with Russia to ensure Trump's Electoral College win would have been swept under the rug.
Thanks to outraged citizens who demanded accountability, it was not.
Faced with public pressure after Trump fired FBI Director James Comey, the Justice Department appointed special counsel Robert Mueller to lead the collusion probe. Mueller's work has already led to indictmentsand guilty pleas from Trump's campaign and administration, and he is now looking into obstruction of justice by Trump himself.
If Democrats gain the votes in the House to impeach Trump, that impeachment will almost certainly be based in large part on Mueller's findings.
Meanwhile, House and Senate Democrats on investigative committees, heeding the calls of their constituents, have done all they can to circumvent the GOP's attempts to shut down the probes, ensuring the issue will haunt Trump for as long as he remains in the White House.
Democrats now lead Republicans by 18 points on the generic congressional ballot. And this huge lead is already getting Democrats elected to offices up and down the ballot.
Democrats elected two new governors this year, with Ralph Northam winning in Virginia and Phil Murphy in New Jersey. They took back the state legislature in Washington and flipped over 30 legislative seatsnationwide. And most incredible of all, they elected Democratic civil rights champion Doug Jones to Jeff Sessions's vacant Senate seat in Alabama — the first time Democrats have won a senatorial race there in 25 years.
In many cases, these victories followed popular pushes to improve ballot access and integrity. Virginia, for example, rolled back a Jim Crow-era law that disenfranchises rehabilitated ex-felons. And the push for fairer elections is just beginning, as activists are fighting to overturn GOP gerrymandering schemes in both federal and state courts.
Democrats are better positioned than many thought possible to take back Congress next year — and congressional Republicans terrified.
There are already several new fights brewing for next year.
The Children's Health Insurance Program is critically unfunded due to Republican neglect. The status of hundreds of thousands of young immigrants is in limbo as the GOP plays chicken with a legislative solution to DACA. And House Speaker Paul Ryan is preparing to roll out a hideous plan to cut Medicare, Medicaid, and welfare programs.
But progressive groups and Democratic state officials are gearing up for an all-out election-year battle to defeat them on these fronts, and stand up for the American people.
None of this would have been possible without the organizations and advocates, old and new, who have teamed up to stop Trump and the GOP agenda:
Indivisible: One of the largest resistance groups, Indivisible has held hundreds of rallies against the GOP tax scam, gotten out the vote in Alabama, and held vigils after the deadly neo-Nazi riots in Charlottesville. Starting this month, Indivisible has launched actions nationwide to defend the DREAMers.
MoveOn: Founded two decades ago to protest the impeachment of President Bill Clinton, MoveOn has been a centerpiece of resistance to Trump. The group has driven 1 million calls to Congress and 16 million petition signatures, with 250,000 joining their Ready to Resist national organizing calls and 100,000 members attending town halls in February alone. Their Resistance Summer program trained over 1,000 field organizers for the 2018 elections. They also raised $3.7 million for hurricane relief.
Stand Up America: This group has only existed for one year, but boasts one million members nationwide, with 150,000 in its rapid response program and more Facebook engagement than the White House. Members have made over 180,000 calls and 130,000 faxes to Congress, and over 15,000 of them mobilized for public protests like the March for Truth.
Run For Something: This candidate recruitment organization has gotten 15,000 people to sign up to run for office, roughly 55 percent of which are women and half of which are people of color. In November alone, 72 Run For Something candidates were on the ballot nationwide and nearly half won, including Virginia delegate candidates Danica Roem, Jennifer Carroll Foy, and Chris Hurst. In some districts, Run For Something candidates drove up turnout for Ralph Northam by 40 percent.
Not One Penny: This group partnered with dozens of progressive groups to help organize the Tax March, the Our Lives on the Line Day of Action rallies in 43 states, the Not One Penny Coalition, and is now spearheading the Repeal the Trump Tax Tour, a 100-day series of events designed to build momentum against the lawmakers who passed it.
American Civil Liberties Union: This longtime legal advocacy group sued the Trump administration 56 times in 2017, including over the Muslim ban, the transgender military ban, the repeal of the contraceptive mandate, and the decision to detain three undocumented teenagers who were seeking abortions. The ACLU has also coordinated 400,000 calls to Congress to save net neutrality, and mobilized 9,000 people to attend 518 events nationwide in defense of voting rights.
Organizing For Action: The Obama-aligned nonprofit was responsible for 65,000 calls to stop Obamacare repeal. They have held over 4,700 events nationwide since Trump's election.
5 Calls: Using this simple tool, citizens all across America have made over 2 million calls to Congress since it was launched in January. Its users also sent 15,000 postcards to voters in Alabama, getting out the vote for Doug Jones.
NARAL: The abortion rights group played a big role in the historic, 4-million-strong Women's March. Their efforts this year led to legislative victories for women's rights in Hawaii, Illinois, Massachusetts, Missouri, and Oregon, and the group also mobilized to defeat health care repeal.
EMILY's List: Since 2016, this women's organization has had over 25,000 women contact them about running for office, and over 8,000 people have volunteered with the organization to help get these women elected. "Our New Year's resolution here at EMILY's List? To help this wave of women win​​ — ​and change the world," the group's president Stephanie Schriock declared.
Planned Parenthood: The network of health providers dedicated to family planning access for the poor was this year responsible for over 200,000 calls and 1.5 million petition signatures to Congress, as well as 2,700 organized events to protect health care.
Resistbot: This group has a wildly popular free tool that allows anyone to instantly contact their elected officials by texting RESIST to 50409. More than 4 million users have collectively contacted every single senator, congressman, and governor in the country, via 146 million texts, 6.65 million faxed pages, 1.43 million electronically delivered letters, 155,461 mailed letters, and 7,067 hand-delivered letters.
Human Rights Campaign: Members of HRC made 45,000 calls and emails to Congress to stop Obamacare repeal, and successfully stopped Trump's nomination of anti-gay state legislator Mark Green for Secretary of the Army.
The next year is bound to present tougher challenges than ever before. But the resistance has proved it is up to the challenge — and ready to save America.