Responding To Domestic Terrorists
@FromaHarrop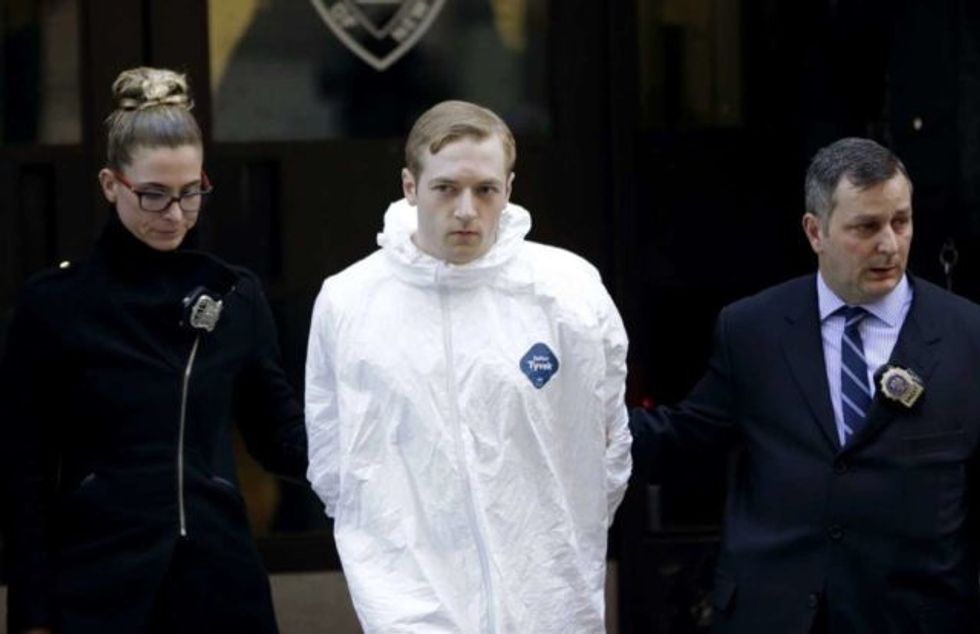 Reprinted with permission from Creators.
It surprised few to learn that Robert Bowers, who is charged in the massacre of 11 congregants at a Pittsburgh synagogue, was a social misfit and psychotic wreck. Most domestic terrorists are. They latch onto some extreme ideology to obscure the mess in their head.
It can be hard to focus on mental illness when individuals expound odious views. We want to simply condemn them for their hate. An effective response, however, is to pull off their cover and move on.
Unfortunately, there's no easy means to drain the online sewage that can trigger a disintegrating mind. But we can strip away the fig leaf of "philosophy" that highly disturbed people think lends dignity to their heinous acts.
Before Bowers was 1 year old, his mother and Randall Bowers divorced. Randall was later accused of rape involving "deviate sexual intercourse" and is believed to have later killed himself. Robert's mother married someone else, but the couple separated in less than a year. She became unwell, and Robert moved in with his grandparents. He dropped out of high school.
Dylann Roof, who killed nine African-Americans at a church in South Carolina, was born to parents who had already divorced but were temporarily back together again. His father allegedly physically and verbally abused his second wife. Dylann kept changing homes, attending at least seven schools. He dropped out, took drugs and got arrested multiple times. He carried out mass murder at 21, claiming to have started a race war.
We can't ignore Roof's racist motives or Bowers' anti-Semitic ravings. But everyone is in danger when a deranged person possesses weapons of war.
Some have questioned whether it's safe to be Jewish or black in today's America. Well, it wasn't safe being a white Baptist in rural Texas when Devin Patrick Kelley murdered 26 people in a church. Kelley had escaped from a psychiatric hospital.
The point of terrorism is to terrorize — that is, spread fear. The weak and dysfunctional feel mighty when they intimidate large numbers of people.
It was Israeli policy during the terrorist attacks a decade ago to deprive killers of such rewards. Restaurants blown to pieces were rapidly rebuilt, reopened and filled with customers. Similar thinking is why New Yorkers rebuilt the World Trade Center.
Targeted institutions should find ways to defend themselves but deny crackpots the attention they crave. It would be helpful to not treat every bit of offensive graffiti as a serious hate crime. Any creep with a marker can draw a racist remark or swastika.
The writer could be a bigot, kids doing mischief or an otherwise sick individual. That someone scrawled "Die Jew Rats" on a Brooklyn synagogue set off a wave of anxiety about fascists running wild in New York. The scribbler turned out to be a mentally ill black man known to turn anti-Semitic when he's not taking his medications.
Anonymous scribblings are best addressed with remover.
We saw the smart response Saturday, the first Shabbat after the Pittsburgh attack. The public crowded into synagogues. Jews brought their children. Christians and Muslims joined them. At Pittsburgh's Tree of Life synagogue, still a crime scene, a rabbi wore a T-shirt featuring a Star of David combined with the Pittsburgh Steelers logo.
Candles were also lit for the two African-Americans gunned down at a Kroger store in Kentucky. Pictures of the alleged assailant — who had previously tried to enter a predominantly black church — show a white man in handcuffs with bulging eyes. Then there was the hater of women who shot up a yoga studio(!) in Florida.
Racists, bigots, sexual head cases — these plainly rabid people want to make others afraid. We frustrate them by just going about our business.
Follow Froma Harrop on Twitter @FromaHarrop. She can be reached at fharrop@gmail.com. To find out more about Froma Harrop and read features by other Creators writers and cartoonists, visit the Creators webpage at www.creators.com.