Rick Perry: 'A Broken Clock Is Right Once A Day' (Um…)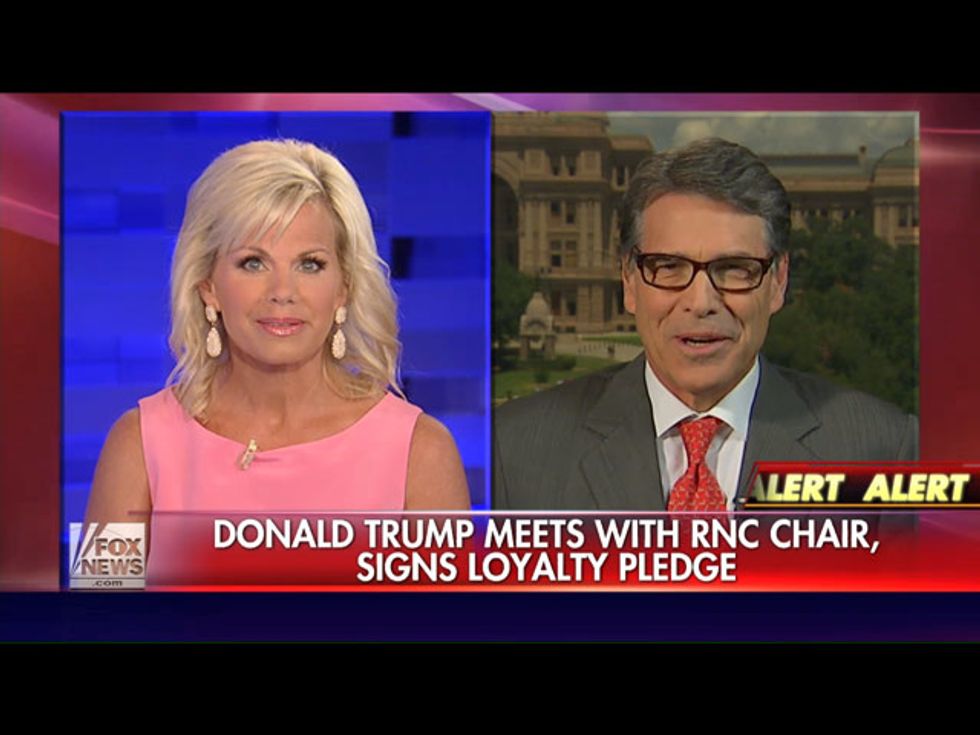 Rick Perry can't avoid an "oops" moment even when he's asked directly if his campaign is dead.
In a Thursday afternoon appearance on Fox News, Perry was asked about Donald Trump's claim, spoken at a press conference the same day, that Perry was dropping out of the race.
"You know, a broken clock is right once a day," Perry said through some mild laughter. "So, you know, the bottom line is I'm still here, and I'm still working."
The host Gretchen Carlson failed to point out to Perry that the expression is actually "a broken clock is right twice a day." But more than that, according to the actual logic of the saying — since Perry thinks Trump is completely wrong politically (i.e. "a broken clock") — Perry would be conceding that Trump is right this time, and that he (Perry) is indeed dropping out of the race.
In fact, Perry has been unable to pay his campaign staff, and in the last few days he lost his team in New Hampshire.
Trump's complete comments on Perry, spoken at a press conference Thursday, during which he also announced that he'd signed the Republican loyalty pledge to not run as an independent, were: "You know one of the things that I'm most honored about is that so far, everybody that's attacked me has gone down the tubes… You have Perry attacked me [sic], now he's getting out of the race. He was at four or five percent — now he's getting out of the race, he was at zero."