Rick Perry Cements His Legacy As More Abortion Clinics Close Across Texas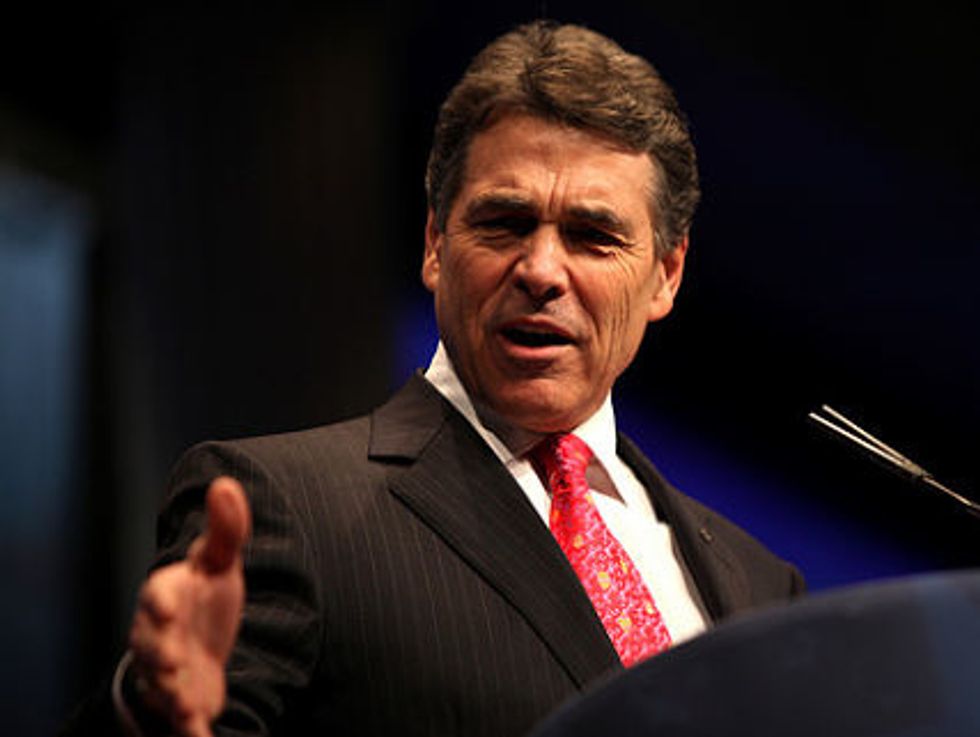 The closest abortion provider in Texas to El Paso is now 600 miles away, thanks to a ruling issued on Thursday by the United States Court of Appeals for the Fifth Circuit.
"Today's decision affirms our right to protect both the unborn and the health of the women of Texas," Governor Rick Perry (R-TX) said in a statement.
As many as 13 of the state's remaining 35 abortion providers will likely be closed as result of a series of regulations passed during a second "special" legislative session that followed the filibuster by State Senator Wendy Davis (D-Fort Worth) that briefly delayed the bill from becoming law. The Texas Tribune's Becca Aaronson reported that by Friday afternoon, nine clinics had ceased performing abortions, including four run by Planned Parenthood.
The panel of three judges — all appointed by George W. Bush — overruled a decision from earlier this week by U.S. District Judge Lee Yeakel, a fellow Bush appointee, that stated that requiring doctors who perform abortions to have admitting privileges at a hospital within 30 miles put an undue burden on the women of Texas. Yeakel also ruled that it was unconstitutional to force doctors to use a federal standard for drug-induced abortions if they determine another evidence-based method is safer.
The panel felt the state would likely be successful in appealing these decisions in a hearing before a federal appeals court now scheduled for January of next year.
"It is a sad and dark day for women in Texas," said Amy Hagstrom Miller, founder and chief executive officer of Whole Woman's Health, a women's health provider that has already discontinued abortion services at three of its five locations.
"The decision was not unexpected, however," writes RH Reality Check's Andrea Grimes. "The Fifth Circuit is one of the nation's most conservative courts, comprised in part of one judge who has garnered praise from Rush Limbaugh, and openly anti-choice Judge Edith Jones, who has been accused of 'making denigrating statements against minorities and people with mental disabilities,' and who has been put under review by Supreme Court Chief Justice John Roberts."
An estimated 22,286 Texans will be blocked from accessing legal abortions due to the admitting requirement, according to testimony presented to Yeakel. Clearly, the poorer or more disconnected from resources a woman is, the longer she will likely wait to seek an abortion and the more dangerous the procedure becomes.
The effort to limit a woman's choice by limiting her medical options in Texas follows a movement to slash reproductive health care in the state that has the highest rate of uninsured women in the nation.
The state's Women's Health Program (WHP) saved taxpayers $46 million by averting more than 10,000 unplanned Medicaid births in 2009 alone. But in 2011 state Republicans passed brutal budget cuts along with an exclusion for Planned Parenthood, which had provided care to 40 percent of the women in the WHP. The result was devastating. Enrollment in the program dropped by 25 percent and many women were unable to find a provider of birth control as 50 women's health clinics were forced to close.
Photo: Gage Skidmore via Flickr