Rick Perry Doesn't Like Obamacare, But Wants Obamacare Funds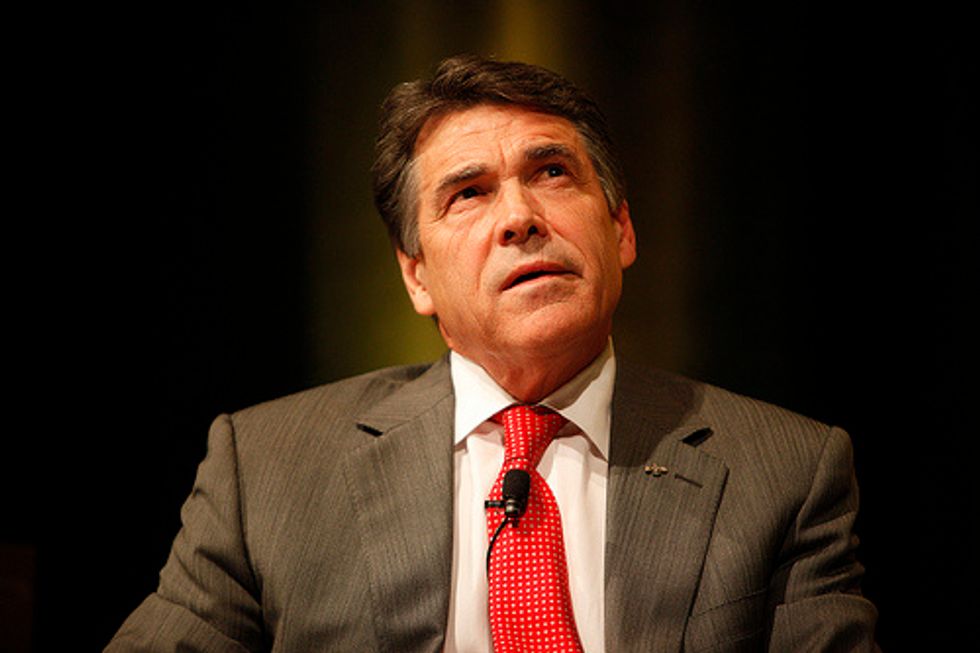 Since the introduction of the Affordable Care Act, Governor Rick Perry (R-TX)  has been an unremitting critic of the president's signature policy. But as his time in office nears its end, he is now negotiating with the Obama administration for $100 million in Obamacare funds for the state of Texas.
The Community First Choice clause, an elective component of the Affordable Care Act, "provides states choosing to participate in this option a six percentage point increase in federal Medicaid matching funds for providing community-based attendant service and support to beneficiaries who would otherwise be confined to a nursing home or other institution."
Community First Choice would assist roughly 12,000 Texans, most of whom are elderly or disabled, and was approved by the Texas legislature and signed into law this year.
According to The Huffington Post, Texas has the "highest rate of uninsured in the country, at 25 percent or 6.2 million people." The report goes on, "It also has the worst health care services and delivery in the nation according to the federal Agency for Health Care Research and Quality." Given these dismal statistics, Texas would undoubtedly benefit from receiving subsidies from the federal government to aid the state's failing health care system.
Yet Governor Perry has repeatedly insisted that Texas would resist implementing Obamacare. In a 2012 interview with Fox News, Perry declared, "If anyone was in doubt, we in Texas have no intention to implement so-called state exchanges or to expand Medicaid under Obamacare, I will not be party to socializing healthcare and bankrupting my state in direct contradiction to our Constitution and our founding principles of limited government."
According to Perry's spokeswoman Allison Castle, Perry's position has not changed. "The bottom line is it has nothing to do with Obamacare." Castle said on Tuesday,  "There are no 'talks' or 'negotiations.'"
This contradicts a statement made by a spokeswoman for the Texas Department of Aging and Disability Services, who told Politicoon Tuesday,"Efforts are under way to develop and submit an application to the Centers for Medicare and Medicaid Services for participation."

A second spokesman for Governor Perry, Josh Havens, said, "Long before Obamacare was forced on the American people, Texas was implementing policies to provide those with intellectual disabilities more community options to enable them to live more independent lives, at a lower cost to taxpayers." While that may be true, these specific Community First Choice funds that the Texas legislature is pursuing come directly from the Affordable Care Act.
"The Texas Health and Human Services Commission will continue to move forward with these policies because they are right for our citizens and our state, regardless of whatever funding schemes may be found in Obamacare," Havens added.
Some are worried however that bringing this issue to light will cause leaders — like Senator Ted Cruz (R-TX), who is continuing his improbable battle to derail Obamacare — to deter Perry and the Texas legislature from opting to receive these necessary funds.
Advocates for Community First Choice in Texas said, "It would be worse than a shame if Texas's moving ahead with CFC or BIP policies—both are from the ACA—was hurt as the result of scrutiny from a press inquiry."
Others doubt that Perry will let his political leanings interfere with his self-interest.
"Rick Perry has accepted federal funds in the past. He's accepted federal funds on a regular basis when it suits his needs, whether it was using federal stimulus dollars to balance the state budget or accepting FEMA money," Director of the Texas Organizing Project, Ginny Goldman said. "Sadly, he is driven by his political interests above all else and when it comes to the Affordable Care Act, he's willing to turn his back on 1.5 million people who need health care."
Rick Perry is hardly the only governor to publicly denounce the Affordable Care act, and then adopt its policies. Perry's turn to the federal government for $100 million in Obamacare funds is neither a bipartisan compromise nor an end to empty threats to repeal the health care bill or face a government shutdown; what it is, however, is a move on behalf of Governor Perry to fix the deteriorating medical system in Texas using the president's policies while making it seem like it was all his idea.
Photo: The Texas Tribune via Flickr.com
H/T: Politico