Rick Scott Figures Some Dictators Aren't So Bad — If They've Got Money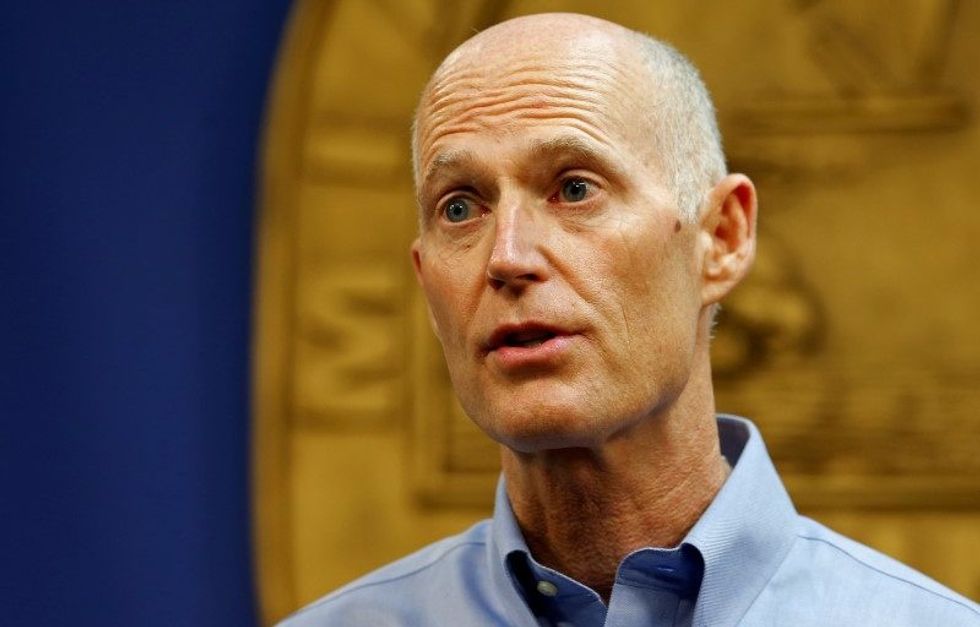 Florida Gov. Rick Scott is now dabbling in foreign policy, trying to look like a tough guy in advance of his U.S. Senate run in 2018.
He recently warned Florida's seaports that they could lose critical state funding if they make any shipping deals with Cuba. Scott later told reporters: "I don't believe any port in our state, none of them, should be doing business with a brutal dictator."
These would be stirring words if they didn't reek with hypocrisy. The governor has been a gushing supporter of free trade with China, where human rights are trampled daily by the government.
In fact, under Scott, lots of Florida taxpayer dollars have been spent trying to drum up more business with the leadership in Beijing.
Here's a peek at what goes on there, as detailed in Amnesty International's 2015-2016 report:
Start with a "massive nationwide crackdown" on human-rights lawyers, whose homes and offices got raided. More than 240 attorneys and activists were detained or questioned by Chinese state security agents, and 25 were still in custody or "missing" at the time the report was compiled.
In a narrower purge, five women were arrested for "picking quarrels and provoking troubles" because they tried to start a national campaign against sexual harassment. Meanwhile, in the province of Zhejiang, Chinese authorities continued a very public program of destroying churches and tearing down Christian crosses.
And if it's government brutality that really disturbs Gov. Scott, he should be aware that torture remains "widespread" in Chinese detention facilities, according to Amnesty and other groups.
One case cited was that of human-rights lawyer Yu Wensheng, who was abused in a Beijing prison from October 2014 to January 2015. He was handcuffed in a "restraint chair," interrogated for 15 to 16 hours every day and denied sleep.
Horrifically, human-rights investigators also reported last summer that the Chinese government has been harvesting organs from thousands of executed prisoners, including many who were jailed for religious or political reasons.
Of course, China remains a key trade partner of the United States, and owns a jaw-dropping $1.2 trillion of our national debt. For years we have, for the sake of profit, overlooked Beijing's suppression of dissent and persecution of activists and journalists.
President Trump complains loudly about Chinese monetary policy — not the treatment of political prisoners.
Enterprise Florida, a controversial pro-business consortium that gets 90 percent of its funding from state taxpayers, opened offices in Shanghai and Hong Kong in March 2014.
Its press release boasted that China was "Florida's No. 1 largest import market" and "the No. 1 customer for the Port of Miami in overall tonnage."
The board of Enterprise Florida is chaired by Gov. Scott, who at the time clearly had no qualms about our seaports accepting cargo from a communist regime.
Not long after Enterprise Florida opened its doors in Hong Kong, police in that city began rounding up pro-democracy protesters. In all, 955 people were arrested.
Not a peep of outrage was heard then from Scott. Yet now he surfaces, bristling with phony alarm because Port Everglades and the Port of Palm Beach were hosting a trade delegation from Cuba.
Officials at those ports had planned to sign memoranda opening future business discussions with Havana. "Disappointed some FL ports would enter into any agreement with Cuban dictatorship," Scott tweeted. "I will recommend restricting state funds for ports that work with Cuba…."
Both Port Everglades and the Port of Palm Beach quickly backed away from signing cooperation papers. Last week the governor submitted a budget that included a threat to withhold infrastructure funds from any port that expands trade with Cuba.
The ports wouldn't be breaking any laws. Exports of certain commodities and medical supplies to Cuba are legal, and since 2010 U.S. companies have shipped 4.8 million tons, about one-sixth of it from Florida ports.
How odd that Scott hasn't confronted the major airlines that are now flying direct to the island from Florida, or the cruise lines seeking berths in Havana Harbor.
Maybe he forgot about them, or maybe just doesn't want to piss off big corporations that might donate to his Senate campaign.
The same sort of human-rights crimes that occur in Cuba are happening throughout China and other countries with which we freely do business. For American politicians, lambasting Chinese leaders is risky, because China has lots of money, and manufactures lots of stuff we want: computers, clothes, sneakers.
It's much easier to act indignant about the Cuban government, because Cuba is poor and doesn't have much to sell us.
Thus appears Rick Scott, intrepid crusader for human rights.
But if there was serious money in old Havana, you can bet that Enterprise Florida would put an office there.
Carl Hiaasen is a columnist for the Miami Herald. Readers may write to him at: The Miami Herald, 3511 N.W. 91 Avenue, Doral, Fla. 33172; email: chiaasen@miamiherald.com.
IMAGE: Florida Gov. Rick Scott speaks at a press conference about the Zika virus in Doral, Florida, U.S. August 4, 2016.  REUTERS/Joe Skipper