Rick Scott's Campaign May Have Violated Campaign Finance Law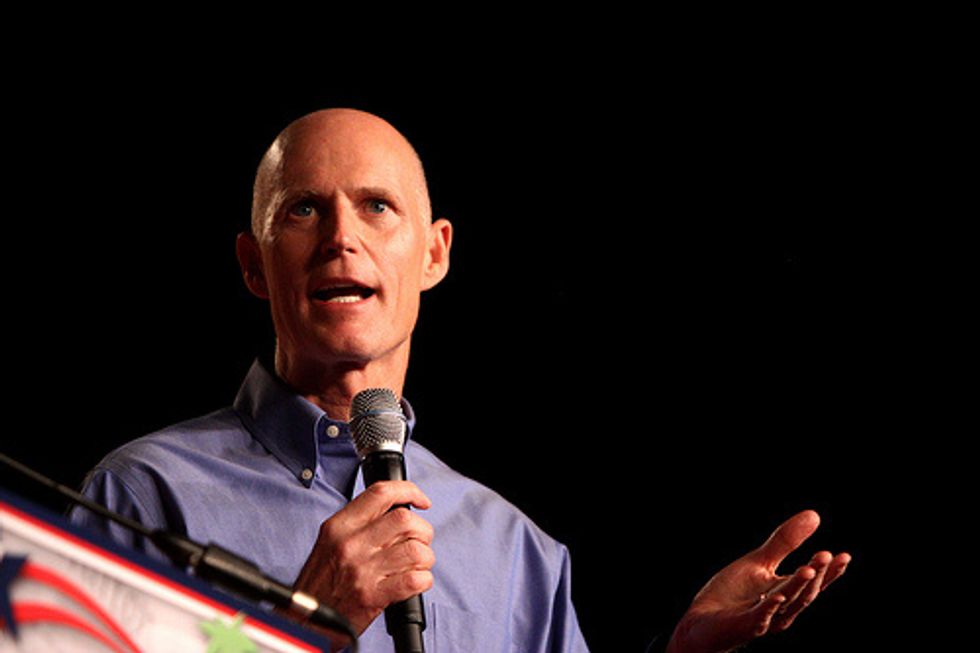 On Monday, Florida Democratic Party chairwoman Allison Tant filed a complaint with the Florida Elections Committee, accusing Governor Rick Scott's (R) campaign  of committing campaign finance violations.
According to Tant's complaint, Scott's current campaign illegally transferred nearly $27.4 million from the governor's former 2010 electioneering communication organization, "Let's Get to Work," to a new political committee with the same name.
Due in part to lax laws that allow for broad uses of campaign funds, a political committee, such as Let's Get to Work, can legally give money directly to other political committees. However, an electioneering communications organization — which funds and engages in election-related activities through communication means, such as radio commercials and TV ads — cannot directly contribute to a political committee.
In other words: If the allegation that Scott's campaign transferred money from a former electioneering communication organization to a political committee is true, it's a violation of campaign finance law.
Tant now argues the campaign "violated the law," and that "the governor is supposed to uphold the law." If she's right, Scott's re-election campaign could be fined up to $82 million.
John French, the chairman of Let's Get to Work, criticized the accusations, saying that the first incarnation of Let's Get to Work was dismantled before a check for $24.7 million was given to the new committee, which was formed the same day the original organization was discontinued. Hence, according to French, the check received by the political committee could not have come directly from the electioneering communication organization, because it no longer existed at the time the check was written or received.
Still, Democrats maintain that the transfer of money was illegal, even if the check was written after the official close of the first version of Let's Get to Work.
According to TheHuffington Post, two Democratic state elections experts say the same.
"It's the subterfuge that they went through to transfer the money illegally. It's allowing them to do indirectly which they can't do directly," says Mark Herron, an elections lawyer.
Another expert on state campaign finance laws, Ron Meyer, agreed: "If it's not blatantly illegal, it certainly violates the spirit of the law."
This is not the first campaign controversy for Scott's Let's Get to Work: His campaign recently addressed a "mistake" that resulted in the committee failing to list a $500,000 donation it received from a private business.
Photo: Gage Skidmore via Flickr