Rick Scott's Internal Poll Finds Him Trailing Charlie Crist In Florida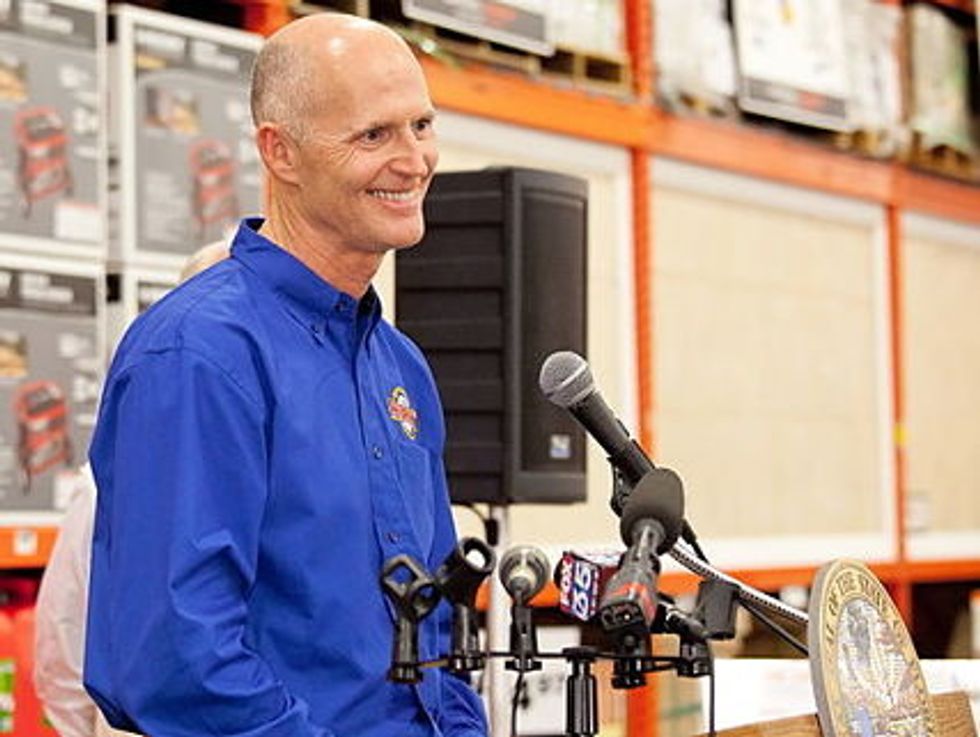 Florida governor Rick Scott's (R) own polling finds him trailing likely Democratic opponent Charlie Crist in his 2014 re-election campaign, according to a Politico report.
The internal poll, which was conducted by Scott pollster Tony Fabrizio from November 24-26 and obtained by Politico on Tuesday, finds Crist leading Scott by a 49 to 45 percent margin.
Crist is Scott's predecessor as Florida governor, and was a member of the Republican Party until 2010, when he ran for U.S. Senate as an Independent after losing the Republican primary to then-state senator winner Marco Rubio. He announced his intention to run for governor as a Democrat in November.
That Scott's internal poll finds him trailing Crist is not particularly surprising; every public poll of the race to date has found Crist ahead. The most recent, from Quinnipiac University in mid-November, showed Crist up 7 percent.
Scott's poll finds the governor's job approval at 46 percent, with 48 percent disapproving; this is a major improvement from earlier in his term, when his approval dipped as low as 33 percent in a March Public Policy Polling survey. Crist's image is slightly more positive; 47 percent view the former governor favorably, while 43 percent view him unfavorably.
Politico further reports that Fabrizio also polled the two candidates on 10 key issues:
The incumbent governor has the advantage on six: controlling state spending (+14), reducing taxes (+12), balancing the state budget (+9), turning Florida's economy around (+5), standing up to Tallahassee insiders (+3) and creating jobs (+2).

Crist has a single-digit advantage on four measures: cares about people like me (+8), is the most honest and ethical (+4), "someone I trust to be governor" (+3) and "shares my beliefs and values" (+2).
It's unclear whether Scott's apparent backtrack on his past support for expanding Medicaid will impact his advantage on economic issues. On one hand, Fabrizio's polling finds that Floridians view the Affordable Care Act negatively by a 55 to 38 percent margin. On the other, if Florida does not expand Medicaid, it could cost the Sunshine State more than $5 billion over the next decade. Crist, who supports Medicaid expansion, has already begun attacking Scott for failing to lead on the issue.
Photo via Wikimedia Commons