Right-Wing Pundits Warn Graham: Don't Push Abortion Ban Before Midterm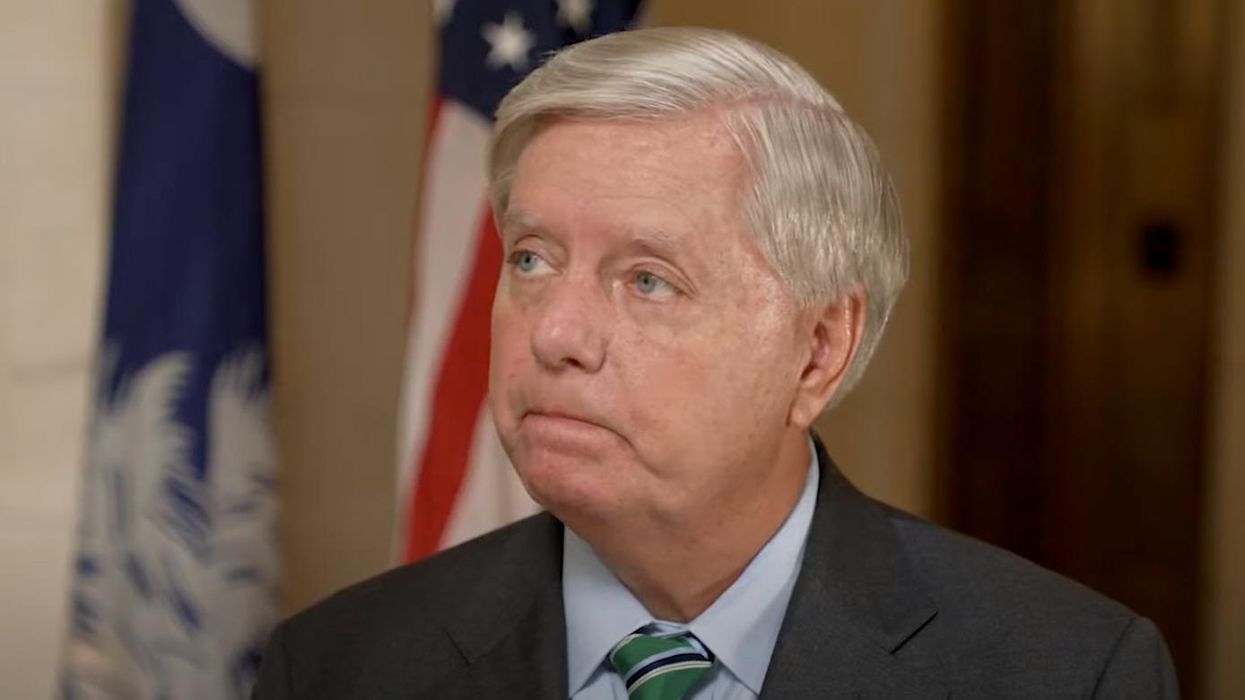 Youtube Screenshot
Prominent right-wing commentators are condemning Sen. Lindsey Graham's (R-SC) proposed national abortion ban. But their concern isn't that they oppose threatening doctors with up to five years in prison if they perform an abortion on a patient who has been pregnant for more than 15 weeks. It's that they know Graham's bill endangers the GOP's chances of gaining power and thus having the opportunity to ban abortions.
Graham's proposal, announced Tuesday, would implement a nationwide ceiling on abortion, banning abortions across the country after 15 weeks of pregnancy, while leaving in place all stricter state laws. He told reporters at a press conference announcing the bill, "If we take back the House and the Senate, I can assure you we'll have a vote on our bill."
The Republican Party's platform states that "the unborn child has a fundamental right to life which cannot be infringed," and since GOP appointees to the Supreme Court overturned Roe v. Wade, red states have implemented sweeping abortion restrictions and in some cases near-total bans.
But some Republican leaders are trying to distance the party from Graham's legislation, apparently fearing an electoral backlash that could swamp GOP efforts to take back the U.S. House and Senate. Fox News is largely ignoring the bill for the same reason. And some on the right are explicitly slamming Graham on those grounds.
"He wants Republicans to lose. This is sabotage," Daily Wire host Matt Walsh argued on Wednesday.
On his own podcast, Charlie Kirk called Graham's move "election interference," saying that Democrats are "enthusiastic that Lindsey Graham is now making this all about the one issue Democrats actually can win suburban women on."
And Fox's Jesse Watters questioned the "timing" of the move during an interview with the South Carolina senator, telling him, "All the media and the Democrats are talking about federal abortion ban, federal abortion ban. You know that's not smart politics, right?"
Note that none of these right-wingers oppose federal abortion bans on the merits. When the Supreme Court overturned Roe, Walsh tweeted that "federal ban on abortion nationwide is the next step." During his interview with Graham, Watters stressed that he agreed with the senator on the merits of the policy, just not the timing. And Kirk claimed during his anti-Graham rant that "as someone who is so pro-life, I would love a total abortion ban, 15 weeks is not enough."
"But I'm also not dumb," he alleged, adding that Graham had proposed his bill "25 days out from ballots going out."
And there's the rub.
The right wants abortion bans like the one Graham put forward. But its propagandists know that such bans are extremely unpopular, and that Republicans are better off keeping the public's focus on issues like crime, where the GOP has plenty of grievances but no solutions. Then, if the GOP takes back Congress in 2022 and the White House in 2024, its leaders can ram through its traditional and unpopular priorities like banning abortions, cutting taxes for the wealthy, and slashing the social safety net.
The biggest threat to Republican political victories is letting the public find out what the party would do if it wins, and the party's media allies are well aware.
Reprinted with permission from Media Matters.