Right-Wing Trolls — From Scalia On Down — Take On The Obamacare Decision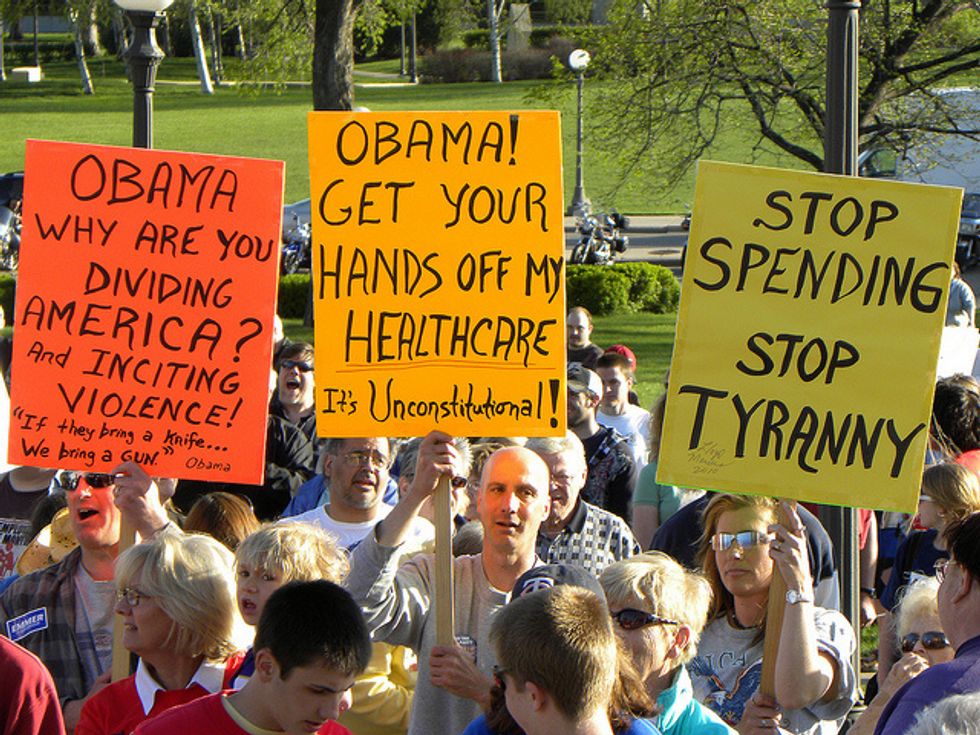 Right wingers are going into apoplexy over the Supreme Court's decisive 6-3 ruling upholding federal health insurance subsidies under Obamacare — and a lot of it is pretty entertaining.
The decision in the King v. Burwell case is likely to be the last fundamental legal challenge to the Affordable Care Act. (More litigation could certainly be on the way — but it would realistically only affect things at the edges.) And after five years of chasing this law like Captain Ahab chased a very large whale, these people really aren't happy about it.
Of course, if we're looking for an unhinged right winger who's full of soundbites on just about any topic, there's just no topping a member of the Supreme Court itself — Justice Antonin Scalia — who in his dissenting opinion called the ruling "of course quite absurd, and the Court's 21 pages of explanation make it no less so."
"Contrivance, thy name is an opinion on the Affordable Care Act!" Scalia also declared in a parenthetical aside.
In another memorable line, he referred to the Court practicing "interpretive jiggery-pokery."
Scalia even capped off a section full of legalese, with an insult in the vein of Don Rickles.
The Court claims that the Act must equate federal and state establishment of Exchanges when it defines a qualified individual as someone who (among other things) lives in the "State that established the Exchange […]. Otherwise, the Court says, there would be no qualified individuals on federal Exchanges, contradicting (for example) the provision requiring every Exchange to take the "'interests of qualified individuals'" into account when selecting health plans. […]. Pure applesauce.
And in an apparent bid to the start a Twitter hashtag, Scalia stated that the Court "rewrites the law to make tax credits available everywhere. We should start calling this law SCOTUScare" — a line that shall surely live on for years in right-wing talk radio and blogs.
Another government official, Mississippi governor Phil Bryant (R), got in on the act at the state level. And in an interesting choice of words at a time when much of the country is looking back on the struggles for civil rights in the Deep South (not to mention the Civil War), Bryant's fiery statement invokes a lot of familiar old language of state resistance to the federal government.
Today's decision does not change the fact that Obamacare is a socialist takeover of health care forced down the throats of the American people without proper review, and it does not slow the massive and unprecedented transfer of wealth that is at the heart of the subsidy system. Make no mistake—Obamacare is not about helping those in need or improving health care delivery. It is about destabilizing our health care system, ceding more control to centralized government and replacing individual liberty with government dependence.

…

Mississippi was right, as were numerous other states, not to willingly entrench Obamacare by establishing a state-based exchange, and I will continue to resist any efforts that attempt to shove Obamacare deeper into this state.
Bloggers chimed in, too. Michelle Malkin invoked the accusation that the Supreme Court was rewriting the law to mean anything that President Obama would want — citing a gay showtunes composer.
The world has gone mad today And good's bad today, And black's white today, And day's night today… Anything goes! https://t.co/JilYBGKFPg

— Michelle Malkin (@michellemalkin) June 25, 2015
Bryan Fischer is a radio host for a recognized anti-gay hate group, the American Family Association, which is worth noting only because the group recently had to repudiate some of his claims because they were too vile even for them. This moral authority declared the SCOTUS ruling to be all but the death knell for America itself.
Today's SCOTUS ruling is a defeat for the Constitution, reason, and the United States of America. What a catastrophe.

— Bryan Fischer (@BryanJFischer) June 25, 2015
Sean Hannity blew his top on his own radio show, reviving one of the classic fearmongering routines against Obamacare, now that it has yet again gotten a clean bill of Constitutional health.
"And I'm telling you, death panels will exist! Because you know what that death panel is gonna be? It's gonna be called a morphine drip. You get your morphine drip; it depresses your respiration — and guess what, you die! Is that the care you want?"
And Ben Shapiro of Breitbart tweeted out a rather — um, creative reference to the Fifty Shades of Grey franchise.
The Roberts Court took the ACA to its Red Room of Pain and then alternatively tortured it and made love to it until it complied.

— Ben Shapiro (@benshapiro) June 25, 2015
Photo: Protesters in Minnesota call for smaller government and the repeal of the health care law enacted in March, 2010. (Fibonacci Blue via Flickr)