RNC Chief McDaniel Defends Fake Elector Scheme In Her Home State
@kerryeleveld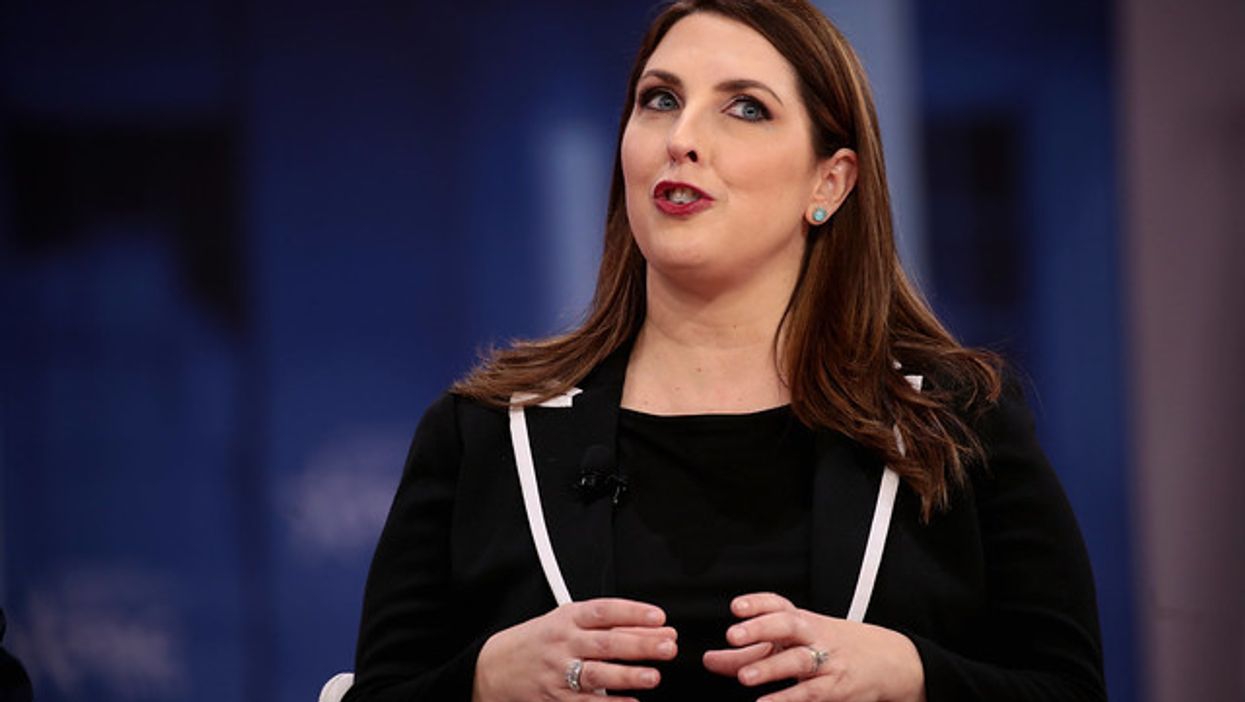 Within an hour of her organization passing a resolution hailing the January 6 insurrection as "legitimate political discourse," Republican National Committee chair Ronna McDaniel went into damage control mode.
McDaniel's first bit of cleanup included releasing a statement that sought to separate out non-violent "ordinary citizens" engaging in Jan. 6 protests as "completely unrelated to the violence at the Capitol." That distinction was never made in the original RNC resolution seeking to censure Reps. Liz Cheney of Wyoming and Adam Kinzinger of Illinois for serving on the House select committee investigating January 6.
But in her tragically misguided ongoing effort to justify the RNC's position, McDaniel penned an op-ed in which she accused the House Select Committee of "harassing citizens who were not even in Washington, D.C., that day."
McDaniel, according to Politico, then went on to depict the case of one of her close personal allies in Michigan, Kathy Berden, an RNC member who also signed on in December 2020 to be one of Donald Trump's fake electors from her state, which had been certified for Joe Biden the previous month.
In her op-ed, McDaniel seized on Berden's case as one of persecution by the January 6 panel, which has subpoenaed Berden over her involvement in forming a slate of fake electors who signed certificates asserting they were "duly elected and qualified" to represent their locales.
Based on the panel's subpoena, wrote McDaniel, "Now she could face costly legal bills even though she was nowhere near the Capitol on January 6th and had nothing to do with the violence that occurred."
In other words, Berden wasn't a violent insurrectionist, she just plotted to steal a free and fair U.S. election by more peaceful means. Biden won Michigan by more than 154,000 votes, or nearly 3 points.
Michigan was one of five states Trump lost—including Arizona, Georgia, Nevada and Wisconsin—where pro-Trump Republicans assembled a slate of fake electors who claimed Trump had won their state. Those documents were then sent to Congress and the National Archives, among others.
The Michigan memo to Congress, the Archives, Michigan Secretary of State, and a federal judge reads, "FROM: Kathy Berden, Chairperson, Electoral College of Michigan."
Clearly, Berden is a totally innocent victim of persecution who was just in the wrong place at the wrong time, on December 14, 2020, leading the meeting, signing her name to illegitimate documents, and disseminating the evidentiary material broadly.
Other RNC members who have been subpoenaed for leading similar efforts include Nevada GOP chair Michael McDonald, Georgia GOP chair David Shafer, and Nevada RNC committee member Jim DeGraffenreid, according to Politico.
What has become clear in the course of the committee's investigation is the fact that the fake electors were part of the plot to pressure then-Vice President Mike Pence to refuse to certify the election using the legitimate elector slates from those states.
The gambit of Trump and his fellow coup plotters, laid out in a memo by John Eastman, was that Pence had the authority (which he didn't) to deny a tally of Biden's electors from states where the results were in dispute and an "alternate" slate of fake electors claimed an entirely different outcome. The mere existence of those "alternate" slates was key to giving Pence cover for throwing out the certified results.
In any case, McDaniel's defense of what the RNC censure really meant by "legitimate political discourse" is mystifying. More than likely, the RNC and its deeply pro-Trump members are so delusional that they really believed the deadly January 6 insurrection was "legitimate" and justified.
But if you believe McDaniel's dubious clarification, then the RNC wasn't endorsing January 6 violence, it was just embracing the efforts of "ordinary citizens" to steal an election through non-violent means.
One way or the other, the RNC supports lawlessness, chaos, and coups.
Reprinted with permission from Daily Kos