Roger Stone Takes 5th In Senate Russia Probe
@FAWFULFAN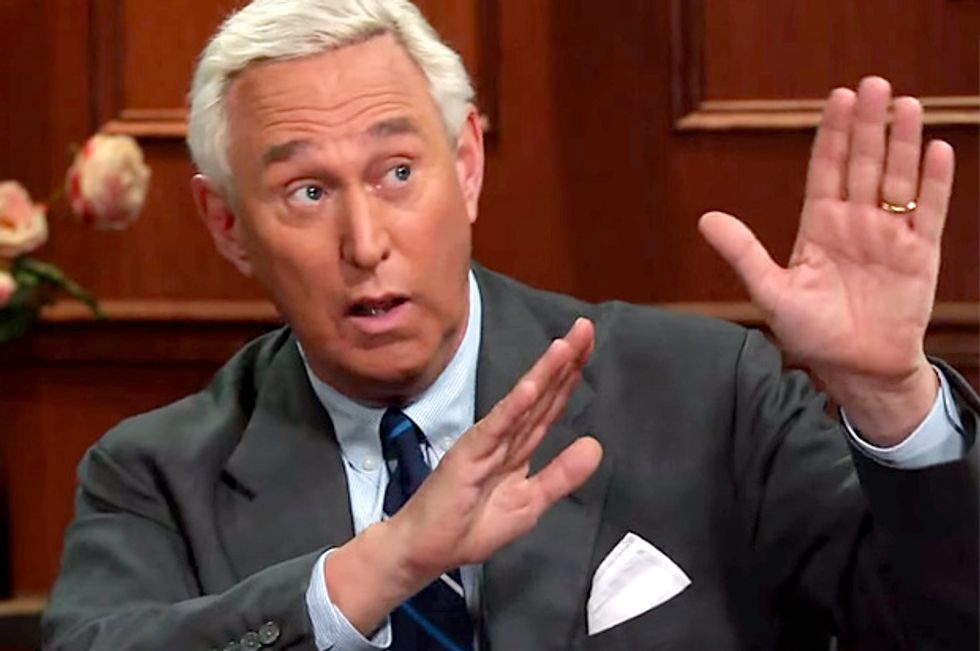 Reprinted with permission from AlterNet.
On Tuesday, President Donald Trump's embattled former campaign adviser Roger Stone sent a letter to the Senate Judiciary Committee indicating he refuses to provide any of the documents the lawmakers requested or to appear for an interview.
"On the advice of counsel, Mr. Stone will not produce the documents requested by you in your capacity as Ranking Minority Member of the Judiciary Committee," stated the letter, which was submitted to ranking Sen. Dianne Feinstein (D-CA) by Stone's attorneys. "The requests, as previously stated to staff, are far too overbroad, far too overreaching, far too wide-ranging both in their all-embracing list of persons to whom the request could relate with whom Mr. Stone has communicated over the past three years, and the 'documents concerning' imprecision of the requests."
"Mr. Stone's invocation of his Fifth Amendment privilege must be understood by all to be the assertion of a Constitutional right by an innocent citizen who denounces secrecy," the letter concluded.
Roger Stone's attorney sent a letter this week stating Stone won't provide documents or appear for an interview before the committee. https://t.co/csC3TG1BPH pic.twitter.com/oRbpE0qjEw

— Sen Dianne Feinstein (@SenFeinstein) December 4, 2018
The letter comes just a day after Trump praised Stone on Twitter for refusing to cooperate with investigators in the Russia probe, saying, "Nice to know that some people still have 'guts!'" Some commentators, including conservative lawyer George Conway, blasted the remark as possible witness tampering.
Obviously, invoking the Fifth Amendment right not to incriminate oneself is not evidence of guilt. But one person who certainly seems to think otherwise is Trump, who at a rally in September 2017 proclaimed, "The mob takes the Fifth. If you're innocent, why are you taking the Fifth Amendment?"
Stone has been a key focus of special counsel Robert Mueller, who has been investigating whether and how Stone communicated with pro-Russia vigilante "transparency" crusader Julian Assange during the 2016 presidential campaign. Stone appeared to have advanced notice when Assange's WikiLeaks site dropped a trove of emails stolen from Democratic officials by Russian hackers, although he has denied this as his legal jeopardy has become apparent.
Matthew Chapman is a video game designer, science fiction author, and political reporter from Austin, TX. Follow him on Twitter @fawfulfan.