Romney Offers Much Criticism, Few Solutions In Foreign Policy Speech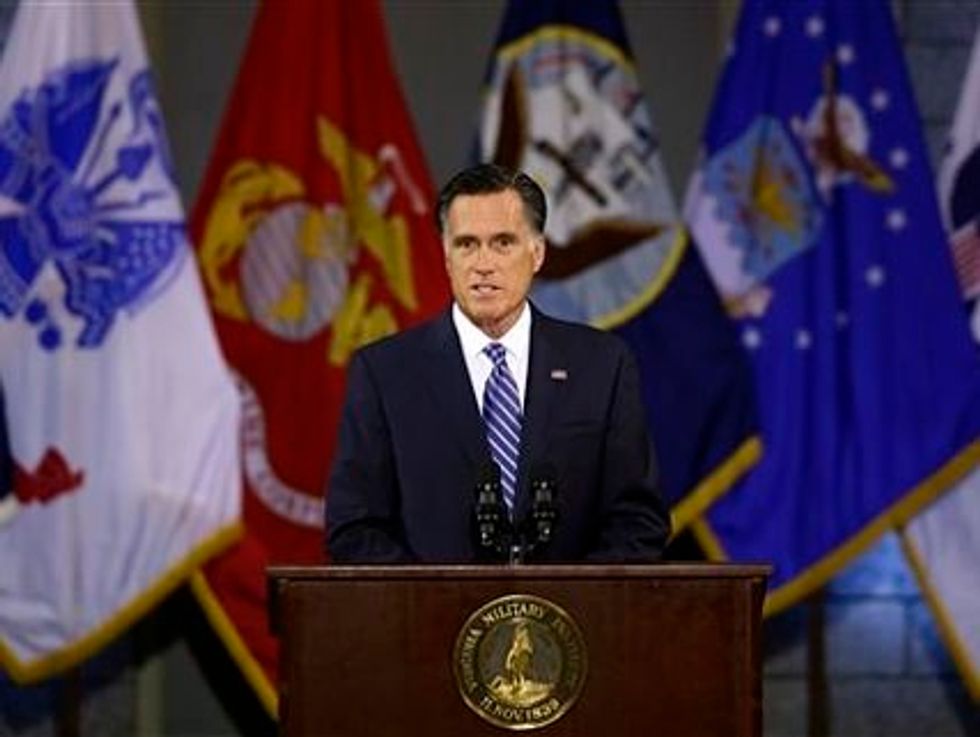 Republican presidential nominee Mitt Romney delivered a major foreign policy address at the Virginia Military Institute this morning, but failed to clarify his specific policy goals on many major challenges facing the country.
Romney's speech, ostentatiously titled "The Mantle of Leadership," argued that the United States needs to "change course in the Middle East" by utilizing the strategy of "peace through strength" instead of following the Obama administration's strategy of "hope." While Romney talked a big game, he actually offered very few discernible points of difference with the Obama administration's foreign policy.
Romney declared that "I will put the leaders of Iran on notice that the United States and our friends and allies will prevent them from acquiring nuclear weapons capability," promising to enact new sanctions in order to "make clear to Iran through actions—not just words—that their nuclear pursuit will not be tolerated."
This is, needless to say, the exact same course that America is already following with Iran. The Obama administration has helped to cripple the Iranian economy (with sanctions, not words), and President Obama has repeatedly made it clear that he will "take no options off the table" to prevent Iran from obtaining a nuclear weapon. Romney himself has acknowledged that he and the president share the same "red line" when it comes to the Iranian nuclear program.
On Afghanistan as well, Romney criticized President Obama without offering a clear policy alternative. Romney attacked Obama for planning a "politically timed retreat," but he also promised that "I will pursue a real and successful transition to Afghan security forces by the end of 2014." This is the same "political" timeline that the Obama administration is following.
Similarly, Romney promised that he would support the Libyan people's efforts to establish a strong democratic government, and pursue the terrorists who attacked the American consulate in Benghazi — exactly what the Obama administration is doing as we speak.
Romney echoed President Obama's calls for a two-state solution for Israel and Palestine, saying "I will recommit America to the goal of a democratic, prosperous Palestinian state living side by side in peace and security with the Jewish state of Israel."
On this issue there's good reason to believe that Romney does actually endorse a different strategy; during his infamous Boca Raton fundraiser in May, Romney was secretly caught on tape saying that "there's just no way" that a two-state solution can work, because "the Palestinians have no interest whatsoever in establishing peace" and "the pathway to peace is almost unthinkable to accomplish."
Romney did offer some clear departures from the Obama administration. He sharply criticized the decision to withdraw American troops from Iraq — which he has called "tragic" in the past — arguing that "America's ability to influence events for the better in Iraq has been undermined by the abrupt withdrawal of our entire troop presence."
He also promised to "roll back President Obama's deep and arbitrary cuts to our national defense that would devastate our military" — not mentioning the fact that his running mate, Rep. Paul Ryan, voted for those cuts — and suggested that he supports providing heavy arms to the Syrian rebels fighting against Bashar al-Assad, although he stopped short of offering any specific plan to do so.
Romney also included one attack that is unequivocally false: although he claimed that President Obama has not signed a new trade agreement in four years, Obama in fact signed trade deals with South Korea, Colombia, and Panama last October.
Romney's failure to offer a specific foreign policy vision has extended to his campaign. This morning, Romney communications advisor Tara Wall utterly failed to explain Romney's contradictory statements on the Arab-Israeli conflict on CNN's "Starting Point" this morning, and in today's New York Times some of Romney's foreign policy advisors anonymously lamented that they have spent so little time discussing national security with Romney that even they do not know how he would govern.
Perhaps no single sentence has ever underscored how challenging it is for Romney to discuss foreign policy than his admission near the end of today's address that the 21st century "began with terror, war, and economic calamity." Romney, whose foreign policy team is stacked with veterans of the Bush White House, runs the risk of reminding voters that he is planning to bring back the architects of those failed policies every time that he names specifics.
Furthermore, given Romney's disastrous efforts to discuss on foreign policy throughout the campaign, he likely has a higher bar to clear with voters to establish himself as a capable Commander in Chief. So the end result is speeches like this: a clear effort to engage the President on foreign policy, without actually bringing much of substance to the table.
Text of Romney's address to the Virginia Military Institute is available via his campaign website, and the speech can be seen in its entirety at C-SPAN's video archive.
Photo credit: AP/Charles Dharapak