Romney, Republicans Struggle To Play Politics After Sandy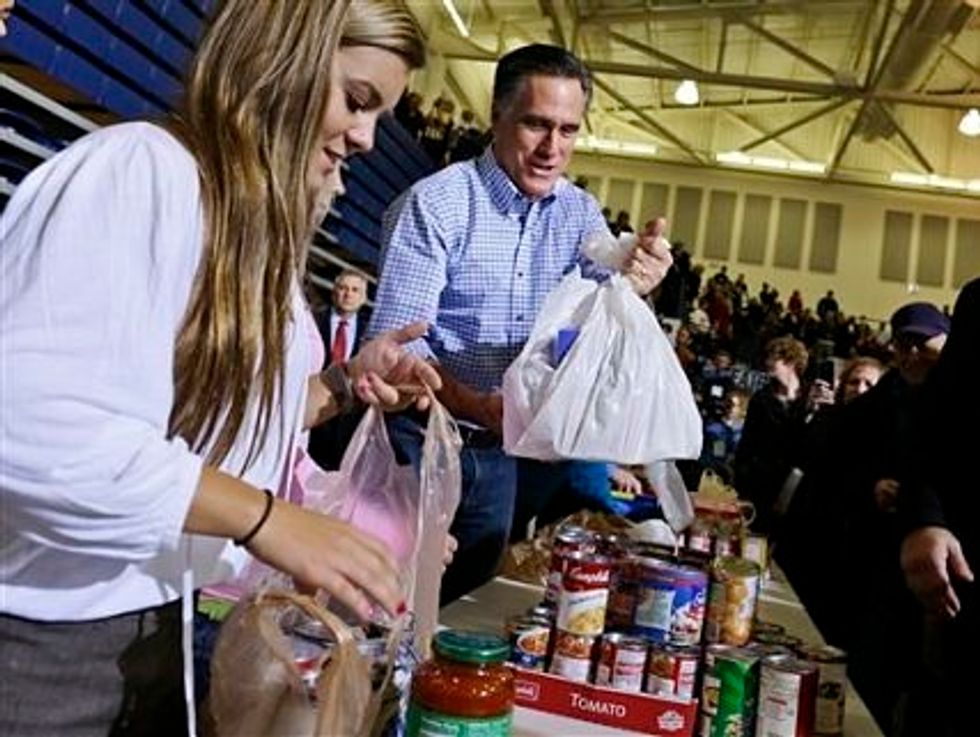 As the East Coast begins the long and difficult task of repairing the damage caused by Hurricane Sandy, Mitt Romney is struggling to navigate the uncertain political waters in which the disaster has left his campaign — and his Republican colleagues are not helping his cause.
While President Obama has removed himself from the campaign trail to direct disaster relief efforts from the White House, Romney cannot do the same; after all, the Republican presidential nominee has no formal job. Furthermore, given that Romney is behind in the polls in several critical swing states, he cannot afford to completely put politics aside with just a week until Election Day.
Romney's solution appears to be an attempt to split the middle. Wary of appearing overly political in the midst of an emergency, the Romney campaign canceled a planned campaign rally in Kettering Ohio — and instead decided to hold a "relief event" in the same building, at the same time. The event was not overtly partisan — Romney did not mention President Obama by name, and he avoided bringing up hot-button campaign issues — but Romney's biographical campaign video did play at the event (along with a song featuring the unfortunate lyrics "knee deep in the water somewhere").
If there was any doubt that Romney's "relief event" was political in nature, however, it should be erased by the fact that the Red Cross does not actually want the campaign's help. As Alex Seitz-Wald points out at Salon, the Romney campaign encouraged atendees to bring canned goods, clothes, and other items to the rally, and Romney said at the event, "We're going to box them up, then send them into New Jersey."
The Red Cross does not accept donated goods, however. As its website explains, "Items such as collected food, used clothing and shoes must be sorted, cleaned, repackaged and transported, which impedes the valuable resources of money, time, and personnel." So, despite Romney's best intentions, his campaign's relief efforts will provide little more help to hurricane victims than Paul Ryan's infamous soup kitchen stunt provided to Youngstown, Ohio's homeless.
Romney's fellow Republicans have also done their part to complicate their presidential nominee's response to the hurricane. Although Romney has refused to answer questions about whether he would cut FEMA's budget (or even privatize it, as he suggested during the Republican primaries,) New Jersey's Republican Governor Chris Christie has been vocal in his support of the job that FEMA — and President Obama — have done in the wake of the storm. Christie, ostensibly a Romney supporter, also declared that he doesn't "give a damn" if Romney plans to travel to New Jersey to tour the damage left in Sandy's wake.
The most infamous name associated with FEMA may also cause problems for Romney. Michael Brown, who served as FEMA's director during the tragically ineffective response to Hurricane Katrina in 2005, has actually accused President Obama of responding to Hurricane Sandy too quickly.
"One thing he's gonna be asked is, why did he jump on [the hurricane] so quickly and go back to D.C. so quickly when in…Benghazi, he went to Las Vegas?" Brown said to the Denver Westword. "Why was this so quick?… At some point, somebody's going to ask that question…. This is like the inverse of Benghazi."
As absurd as this line of attack seems, it's already been echoed by none other than Newt Gingrich. If Romney's immediate goal is to avoid appearing overly political, than having his campaign surrogates publicly tie President Obama's disaster relief efforts to their largely-invented Benghazi "scandal" is not going to help. Once again, it appears that Romney's greatest problem is that he can't shut down the Republican Party until November 6.
Photo credit: AP/Charles Dharapak