Romney's Complaint: Offended By 'Vituperative' Attacks, While Using Race To Divide The Nation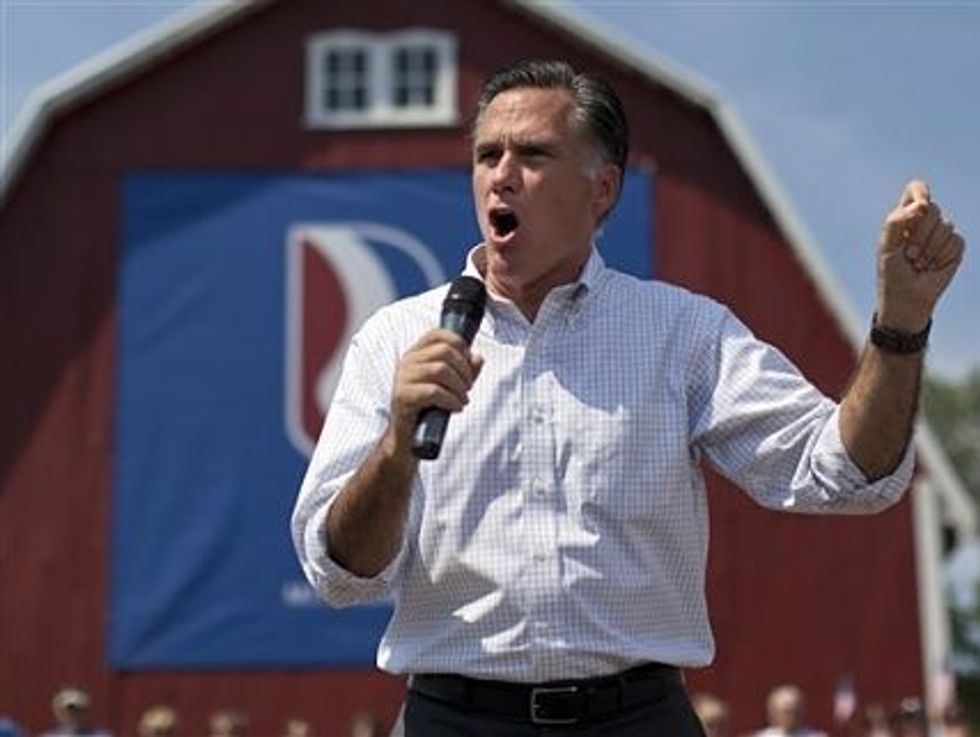 On the eve of his nominating convention, Mitt Romney complained to USA Today about the "vituperative" and "dishonest" assaults on his character by the Obama campaign and its surrogates. "Isn't it sad?" asked the Republican candidate. "The White House just keeps stepping lower and lower and lower, and the people of America know this is an important election and they deserve better than they've seen."
This whining hardly becomes the politician who dispatched his Republican rivals with multi-million-dollar barrages of attack ads. There is some truth to his complaint that Obama's campaign is trying "to minimize me as an individual, to make me a bad person, an unacceptable person," but that is precisely what he did to Newt Gingrich, Rick Perry, and Rick Santorum on the road to Tampa. The Republican primary season was the most vicious in memory – and committees backing Romney led the bloody pack, spending more than two-thirds of their money on negative advertising.
What he is doing now, however, is arguably much worse. And again it is the kind of political behavior that shames the memory of his father George.
What's truly sad – for a country that hurdled an important barrier four years ago – is that Romney and his aides are running an increasingly racialized campaign, seeking to capture a supermajority of white voters, because they can see no other pathway to victory. Some analysts estimate that the Republican ticket cannot win the White House without at least 61 percent of white voters – a significantly higher percentage than voted for John McCain in 2008.
Romney's remark about his birth certificate in Michigan last week can be generously discounted as a clumsy attempt at humor, rather than a calculated slur. Growing up in the bigoted environment of the Mormon Church, he may be sufficiently obtuse not to realize that "birtherism" is a racist movement.  But that wouldn't excuse his vile advertising, which is clearly designed to stoke white resentments with false attacks on White House welfare and health care policies. The overall theme, as Thomas Edsall, Chris Matthews, and other analysts have charged, could hardly be clearer: Obama is taking Medicare money away from hard-working whites to give cash and medical care to indolent blacks.
There is no truth to those insinuations, as anyone who spends ten minutes to investigate will discover. Yet we have long since learned that a strategy of deception can succeed if it confirms existing fears and prejudices. America is neither a post-racial nor a post-partisan society, and there are certainly voting blocs, particularly among older whites, whose underlying beliefs make them more receptive to the Republican lies about Obama.
Romney may deplore discussion of his tax returns and business career, although he has used precisely those same questions to raise doubts about Republican rivals in the past. But when he falsely accuses the President of undoing welfare reform "to shore up his base," he is trafficking in the racial ugliness that disfigured his church for a century. Having claimed that he marched with his father for civil rights, he has a special responsibility to rein in the nastiness of his minions.
If not for the sake of simple patriotism or pride, Romney should abandon the racial messaging to protect his own legacy. More than 20 years ago, Republicans won a presidential campaign with a blatantly racial appeal. The men responsible – Roger Ailes, Larry McCarthy, the late Lee Atwater, even the first President Bush — will never quite transcend that "Willie Horton" moment when opportunism overwhelmed decency.
Neither will Mitt Romney.
AP Photo/Evan Vucci