Ron Paul To Keynote Anti-Semitic Conference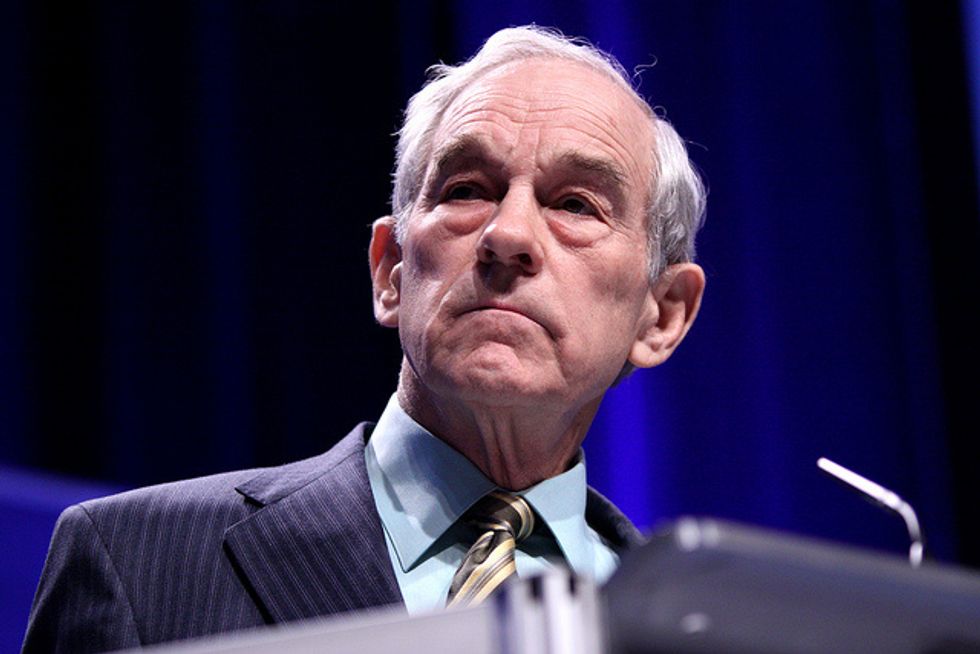 Former Texas congressman Ron Paul will reportedly deliver the keynote address at an anti-Semitic conference in September, in the latest example of the three-time presidential candidate's close association with extremists.
Paul will speak at the Fatima Center's "Fatima: The Path to Peace" conference, which will run from September 8th through the 15th in Niagara Falls, Ontario. According to the Southern Poverty Law Center, the Fatima Center is part of the "radical traditionalist" Catholic movement, which comprises "the largest single group of serious anti-Semites in America," routinely attacking Jews as "the perpetual enemy of Christ."
Along with Paul, the conference will feature Roberto Fiore — a self-described neo-facist Italian politician who was convicted for conspiring to set off a bomb in a Bologna train station in 1980, and has been described by fellow Parliament member Glyn Ford as "absolutely the most extreme person who has ever served in the European Parliament" — and John F. McManus, the president of the John Birch Society, a radical right-wing organization with which Paul is intimately familiar.
It comes as little surprise that Paul would choose to speak at such a gathering; after all, Dr. Paul has a decades-long history of publishing hate speech under his byline, and his recently founded think tank includes a who's-who list of 9/11 truthers, anti-Semites, neo-Confederates, and other luminaries of the paleo-libertarian right. (Among others, the board of the Ron Paul Institute for Peace and Prosperity features Eric Margolis, who argues that the September 11th attacks were "a plot by America's far right or by Israel or a giant cover-up," and Michael Scheueur, who has described American Jews as a "fifth column" determined to undermine American foreign policy.) As a private citizen, Paul seems to be enjoying the close ties to the fringe that he was forced to conceal during his time as a presidential candidate.
But those ties still present an ever-growing problem for his son, Senator Rand Paul (R-KY). In April, I wrote that "as long as his father persists with his fringe right-wing activity — or unless Rand Paul does the unthinkable, and publicly disavows his father — Rand may never come any closer to the presidency than Ron." Since then, Ron Paul has apparently jumped feet-first into the extremist speaking circuit, and Rand Paul has faced a racially charged controversy of his own (his reluctance to part ways with Jack Hunter, his neo-Confederate former social media director.) These are the kinds of incidents that can derail a presidential campaign. If Rand Paul cannot find a way to credibly distance himself from the radical right-wing extremism that seems to surround his family, then he will simply never have a serious shot at becoming President of the United States.
Photo: Gage Skidmore via Flickr.com