Tucker Carlson Wants His Very Own RNC Chairwoman (VIDEO)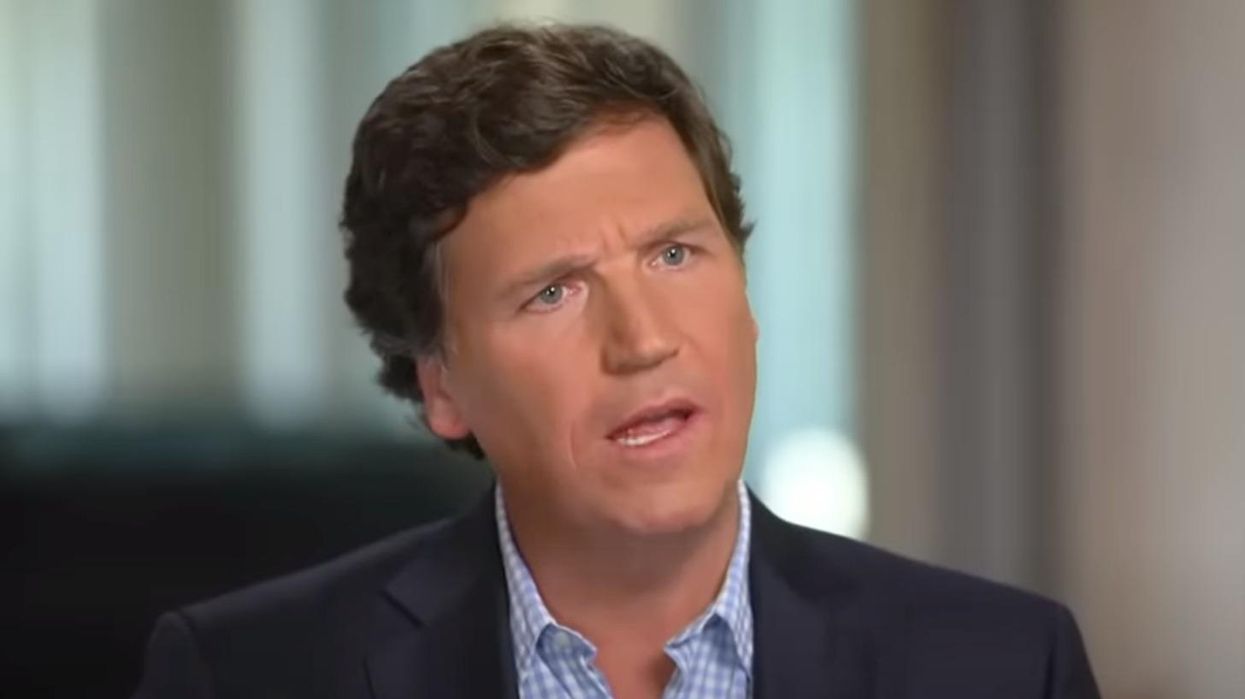 Youtube Screenshot
Fox News star Tucker Carlson responded to the GOP's dismal showing in the midterm elections by pointing fingers elsewhere and demanding accountability. Two months later, his call for new House and Senate leadership has gone unfulfilled. But Carlson is still urging the party to replace Republican National Committee Chair Ronna McDaniel with Harmeet Dhillon, a GOP official and longtime presence on Fox who is seeking the position.
Dhillon is challenging McDaniel, the RNC's chair since 2017, on largely technocratic rather than ideological grounds. Dhillon has no problem with the motley crew of extremists the GOP nominated in 2022 — in fact, she is very much part of that milieu. A 2020 election conspiracy theorist, Dhillon has described Fox host Laura Ingraham and right-wing troll Dinesh D'Souza as "long-time mentors," and her law firm has represented Donald Trump, the RNC, and a host of Republican causes and far-right figures. McDaniel said in early December that she already had the votes to be reelected. But Dhillon has been working the right-wing press and appears to be making inroads with some state parties ahead of the RNC winter meetings later this month, where she and McDaniel will debate before the vote.
Carlson is among Dhillon's most prominent supporters. He gave the challenger a platform to launch her bid in early December and has hosted her repeatedly over the past month. The Fox host uses his highly rated and influential program to praise her candidacy and to promote negative reporting about McDaniel, whom he's suggested no one should support. Carlson's pro-Dhillon campaign sets him apart from his prime-time colleagues, who have been more neutral, and Fox's "news side" anchors, who have instead promoted McDaniel, while aligning him with the right's insurgent wing.
While both have been Fox regulars for years, Dhillon has in recent months appeared more frequently and on higher-rated programs than has McDaniel. Dhillon has made 14 weekday appearances on Fox since the midterms; 13 of them came on the programs of Carlson or Ingraham. McDaniel, meanwhile, has made only 6 weekday appearances, all of which came on the network's "news side" shows.
When Carlson hosted Dhillon on December 5, he left no doubt whom he supported for RNC chair. He introduced her as "our friend" and "frequent guest on the show" (she has made at least 66 appearances on Tucker Carlson Tonight since August 2017). After giving her the opportunity to announce her run for RNC chair and to go through her talking points, Carlson closed the interview by praising his guest and offering a testimonial on her behalf.
"I love it, I love it," Carlson said. "I can vouch for your toughness. It's absolutely real and much needed. Godspeed. Harmeet Dhillon, we are rooting for you. Thank you."
Carlson again promoted Dhillon's candidacy when she returned to the program on January 5.
"I don't understand why Republicans seem to have this instinct to reward failure and mediocrity," he said. "Nothing against the current occupant of that office, who seems like a fine person, but given the record, how could anybody, how could any RNC member for a moment consider supporting that person again? I don't understand it."
And in a third interview on January 11, Carlson praised Dhillon as someone who "plans to try and change" Washington, D.C.
Carlson also devoted a December segment to a report that McDaniel had overseen lavish expenditures for luxury clothing, private plane use, flowers, and staff retreats.
Carlson's prime-time colleagues Ingraham and Sean Hannity, both powerful figures in the GOP in their own rights, have been more reticent. Ingraham has praised both candidates; while she has given Dhillon opportunities to make her case on her show, the Fox host has not weighed in on whom the party should pick. Hannity, meanwhile, has not mentioned either McDaniel or Dhillon on his Fox show since Dhillon launched her bid. While handing off to Ingraham on December 7, Hannity explicitly said he wasn't going to take sides.
"I like Ronna McDaniel a lot. I've said that I like her. She's a great person and great, great woman," Ingraham told Hannity. "But, I mean, you do have to make the case as to why you actually deserve to get reappointed."
"I'm not getting involved in that match," Hannity replied.
In addition to Carlson, Dhillon is a favorite of former Trump aide Steve Bannon, who has hosted her on his War Room show, and Turning Post USA founder Charlie Kirk, who has urged RNC members not to reelect McDaniel. Dhillon was "was promoted extensively" at TPUSA's youth conference in December, where she "was featured on live broadcasts and conservative talk shows set up from the conference's media row, culminating in a live podcast recording with commentator Tim Pool from the convention hall."
She has also touted recent appearances with the likes of Glenn Beck, John Fredericks, Liz Wheeler, and Dave Rubin.
Under McDaniel's tenure at the RNC, the party became deeply mired in the right-wing fever swamps. But Dhillon has no interest in pulling it out.
Reprinted with permission from Media Matters.