Recriminations Explode Amid Ronna McDaniel's Bid To Keep RNC Chair
@next2godwin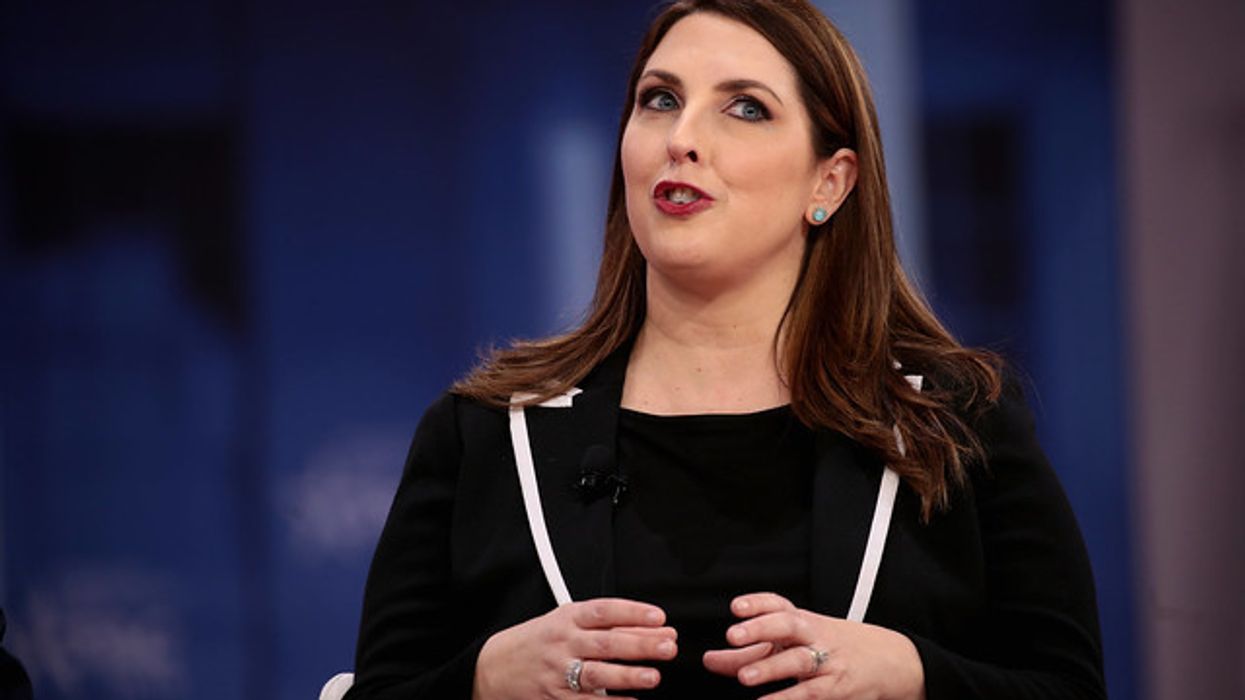 Heightened frustrations within the GOP, a party frustrated by a spate of disastrous elections, have devolved the Republican National Committee leadership (RNC) race into a contentious affair riddled with dirty politicking, finger-pointing and back-biting, and doxing allegations.
Ronna McDaniel, incumbent RNC chair vying for her fourth stint as leader, is one of the GOP leaders delineated as responsible for the party's poor performance in the 2022 elections, which poll after poll had forecasted the right would win in a landslide.
Rep. Lee Zeldin (R-NY), who backed out of the race last Wednesday, slammed McDaniel's "pre-baked" re-election bid and demanded she gave way to "fresh blood" — a call that has reverberated loudly as the right demands new messaging and party leadership.
Forging ahead with McDaniel's re-election would be akin to "ignor[ing] the grassroots of the party," Fox News host Laura Ingraham warned on her show, Ingraham Angle,.
"It's time to look for new leadership that will revitalize the RNC and help the party move to victory after victory in 2024," she added.
Despite contending with a slew of intra-party detractors, with the loudest voices accusing the three-term incumbent of colossal failure, McDaniel has remained in pole position for victory in the committee's forthcoming January 2023 election.
But a challenger surging through the ranks, Harmeet Dhillon — a right-wing lawyer and MAGA culture warrior backed by Fox News luminaries Ingraham and Tucker Carlson as well as the Trump-allied leader of the far-right Turning Point USA, Charlie Kirk — has rattled McDaniel's formerly ironclad bid for a fourth leadership stint.
"About 90-percent-plus of the party are very upset with our current leadership at the RNC," Kirk said on his show last week, during a segment in which he introduced Dhillon. "We are in the era of lawfare, and we keep on losing in the courts."
"Maybe we should have a chairwoman of the R.N.C. that's a lawyer that has a killer instinct," Kirk added, noting Dhillon's portfolio of right-wing causes, such as her anti-lockdown lawsuits, and her coterie of deep-pocketed right-wing clients, including election-denying Arizona Republican Kari Lake, former President Trump, and the RNC itself.
Dhillon told Ingraham last week that a "culture of retribution" thrived under McDaniel's leadership, where committee members "who were made a lot of promises by our current chair" avoided opposing the chairwoman for fear of losing committee perks.
"I'm hearing a lot of disgruntled members who want to see change, but they're afraid," Dhillon said. "Because… If you don't play ball with the chair… you'll be punished."
The perks, Dhillon told O'Connor Tonight, included "offering to pay legal bills they weren't willing to pay two weeks ago," "offering cash transfers to the state. They're offering contracts," and "offering cozy committee assignments. I can't compete with that."
A pro-McDaniel RNC member, Kyshia Brassington, blasted Dhillon for the perceived "false" statements in a committee-wide email, obtained and published by the Daily Beast. "I am very disappointed in the direction of Harmeet Dhillon's campaign for RNC Chair," Brassington said.
"We all know Ronna, and we know this is simply not who she is or how she operates," said Jeff Kent, another McDaniel supporter on the committee.
A clandestine email on the committee's internal listserv accused Dhillon of selective leaking to non-right media outlets and lambasted her for her legal charges — over $1,000 per hour, per the New York Times — and earnings: $2.1 million from federal campaigns and committees since 2019.
McDaniel's supporters assailed Dhillon for the flood of emails and calls they received after she tweeted the link to a website — developed by Scott Presler, a conservative activist — that contained the emails and phone numbers of the committee, a perceived offense they branded "doxing."
McDaniel denied responsibility for the anonymous email blasts, but her camp — riding high on an endorsement letter signed by two-thirds of the committee — was rocked Monday when Nebraska state chairman Eric Underwood withdrew his support for the chairwoman.

\u201cUpdate: \n\nNebraska Chair, Eric Underwood, has rescinded his endorsement of Ronna McDaniel. \n\nHe said he will present a vote to the State Central Committee & represent the will of the people.\u201d

— #ThePersistence (@#ThePersistence) 1670601361
"At this time, I rescind my endorsement of Chairwoman McDaniel & I will not make any further public endorsement for any leadership level at the RNC," Underwood declared via email, reported the Beast.

On Tuesday, the Texas Republican Party's executive committee unanimously voted to demand new leadership at the committee, saying they had lost confidence in McDaniel and demanding that she "be replaced."
"Under Chairwoman McDaniel's leadership, the GOP lost both houses of Congress and the White House, and seriously underperformed in 2022 by further losing ground in the Senate and only barely winning a majority in the House," the resolution stated.
In a further setback for McDaniel, not only had Dhillon amassed roughly 50 supporters, 18 of whom are former McDaniel supporters — netting her enough support to appear on the ballot — but far-right conspiracy theorist and pillow salesman Mike Lindell joined the fray in late November, assailing McDaniel for "fail[ing] in her leadership" during his announcement.
Things look set to go from bad to worse for McDaniel, a Dhillon-supporting RNC member, Bill Palatucci, told the Beast for its report on the bedlam rocking the national party.
"I would consider much of Ronna's support as soft: people who like her or like Trump have said to me privately that—particularly after the terrible results in Georgia—that we need to think about doing something different, so that's the basis upon which I say a chunk of her support is soft," he told the publication.