RNC Chair McDaniel Makes Delusional Promises On Trump's Behalf
@next2godwin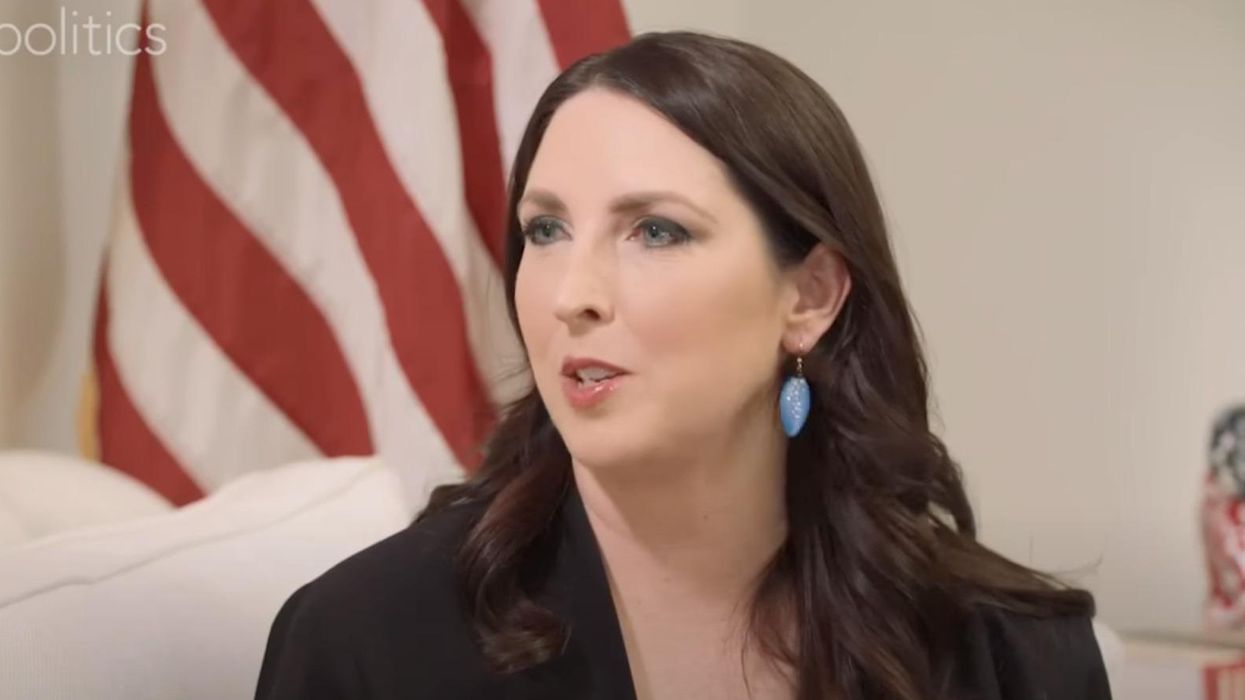 Four-term chair of the Republican National Committee, Ronna McDaniel, suggested over the weekend that all GOP 2024 presidential hopefuls will pledge to back whoever wins the party's nomination to partake in primary debates.
"We haven't put the [debate] criteria out, but I expect a [loyalty] pledge will be part of it. It was part of 2016. I think it's kind of a no-brainer, right? If you're going to be on the Republican National Committee debate stage asking voters to support you, you should say: 'I'm going to support the voters and who they choose as the nominee,'" McDaniel said on CNN's State of the Union on Sunday in her first interview since her re-election.
"Anyone getting on the Republican National Committee debate stage should be able to say, 'I will support the will of the voters and the eventual nominee of our party,'" McDaniel told CNN host Dana Bash.
"As RNC chair, if I said I wouldn't support the Republican nominee, I would be removed from office," she added.
\u201c\u201cI think they're all going to\u00a0sign it.\u201d \n\nRNC Chairwoman Ronna McDaniel tells @DanaBashCNN she expects that Trump will sign a pledge to support the Republican nominee even if it's not him. @CNNSotu #CNNSOTU\u201d

— CNN (@CNN) 1677422333
Former President Donald Trump, whose approval rating among Republican voters has tumbled to its lowest level in years, has teased going the third-party route for his 2024 White House bid if the Republican Party doesn't make him its nominee.

A mid-February poll of GOP primary voters by WPA Intelligence put fast-rising Florida Gov. Ron DeSantis ahead of Trump by nine points when running against a projected pool of presidential candidates — and by 24 points in a hypothetical head-to-head matchup.
\u201cOur latest national poll of Republican primary voters:\n\nDeSantis 40%\nTrump 31%\nHaley 8%\nPence 8%\nCheney 5%\nPompeo 2%\nRubio 1%\nHogan 1% \nT. Scott <1% \n\nSample: 1,000 verified GOP primary voters. Conducted February 13-16.\u201d

— WPA Intelligence (@WPA Intelligence) 1677182994
In recent weeks, Trump has refused to commit to supporting a 2024 GOP candidate for president that isn't him. "Mr. President, if you're not the nominee, will you support whoever the GOP nominee is?" conservative radio host Hugh Hewitt asked Trump in an early February interview.

"It would have to depend on who the nominee was," Trump responded.
When Bash played the clip for McDaniel, the chairwoman played down the notion of a Trump revolt and expressed confidence that all contenders would sign the loyalty pledge.
"I think they're all going to sign it," McDaniel said. "I really do. I think President Trump would like to be on the debate stage. That's what he likes to do."
She added, "We're not going to defeat Joe Biden if we get in this tit for tat of, 'I'm not going to support this nominee, or I'm not going to support this one.' So that's why we want to put this to bed early."
However, several prominent Republicans — former House Speaker Paul Ryan, Sen. Mitt Romney (R-UT), and ex-Arkansas Gov. Asa Hutchinson — have announced they wouldn't back a Trump 2024 presidential ticket.
"For leaders such as myself who believe Donald Trump is not the right direction for the country … that would certainly make it a problem for me to give an across-the-board inclusion pledge," Hutchinson told the Washington Post this month.
"I think you support the voters," McDaniel said when Bash asked about Hutchinson's criticism of Trump. "I am Mitt Romney's niece and I was appointed to the RNC by Donald Trump. And I would support both of them … if they were the nominee of our party over Joe Biden. But I don't know if they would support each other."
A spokesperson for the Trump campaign responded to McDaniel's loyalty pledge claim in a message to CNN, saying, "President Trump will support the Republican nominee because it will be him."