Election Denier Mike Lindell Gets Smoked In RNC Chairmanship Bid
@next2godwin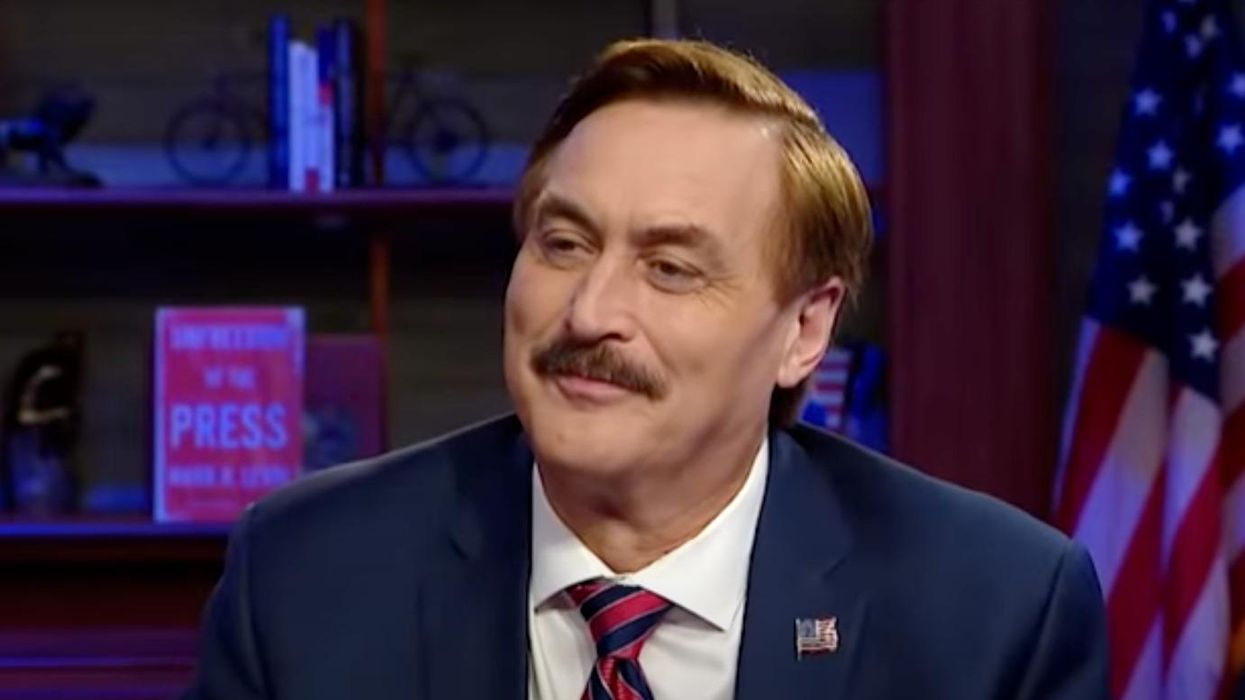 Ronna McDaniel secured a fourth term as chair of the Republican National Committee (RNC) on Friday with roughly two-thirds of the votes cast, leaving her challengers in the dust, including millionaire conspiracy-monger Mike Lindell, who had projected a winner's confidence on the campaign trail.
The MyPillow CEO, a staunch ally of former President Trump and chief propeller of his Big Lie, sauntered into the contentious RNC chair race in late November, telling indicted Trump loyalist Steve Bannon that "one of the big donors said to me… 'Mike, everybody wants you to be head of the RNC,'" according to Axios.
\u201cBefore the voting began, Mike Lindell stopped by to speak with reports. He told us "the people want me" and if the RNC members vote for anyone except him to be chair \u201cthey are not listening to the people." Citing this @Rasmussen_Poll \n\nhttps://t.co/4C8OIr6vT4\u201d

— Robert Sherman (@Robert Sherman) 1674843716
Everybody, it turned out, wanted Lindell to be something other than RNC chair, as the pillow salesman nabbed just four of the 168 ballots cast, despite Lindell's prediction that McDaniel didn't have the votes to win and his insistent claims that he was "the best" candidate in the race.

On the phone with ABC News shortly before the election, Lindell said that McDaniel was "well under the 85 needed," making the chairmanship race "kind of like what happened in Congress," comparing the race with Rep. Kevin McCarthy (R-CA)'s long-drawn-out speakership bid.
"This is very similar — only it's very much to my advantage because it's a secret vote," Lindell told the news outlet. "If it was an open vote, I think it'd be hard for anybody to win because of the promises that are made — and all of the sudden, you're going to get that carrot pulled back if you vote elsewhere."
In reality, however, Lindell's bid was a long shot from the outset, as is his crusade against voting machines, which made him the target of a Justice Department investigation and the butt of many jokes — an obsession many RNC voting members believed made him unfit for the leadership role he sought.
\u201cRonna McDaniel vs. Mike Lindell for RNC Chair. \n\nCan\u2019t wait for that (My)pillow fight.\u201d

— Senator Bob Duff, Majority Leader, Connecticut (@Senator Bob Duff, Majority Leader, Connecticut) 1669425599
According to the New York Times, Lindell squandered a lump of his fortune — as much as $40 million — on the election denial movement, promoting the Big Lie in advertisements on Fox News's prime-time opinion shows and prominent right-wing podcasts.

Yet, the rightward-shifting RNC rejected Lindell bigly and re-elected McDaniel, whom Lindell and MAGA attorney Harmeet Dhillon -- who netted 51 ballots in the race -- deemed responsible for the string of embarrassing losses the party had suffered in recent elections.
Lindell's campaign manager, Sherronna Bishop, a right-wing activist whose home was raided by the FBI, told The Daily Beast in the lead-up to the chairmanship vote that Lindell had no plans to drop out.
Bishop told the Beast that Lindell's Tuesday night reception for RNC members was "well attended" and that Lindell had addressed "lots of questions" from attendees, many of whom expressed "lots of concern" for the capability of the incumbent RNC leadership.
An RNC member who attended Lindell's event told the Beast that he had "accepted" that Lindell, who'd had only one public endorsement, had a huge mountain to climb to outdo McDaniel and rising MAGA gadfly Dhillon.
The sole Lindell endorsement came from Louisiana RNC Committeewoman Lenar Whitney, who, like the pillow executive, had spread lies that Trump was the victim of deep state-machinations and widespread voter fraud in the 2020 presidential election.
"I am convinced now, more than ever, that the only path to a righteous outcome in American elections will be provided by a return to hand-marked ballots printed on secure paper," Whitney wrote to her colleagues, the Baton Rouge Advocatereported.
"THE ONLY PERSON ADVOCATING SUCH A TRUE NORTH COURSE IS MIKE LINDELL," she added.
Jeff Kaufmann, the chairman of the Iowa Republican Party, told Vice that Lindell's support for — and from — election deniers, such as disgraced Arizona Republicans Kari Lake and Mark Finchem, many of whom succumbed to humiliating defeats in the 2022 midterms, aptly predicted how bad a job Lindell would do at winning elections for the GOP if elected RNC chairman.
"His candidacy for the RNC shows he doesn't know how to campaign for an office. Do you see the irony here? He's campaigning to be the RNC chair for more campaigns, and his campaign for RNC chair is a bunch of boilerplate emails that have come very, very late," Kaufmann said. "Making pillows and winning elections—I don't think there's a correlation there."