Rubio: GOP Will 'Never' Unite Around Donald Trump As The Frontrunner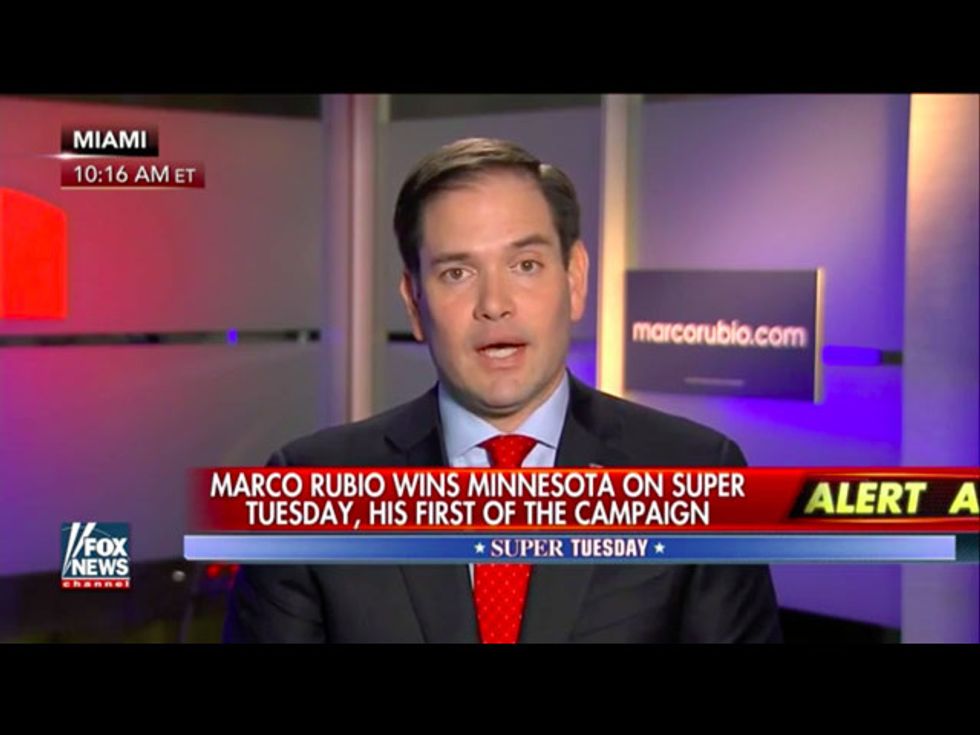 Marco Rubio is laying out his case for why he is still a viable candidate, after winning only one state on Super Tuesday. But, more pointedly, he is laying out an even bigger problem for Donald Trump: The Republican Party will keep on fighting him all the way through this primary season.
"If this was anybody else as the frontrunner, there'd be people right now saying, 'Let's all rally around the frontrunner.' That will never happen with Donald Trump," Rubio declared in an appearance Wednesday on Fox News.
"On the contrary, what you're hearing now is, how do we prevent the party of Reagan and Lincoln being taken over by someone who for days refused to condemn the Ku Klux Klan, and someone who quite frankly is carrying out the most elaborate con job we've ever seen in politics? And as it's being exposed, I think you're starting to see him run into headwinds."
Rubio also sought to puncture Ted Cruz, who emerged from Super Tuesday with twice as many delegates as himself thanks to wins in Alaska, Oklahoma, and his own home state of Texas: "Let's not forget that last night was supposed to be Ted Cruz's big night. It was the night where he was gonna sweep, these states were tailor-made for the kind of campaign he was running. We beat him in Georgia; we beat him in over half the states that were on the map. We got our first win in Minnesota. We picked up what we believe will be over 100 delegates. It now has us in a significant count."
One small note, though, which might puncture Rubio's bullish tone: When the segment began, they played a brief video of Rubio's election speech on Super Tuesday night, when he told supporters, "We are seeing in state after state, his numbers coming down, our numbers going up."
Fox host Martha MacCallum said the clip was of Rubio speaking "after his Super Tuesday win in the state of Minnesota — his first win of the campaign."
In fact, Rubio delivered that speech before any results were in from Minnesota. As he was speaking to supporters about his poll numbers going up, he hadn't actually won anywhere yet — and had lost most of the states on the board by substantial margins, with the exception of a close loss to Trump in Virginia.