Rubio Running For Senate Re-Election: Florida Lawmaker
@reuters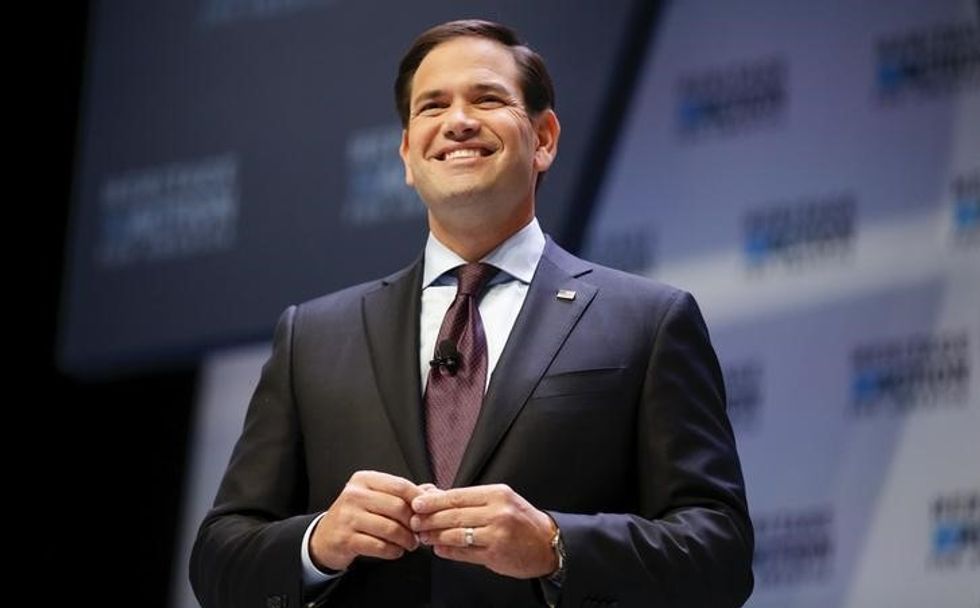 Marco Rubio, the U.S. Senator from Florida and former presidential candidate, is running for re-election, U.S. Representative David Jolly told CNN on Friday, a move that could help Republicans keep control of the chamber.
"Marco is saying he's getting in," said Jolly, a fellow Republican who has been running to fill the seat.
Jolly, who represents the area around St. Petersburg and Clearwater, has said he would step aside if Rubio decided to run for re-election. He told CNN he would make a formal announcement at noon EDT but gave no other details.
Rubio, who ended his presidential bid in March, said this week he was reconsidering running and may decide as early as this weekend.
Representatives for Rubio could not be reached immediately for comment.
Jolly spokesman Preston Rudie later tried to clarify the comment, saying the congressman did not know Rubio's plans.
"Congressman Jolly has no actual knowledge of a Rubio decision," he told Reuters in an email.
Rubio's entry into the Senate race would complicate Democrats' efforts to win back a majority there in the Nov. 8 election.
Republicans won majority control of the Senate in the 2014 elections and now hold 54 seats in the 100-seat chamber. Democrats have 44 seats and two independents are aligned with them.
Senate Majority Leader Mitch McConnell and other Republicans have urged Rubio to run despite a pledge during his presidential campaign not to seek re-election, citing polls showing him the only Republican who can win the state.
(Reporting by Kouichi Shirayanagi and Richard Cowan; Editing by Susan Heavey and Jeffrey Benkoe)
U.S. Republican presidential candidate and Senator Marco Rubio laughs while speaking during the Heritage Action for America presidential candidate forum in Greenville, South Carolina on September 18, 2015. REUTERS/Chris Keane