Rubio To Sponsor 20-Week Abortion Ban In Senate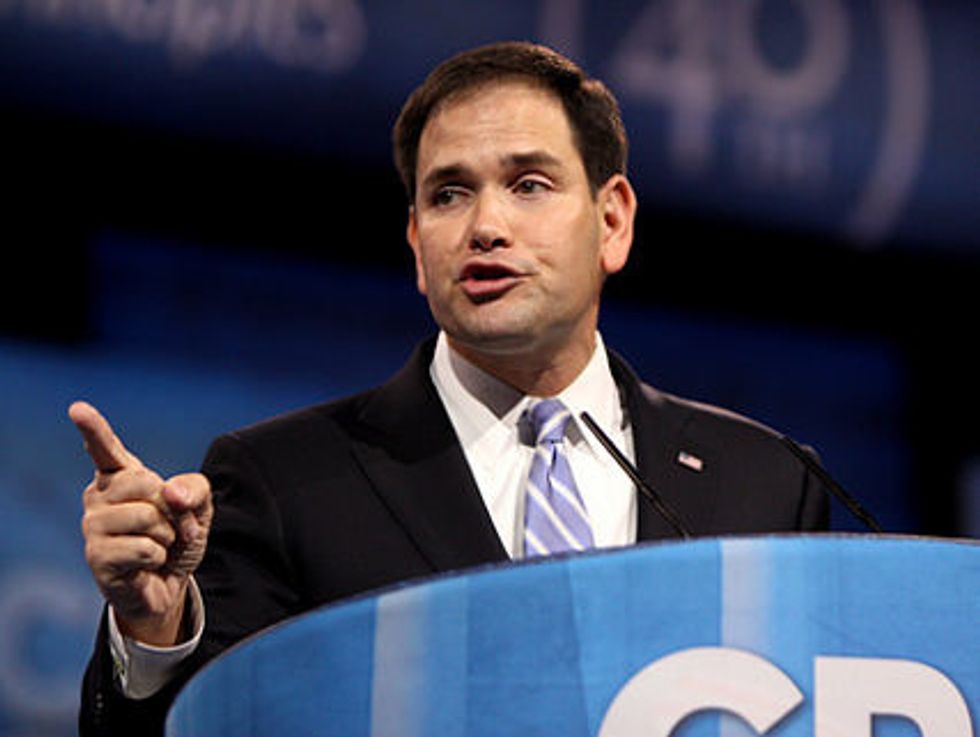 Senator Marco Rubio (R-FL) has agreed to serve as the lead sponsor of a Senate bill banning abortions after 20 weeks, according to a report by Fred Barnes in the Weekly Standard.
"Right-to-life groups have urged Rubio to take the lead on the issue, believing he would be the strongest possible advocate in the Senate," the report reads. Rubio is expected to announce his sponsorship of the bill when Congress returns from recess after the July 4th holiday.
Similar bans — which are based on very questionable science, and are likely unconstitutional — have recently been debated in the House of Representatives and the Texas State Legislature, and sparked major controversy in both instances. In the House, the debate over the bill turned into something of a sideshow after Rep. Trent Franks (R-AZ) argued against exemptions for pregnancies caused by rape by declaring that "the incidence of rape resulting in pregnancy [is] very low," and Rep. Michael Burgess (R-TX) claimed (in all seriousness) that fetuses can masturbate 20 weeks after conception. In Texas, Democratic state senator Wendy Davis became a political sensation overnight after temporarily delaying the Lone Star State's ban with an 11-hour filibuster.
Senator Rubio — who holds a 100 percent rating from the National Right to Life Committee and a 0 percent rating from Planned Parenthood — is likely taking the lead on a Senate version of the abortion ban for both personal and political reasons. Since Rubio became the Republican Party's most vocal advocate for the Senate's "Gang of Eight" immigration reform bill, his approval rating among Republican voters has dropped to 58 percent — down 10 percent from May, and 15 percent from February, according to Rasmussen polling. Additionally, Rubio has increasingly become a target at Tea Party events opposing the reform plan. If Rubio chooses to seek the Republican nomination for the presidency in 2016 he will need to improve his standing with the GOP's conservative primary voters; sponsoring a restrictive anti-abortion bill would go a long way towards solidifying his right flank.
Despite Rubio's sponsorship of the bill — and the public's narrow support for such measures — the high-profile debate to come is highly unlikely to yield any tangible results. A 20-week abortion ban has no realistic chance of passing through the Democratic-controlled Senate, and even if it did, President Barack Obama would almost certainly veto the measure.
Photo: Gage Skidmore via Flickr.com