Rubio's Childhood In Las Vegas Shaped And Tempered His Politics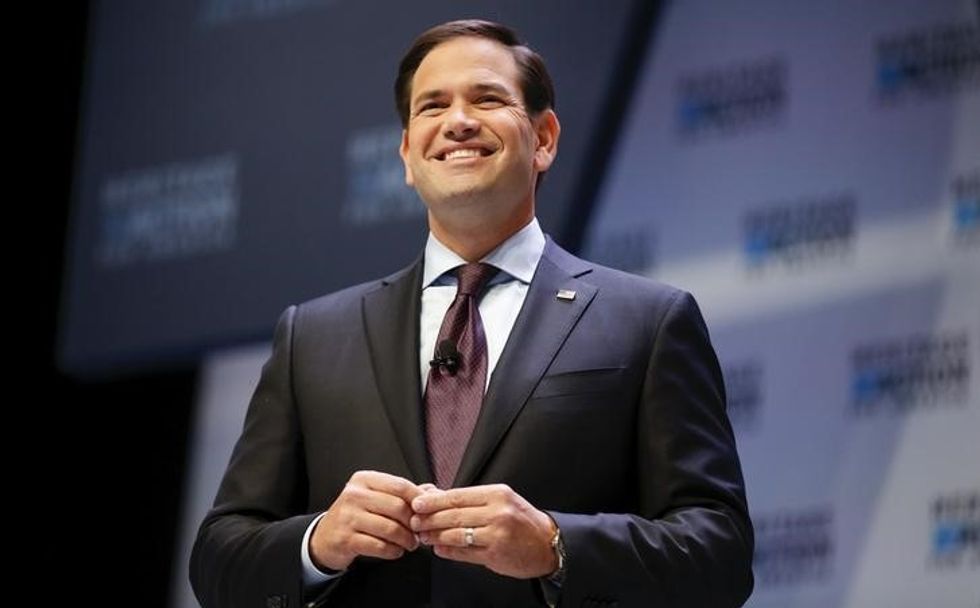 By Lisa Mascaro, Tribune Washington Bureau (TNS)
LAS VEGAS — He was known as Tony back then, a young boy so persuasive and self-assured that he helped persuade his family to ditch Catholicism for the Mormon Church, and he marched in a union picket line with his dad, a casino bartender, to demand better wages.
Marco Rubio's life might have turned out very differently had he stayed in this working-class neighborhood off the Las Vegas Strip, where service workers like his father and mother, a hotel maid, dreamed of a better life while providing the labor to power the gambling industry's economic engine.
But the Rubios returned to Miami after six short but formative years in Nevada. Rather than coming of age in the small "l" libertarianism of the West, where most Latinos skewed toward the Democratic Party, Tony began high school amid South Florida's conservative Cuban-American exile community. And that's where Marco Rubio, early tea party favorite and Republican presidential hopeful, was forged.
All that Rubio left behind in Las Vegas points to a world view once considered, but ultimately rejected, a time he tried on new political and cultural ideas he later would shed.
His childhood enthusiasm for the powerful Las Vegas unions has been replaced by a pro-business economic sensibility. He abandoned the Mormon faith in favor of a mash-up of his wife's evangelical Christianity and his own Catholic roots. He has publicly criticized the gambling industry.
As he drove his weathered Prius recently through the residential streets Rubio roamed as a kid, Mo Denis, Rubio's cousin and the former Democratic leader of the state Senate, reflected on how Rubio had changed and how his time in Nevada influenced the kind of politician he became.
"We've talked about it on occasion," said Denis, who still lives in the Nevada neighborhood where Rubio arrived in 1979 as an 8-year-old and lived until he was 14. "His time here was part of who he is."
Denis said Rubio's years in the diverse neighborhood of working-class white and Latino families exposed him to lifestyles and socioeconomic conditions he wouldn't have seen in the more insular and politically conservative Miami. That may have helped broaden and temper his views on some topics.
"I don't know that he's rejected it," Denis said of Rubio's experience in Las Vegas. "He's incorporated it, added to it. … As a president, I think that would be helpful to him — that experience he had here — because he really does have that insight. Whether he chooses to (act on it), that's up to him."
As Rubio's campaign builds momentum following a strong debate performance last month the candidate returned to the Silver State on Thursday to highlight his time there and stump for votes. Supporters are positioning Rubio as a more compassionate, optimistic alternative to Donald Trump and others who have dominated the field.
On Saturday, Rubio tried to reconnect with Nevada's Latino voters at St. Christopher Catholic School in North Las Vegas, which he briefly attended as a child. (He begged his parents to enroll him in the Catholic school, but then quit after finding it too strict).
Rubio likes to joke that he has more relatives in Vegas than in Miami, but he remains a relative unknown in the city.
"Most people still have no idea he spent time here as a kid," said longtime Nevada political guru Jon Ralston. "Whether that creates any special nexus for him in Nevada remains to be seen."
Some of his current positions risk alienating the same Nevada voters he'll need for the state's early Republican nominating caucus and, if he becomes the party's nominee, the general election.
His past criticism of gambling, in particular, appears out of step with conservative casino moguls, such as billionaire GOP donor Sheldon Adelson, and the army of unionized Strip workers who turn out working-class voters. Nearly 400,000 Las Vegas residents are employed by casinos and related tourism.
So far, however, Rubio's views do not appear to have damaged his relationship with the high-rolling executives who loom large in Republican politics. In recent months, nevertheless, he has fine-tuned his criticism of the industry.
Rubio continues to be a favorite of Adelson's. The billionaire is more interested in Rubio's positions on national security issues and support for Israel, according to those familiar with Adelson's thinking.
And Rubio is aligned with Adelson's campaign against efforts to legalize online gaming. The two are said to talk regularly as Adelson, who bankrolled Newt Gingrich's 2012 campaign, assesses the current field.
When Rubio first stepped off the plane in Las Vegas in 1979, his family was a minority among a growing Mexican-American minority. Their branch of the family did not flee Fidel Castro's Cuban regime; they came to the U.S. before Castro's revolution, for a better life. As Miami's crime rose and opportunity withered, they headed west.
The Rubios stayed with relatives before buying a modest two-bedroom cinder-block home in the College Park neighborhood, an older tract of houses with mid-century angles.
Rubio became interested in politics at an early age. He initially backed Edward Kennedy's 1980 campaign for president, but his Cuban grandfather instilled in him conservative values; during Ronald Reagan's presidency, young Rubio embraced the Republican Party.
Even so, he threw himself into the Culinary Union's landmark 1984 labor strike in Las Vegas. He made protest signs and joined the picket at Sam's Town, where his dad worked. The work stoppage, remembered as the longest in Las Vegas labor history, left both sides bruised.
Rubio's support for the strike was so strong he lashed out at his father — calling him a "scab" — when the man eventually crossed the picket line to go back to work, Rubio wrote in his autobiography, "American Son."
As a senator, Rubio has come down squarely against organized labor. He voted against extending unemployment benefits as the economy showed signs of improving in 2014 and helped filibuster legislation aimed at preventing employment discrimination of gay workers.
In his book, Rubio, now 44, called it a "charmed" childhood. He played quarterback on a Pop Warner football team for Caesar's Gladiators and swam in the family's above-ground backyard pool, which was a hand-me-down from relatives.
"Las Vegas is not often the first place that comes to mind for people looking to raise their children in a wholesome environment," he wrote. "Yet in many respects, it would prove to be the family-friendly community my parents hoped it would be."
In Sin City, it remains to be seen whether candidate Marco Rubio will be welcomed as a native son. Despite the election of Republican Gov. Brian Sandoval, Nevada's first Latino governor, the Latino electorate is overwhelmingly Democratic.
Back in the old neighborhood, Yesenia Castaneda, a mother of three, is the new owner of the former Rubio home, and she is exactly the kind of voter Rubio is hoping to sway. A Mexican immigrant, she's a stay-at-home mom and is open to the Republican Party.
But she said she isn't sure who will get her vote. She also likes Hillary Rodham Clinton.
(c)2015 Tribune Co. Distributed by Tribune Content Agency, LLC.
U.S. Republican presidential candidate and Senator Marco Rubio laughs while speaking during the Heritage Action for America presidential candidate forum in Greenville, South Carolina on September 18, 2015. REUTERS/Chris Keane