Rudy Giuliani Doubles Down On Election Denial At Bar Discipline Hearing
@next2godwin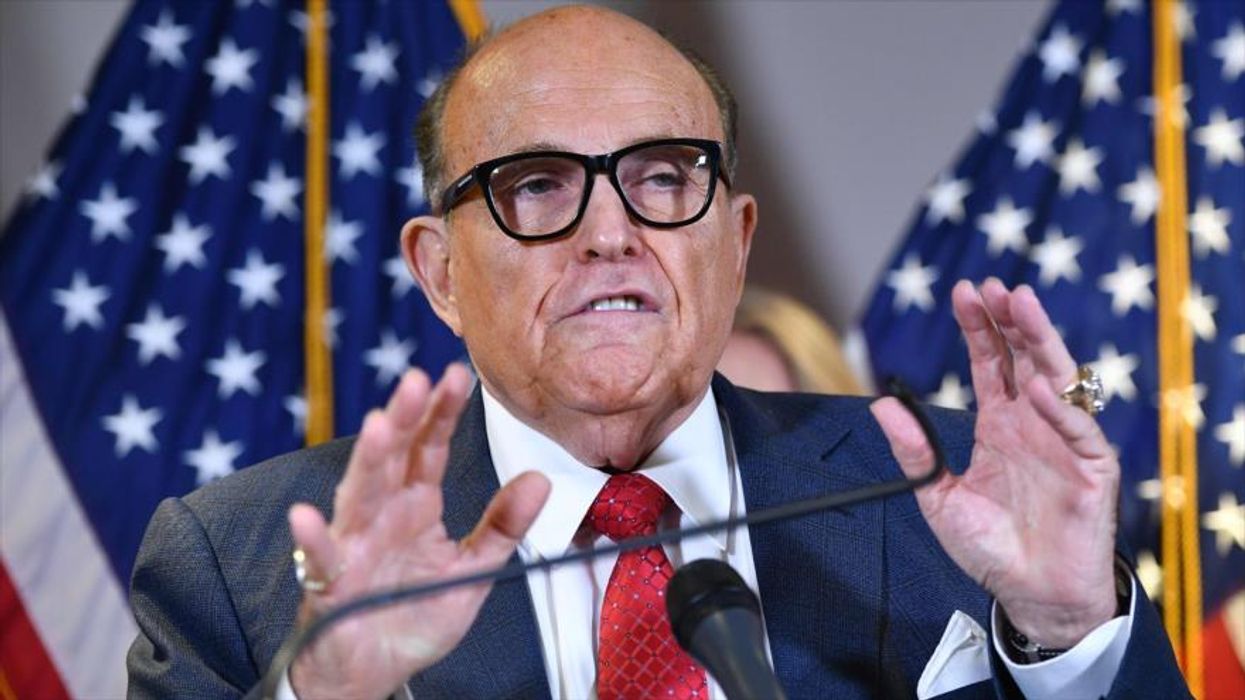 Former Trump lawyer Rudy Giuliani doubled down on his election denialism on Monday as the District of Columbia Bar Association's Board of Professional Responsibility probes his role in the nationwide effort to overturn the 2020 presidential election.
"I really believe I've been persecuted for three or four years," Giuliani told the board, decrying its efforts to determine whether the former New York Mayor's "frivolous" post-election lawsuit in a Pennsylvania federal court — one of over 60 failed election lawsuits filed by the Trump campaign — violated ethics rules.
In the Pennsylvania lawsuit, filed in November 2020, Giuliani alleged "widespread, nationwide voter fraud" and demanded that up to seven million legally cast ballots in the state be thrown out, a "startling" request that a federal judge rejected with a blistering opinion.
"One might expect that when seeking such a startling outcome, a plaintiff would come formidably armed with compelling legal arguments and factual proof of rampant corruption. This has not happened," wrote the federal jurist, U.S. District Court Judge Matthew Brann.
Seven months after Brann threw the suit out — after which a federal appeals court rebuffed the Trump campaign's effort to revise its complaint — the D.C. Court of Appeals suspended Giuliani's D.C. law license. The court accused him of "communica[ting] demonstrably false and misleading statement to courts, lawmakers and the public at large" in his role as an attorney "in connection with Trump's failed effort at reelection in 2020."
The Washington bar's disciplinary counsel Hamilton Fox launched the disciplinary process about a year after the suspension. According to CNN, Giuliani — another ex-Trump attorney needing legal counsel in the aftermath of Trump's election subversion gambit — and other witnesses provided testimony in the case.
In his opening statement, Fox accused Giuliani of "weaponiz[ing] his license" in an egregious effort to "undermine the Constitution to which he, like all members of the District of Columbia Bar, took an oath to support."
"What this case is about," Fox said, "is that Mr. Giuliani was responsible for filing a frivolous action, asking a federal court to deprive millions of the people in Pennsylvania of their right to vote."
In a scathing rebuke of Trump, who recently called for the termination of the Constitution in a bid to re-assume power, Fox told the bar, "A constitutional democracy like ours does not work unless the loser honors the decision of the voters."
However, Giuliani's lawyer, John Leventhal, argued that his client had a reasonable basis to believe that the allegations of fraud raised in the Pennsylvania lawsuit were sound, citing the "deluge of materials" provided to him for Trump's legal efforts at the time.
"The claims based on the denial of equal protection and due process were properly pled and were certainly not frivolous," Leventhal said, arguing that his client had not "intentionally violated" any of the ethic rules.
Giuliani faced several hours of questioning, during which Fox grilled him on the accusations made in the Pennsylvania lawsuit. Despite much bluster at several press conferences — the Trump lawyer later conceded it was "not a voter fraud case."
"My role was to show how Pennsylvania involved the same set of eight or ten suspicious actions — illegal actions, whatever you want to call them, irregular actions — that could not be the product of accident," he said.
As the hearing grew more contentious, Giuliani repeated 2020 election fraud conspiratorial claims, including a hoax that Democrats ferried Black Lives Matter activists to Philadelphia to vote blue. The unfounded allegation was based on statements from an "out-of-town hotel guest" and an "unidentified Uber driver," per CNN.
"Do you think that is reliable evidence of fraud in the 2020 election in Pennsylvania?" Fox asked, to which Giuliani replied, "I don't know, we would find out. We would certainly follow up on this."
Giuliani will continue testifying on Tuesday morning in what is set to be a week-long argument, during which time his lawyers will be allowed to question him. The former mayor isn't the only Trump lawyer facing possible sanctions by the D.C. bar for challenging the 2020 election results.
Giuliani, whose New York law license an appeals court suspended in June 2021, faces possible disbarment, which the D.C. bar could recommend if it finds he violated the ethics rules at issue. A court in the jurisdiction will make the final decision on any discipline.